There are few jobs as rewarding as being a Support Worker. The role of a Support Worker involves helping people with disabilities to lead fulfilling lives and achieve their goals.
You'll get to make a real impact on people's lives every day and share in their success. Read our guide on the duties and responsibilities of a Support Worker to find out more!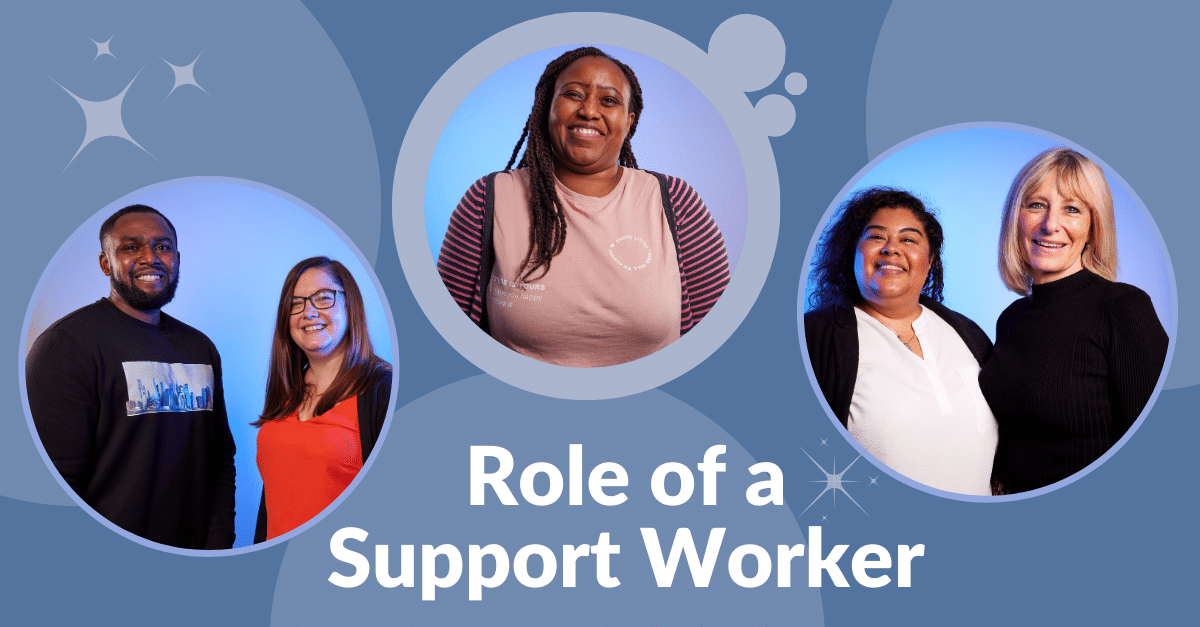 What is a support worker?
A support worker is someone who looks after vulnerable people to help them make the most of daily life. They help service users with various physical and mental disability needs to live more independently and to achieve their goals by offering emotional and physical support.
The role of a support worker is hugely varied. Service users have their own individual needs so support is tailored to each person. As a result, it is an incredible rewarding role where you can improve quality of life for vulnerable people and make a real positive difference to their lives.
What is support work?
Support work is all about helping the service user live their best life! This means promoting dignity, independence, and helping people achieve their individual goals.
As a result, support work is different every day. Each person has specific needs and requirements, and we're particularly proud that we develop individual plans to help every service user reach their goals with our support.
What is the role of a support worker?
The daily role of a support worker changes according to the requirements of the service user they are supporting. Sometimes the role could include helping with daily tasks like personal care and maintaining hygiene, other days it could be teaching new skills, providing emotional support, and ensuring they are living a fulfilled life.
Many of our support workers enjoy fun days out with our service users, from day trips to the zoo, going for a picnic, or even watching professional wrestling! Without doubt, it can be great fun.
Support workers often need to work in different settings; this includes supported living properties as well as in health and social care settings, in the community, or in the service user's own home.
Why become a support worker?
If you're reading this guide, it's likely because you are interested in support work. Here are 5 top reasons why you should become an Alina Homecare support worker:
Fulfilment – support work can be challenging but there's no job like it. You'll empower service users and share in their success.
Fun – you'll make memories with service users and accompany them on exciting activities
Development – you can start a support worker role with no experience and climb the ranks. Even our Disability Support Director started as a support worker!
Variety – every day is different. You'll keep busy doing a job you love and never get bored!
Perks – our support workers enjoy great perks, from discounts on retail brands to flexible working options to fit their lifestyle
In fact, 92% of staff recommend working for us!
You'll make a real difference to people's lives, helping them grow in independence and confidence while also getting to enjoy fun activities with them. You'll make memories with your service users and get to see the progress they make firsthand.
If you'd like to explore the role more to be sure about applying, check out the Skills for Care website as it has lots of useful information on how to get started. Once you feel ready, don't forget to come back to apply!
"If there's a challenging day, we're always there for each other. That's the best part. When you're at work, you don't feel isolated. You're just a part of the entire family."
Sneahaal, Alina Homecare Support Worker
What are the responsibilities of a support worker?
Without doubt, support worker roles and responsibilities will vary from day-to-day. Generally, they include:
Physical support – helping service users with everyday tasks like meal prep and personal care, such as maintaining hygiene
Emotional support – being there for service users, attending appointments and going on days out
Medication support – medication reminders and, with training, administering medication
Encouragement – developing a plan to help each service user achieve their goals and pursue hobbies
Promoting independence – teaching life skills like shopping, going on the bus, or paying bills
Being a role model – setting a great example and showing service users how to perform tasks themselves
Support work is all about making life easier and more fun for service users. Our support workers plan exciting activities, from going to animal parks to learning how to cook or gardening!
Alina Homecare is passionate about treating each service user as an individual with their own hobbies and interests. The role of a support worker is to foster and develop these interests and help people grow in independence and confidence.
As support workers progress into more senior roles, they also help manage the team and develop individual support plans to ensure service users reach their goals.
"Being a support worker is such an amazing role – you support people with learning disabilities with all aspects of their daily lives and engage them in exciting opportunities to enrich their lives, putting a smile on their face and yours."
Kate Ford, Director of Alina Homecare Disability Support
What skills are needed?
Support workers need to be ready to adapt to a fast-paced and varied environment. They are equipped with these skills:
People-focused – a desire to help others grow in independence
Great communication – able to communicate well with service users, families and the team. This includes good numeracy, literacy and IT skills
Good listener – ready to lend an ear and provide emotional support
Fantastic problem-solver – adaptable and reactive to changing situations
Team player – independent but also great at teamwork
It also helps if you have the ability to drive, so you can take our service users out for the day. We pay a generous mileage allowance for these activities.
What qualifications do support workers need?
You don't need qualifications. You'll just need to pass enhanced background checks and have the right to work in the UK.
When starting the role, you'll receive exclusive training through the Alina Homecare Academy. This covers everything from understanding our quality standards to specific instructions so you can thrive while delivering all aspects of support work.
Once you start, there is also the opportunity to pursue ongoing training such as an NVQ Level 2 in Health & Social Care and diplomas in the health and social care sector. Additionally, we offer social care apprenticeship opportunities so you can learn and earn at the same time.
Some support workers and senior support workers also receive training on more specialist support work such as administering medication and delivering complex care.
What makes a good support worker?
"We understand that applying for a new job can be nerve-racking but in the social care sector, it's not necessarily about knowing all the right skills but having the right can-do and enthusiastic attitude. If you're willing to work hard and make a difference to people's lives, you'll succeed in this industry."
Lyndsey Smith, Alina Homecare Disability Support Recruitment Manager
What is the average salary for a support worker?
According to Total Jobs, the average support worker earns £19,000 a year. At Alina Homecare, we're proud that most of our support workers earn more than this. Your specific salary will vary from region to region as well as the hours and contract you choose. To find out more, we suggest chatting with our Recruitment Team.
What opportunities are there for career progression?
Many members of our team have developed and grown their careers with us. For example, our Director Kate Ford actually started out as a support worker!
We offer all employees the chance to work towards an apprenticeship, NVQ or diploma whilst working. This can lead to a senior support worker role, as well as a Field Care Supervisor Job or eventually, a managerial position.
There are also chances for regular training, such as first aid to help our support workers keep up with the latest developments and quality standards expected of the role.

How to apply for a support worker role?
If you have any questions about applying to become a support worker, simply give us a call on: