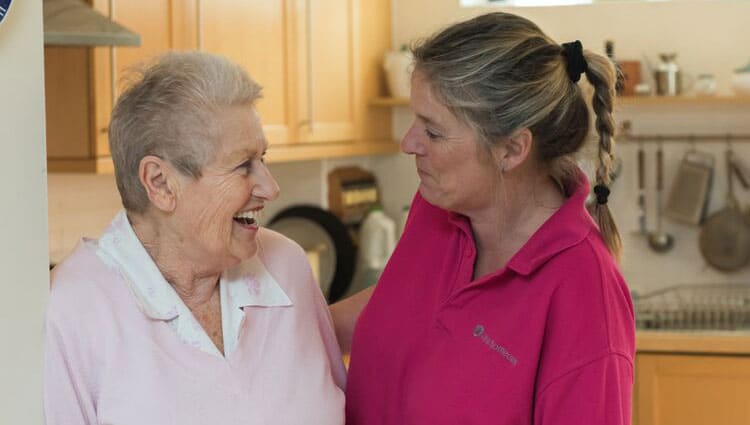 Home Care Assistant jobs are often challenging but always rewarding. The role involves helping vulnerable people, who are often elderly, to stay at home and live more independently for as long as possible.
You'll get to make a real difference to clients' lives each and every day while earning great pay and working for a company that cares about you. Read our Home Care Assistant job guide below to find out more or apply now!
What is a Home Care Assistant?
A home care assistant provides care in clients' homes. This could involve anything from helping with daily tasks like making breakfast, bathing, getting ready for bed or just being a friendly face.
Each visit will vary in duration, and each client has different needs. Some clients require assistance with day-to-day activities like going to an appointment while others have more specialist requirements, like care for dementia or after a stroke.
Care Assistants all have a duty of care to their clients; as a Care Assistant for Alina Homecare, you'll get to know your clients very well, including their likes and dislikes, to ensure you always put their dignity first.
Ultimately, a Care Assistant job is focused on helping clients remain as independent as possible for as long as possible. Many elderly people prefer to stay home for as long as possible, and Care Assistants help make this possible.
What is the role of a Care Assistant?
The role of a care assistant will vary all the time; some care assistants work flexibly whereas others may provide full-time round-the-clock live-in care.
Duties involve a mix of practical and emotional support and could include:
Companionship – being a friendly face, sharing a cup of tea etc.
Personal Care – washing & dressing clients
Medication – reminding clients to take medication & collecting their prescriptions
Mealtimes – preparing healthy meals and making breakfast
Housework – laundry, cleaning & tidying
Errands – shopping & running errands like collecting a parcel
Mobility – assistance getting around
Care assistants often support clients with personal care. This could include washing dressing, continence care, or simply helping someone with washing their hair.
Why become a care assistant?
Here are our top 5 reasons to become a care assistant:
Our care assistants earn great pay with plenty of opportunities to supplement their income with weekend working, and a generous mileage allowance.
You'll make a real difference to our clients' lives, helping them to stay independent for longer.
Every day is different! You'll meet new people every day and work hours that suit your lifestyle.
We're proud to offer exclusive Training to help you develop and grow. We even pay for your ongoing training. There are also opportunities to achieve further qualifications, such as an NVQ Level 2 in Health and Social Care. NVQs are available up to level 7 for managerial care staffs.
Many of our managers and field care supervisors started out in care assistant jobs! We'll invest in your career so you can climb the ranks.
In addition to these reasons, we also offer great perks like staff discounts on top brands, paid holiday, free uniform and in some branches, paid time travelling between clients.
What skills are needed?
We all want a job that makes a difference. Bring your caring and happy attitude and we'll teach you the rest.
All you need is a willingness to learn and good communication skills. Most of our roles require a driver's license and access to your own vehicle but if you can't drive, contact our Jobs Team to see if your local branch has any walking vacancies.
As a Care Worker, you'll have a chance to personally develop and grow by learning new skills, meeting new people, and going on training courses that interest you through our Alina Homecare Academy.
Can you be a care assistant with no experience?
You don't need qualifications to become a care assistant. You just need to pass enhanced background checks (DBS) and have the right to work in the UK.
When starting the role, you'll receive exclusive training through the Alina Homecare Academy. This includes everything from understanding our quality standards to specific instructions so you can thrive while delivering all aspects of support work.
Once you start, there is also the opportunity to pursue ongoing training such as an NVQ Level 2 in Health & Social Care and diplomas in the health and social care sector. Additionally, we offer social care apprenticeship opportunities so you can continue learning while earning.
Is a Care Assistant the same thing as a Support Worker?
A care assistant provides home care for elderly and vulnerable clients in their own home; this generally involves help with daily tasks like washing, bathing and companionship. Support workers work with disabled people to help them achieve their goals and be more independent; this could also involve personal care, but also involves other activities such as day trips and attending appointments. There is overlap, but each role is slightly different but equally rewarding!
What is the average salary for a Care Assistant?
According to Total Jobs, the average Care Assistant earns £17,000 a year. At Alina Homecare, we're proud that many of our care assistants earn more than this. Your salary will vary depending on where you live, the hours you choose, and the contract you have with us. To find out more, we suggest chatting with our Recruitment Team.
What opportunities are there for career progression?
Many members of our team have developed and grown successful careers with us – and some of our Operations Managers actually started as care assistants!
We offer our Teams the chance to work towards an apprenticeship, NVQ or diploma whilst working for us. This can lead to a senior care assistant role, as well as a Care Coordinator or Field Care Supervisor Job. Eventually or if you already have experience, we offer managerial positions where you can run your own branch.
There are plenty of chances for regular training, such as first aid to help our care assistants keep up with the latest developments and quality standards expected of them.
How to apply for a Home Care Assistant job?
If you'd like to apply for a role, click here or visit our Care Worker jobs page. We have many new and exciting opportunities available, so we suggest chatting with our Jobs Team to find out more.
If you have any questions, simply call: