Academy Training
Our culture is built on core values that we passionately believe in and are at the heart of everything we do. It's what makes us different. A big part of our Care Worker training promotes our core values.
Joining our team means you share the same values: quality, compassion, integrity, respect, recognition and innovation and will demonstrate them in all aspects of your work for Alina Homecare.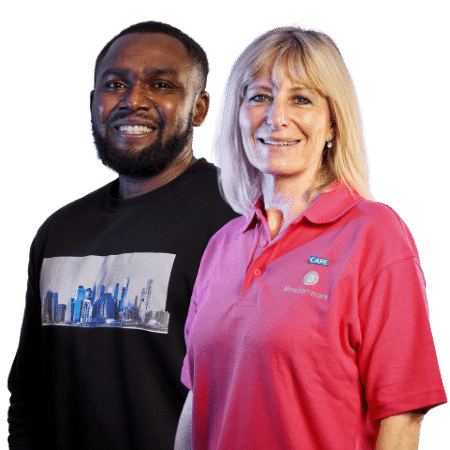 Develop your skills with us
Great quality care starts with great quality care training
We want you to be a real success! Our Academy provides high quality training to help you do your job and develop your career.
From our experience, we've discovered we learn more by doing it together, that's why all our training is delivered face-to-face with our trainers, either in person or virtually. This sets us apart from other companies that rely heavily on e-learning.
Our trainers hold teaching qualifications which means they know the best ways to help people learn. They have experience of working in the Health & Social Care sector and some have previously held senior specialist jobs such as Learning Disability Nurse, Community Nurse, Operational Manager and University Lecturer to name a few. This enables the Academy team to train based on their experience and offer support, advice and guidance on a personal level, along with real life practical examples. This will give you confidence to provide great care, even in the most challenging of circumstances.
Our courses have been designed by your trainers to help you learn new subjects and easily retain information that you will need in your job roles.
We also work alongside external Care Worker training providers to offer QCF qualifications, including MBA level.
Induction Training
Your induction training is personalised to you and dependent on any previous experience you may already have supporting others and in Health & Social Care.
You'll receive up to 30 hours of high-quality, face-to-face virtual or classroom-based training to ensure that you have the skills and knowledge to do your job.
After your induction training, you'll be teamed up with an experienced colleague to 'shadow' and help you get started. They'll support you, answer your questions and ensure you're able to put your Academy training into practice.
You'll have regular supervision time to give and receive feedback, ask questions, and chat about other training needs you may have. You'll put your new knowledge into practice immediately and discuss the learnings of each course with your supervisor.
We're proud of our Academy – it's here to train our teams and support them at every step of their development.
Develop your career with us
Start your career today!
We believe in everyone's potential, no matter their previous experience, which is why we heavily invest in our leadership, Care Worker training and quality teams to ensure they're able to support you reach your career goals. Having established clear career development pathways, our teams have enabled care and Support Workers to progress into senior management roles, after supporting them build their experience and expand their knowledge of valuable skills.
Our teams also understand, from their own experiences, the challenges of what it's like to start and develop a career in the Health & Social Care industry. That's why learning from those with a wealth of experience is extremely beneficial. You'll pick up tips, ideas and knowledge that will inevitably help you to grow and succeed.
As a result of our support, we see our team members thrive every day receiving promotions, praise from external professionals for their fantastic work, the amazing difference they make to people's lives and so much more.
With a hunger to learn, a positive attitude and a smile, the opportunities that we can support you with are endless!
Develop yourself and your career
Take your career a step further with an Regulated Qualifications Framework (RQF). The RQF is a national system for managing qualifications regulated by Ofqual. The system is based on level and size. The higher the qualification, the greater the complexity and difficulty of the skills and knowledge associated with the qualification. There are eight levels in total, although the most common accredited courses we offer are:
The 'size' of the qualification is based on the estimated amount of time (weeks to years) it will take to study, complete and be assessed for the qualification. There is no set deadline for completing qualifications so you can finish at your own pace.
We support you and your career to make life easier.
Why so many people enjoy their training…
It's quick and easy to apply for an Alina Homecare job. Do it now!
Expert-led training
Led by our well-experienced trainers, practical tasks will be set and guidance given throughout training to equip individuals with the necessary skillsets to handle all circumstances.
Specialist Modules
We offer a variety of specialist courses, that enable individuals to provide the best care and support for the needs of their clients, as well as helping them progress in their careers.
Alina Rewards
We're proud of our Alina Homecare Team, which is why we have Alina Rewards – a system offering hundreds of discounts and vouchers to favourite shops and family days out for all to enjoy.
Work with us
It's quick and easy to apply for an Alina Homecare job. Do it now!
Our Job Checks
Before you join our team, we'll complete some jobs checks. These are in line with CQC regulations and are generally completed within a week. We'll check:
Quick Questions
Our pay rates are competitive and do vary according to where you work. To find out your local pay rate, chat with one of our recruiters.
We simply need you to have a helpful and can-do attitude. Our exclusive Alina Homecare Academy training will give you the skills and confidence to develop and grow in your new role + you'll shadow experienced members of the team when you get started.

If you need help with applying, why not read our guide to writing a Care Assistant CV or a Support Worker CV?
Yes, to be a Care Worker you need both. Alternatively, our disability Support Worker and live-in carer roles don't require a driving licence or access to a vehicle.
We offer a range of different contracts to suit your needs. Some of our team members choose guaranteed hours contracts while others opt for flexible working. We'll work with you to find the right balance, but we do ask that you share availability in advance so that we can arrange our rotas. To find out more about the options available to you, simply contact our Jobs Team.
Applying for an Alina Homecare job only takes a few minutes, and you could start your new role in a matter of weeks. After you submit your application, we'll call you for a quick chat before booking an interview. If you're successful, we'll do some pre-employment checks including a Disclosure Barring Service (DBS) check and collect references. You'll then complete training with our exclusive Alina Homecare Academy.
Joining Alina Homecare is a chance to start an exciting new career. We believe in the potential of each of our team members, no matter how much experience they have. We'll support your growth and development from day one, and pay for your ongoing training. As a result, we constantly see our team members progress, and many of our branch and operational managers today started out just a few years ago as Care Workers, Support Workers or care coordinators.