A Care Coordinator is a trained professional who helps to manage aspects of a person's care and support.
The duties of a Care Coordinator job can be incredibly varied. They play a vital role in ensuring services run smoothly by organising rotas, covering shifts and communicating with everyone involved.
Every day is different at Alina Homecare! Many of our Care Coordinators find their job challenging but also extremely rewarding. An average week is split between working in the community and the office. Primary duties include coordinating rota changes, monitoring care and support in people's homes, and liaising with people we support and their families.
If you're considering becoming a Care Coordinator, read our guide to find out more about the role and what's involved. If you've already decided to apply, you can skip ahead and get started now!
What does a Care Coordinator do?
The responsibilities and duties of a Care Coordinator are varied. The role also differs depending on whether you choose to work as a Home Care Coordinator or a Disability Support Coordinator.
The general responsibilities and duties of a Care Coordinator can include:
The split between office work and care calls varies. I can start my day visiting clients to deliver care in their homes and then spend the rest of my working day in the office. In our Team, we have certain tasks to be completed on set days; for example, Mondays are spent finalising rotas. We share the responsibility for on-call which is nice because it gives you a break throughout the week," says Hollie, a Home Care Coordinator for our Cheltenham Team.
The role is mostly office based, with the opportunity to work from home. I usually start my day responding to emails from clients regarding any amendments to their rotas. I have set working hours, but these can change depending on whether shifts need to be covered. I interact with support staff by phone, text or email regarding rotas and upcoming shifts, and to inform them of any changes," says Curtis, a Disability Support Coordinator for our Poole Team.
What is the difference between a Home Care and a Disability Support Coordinator?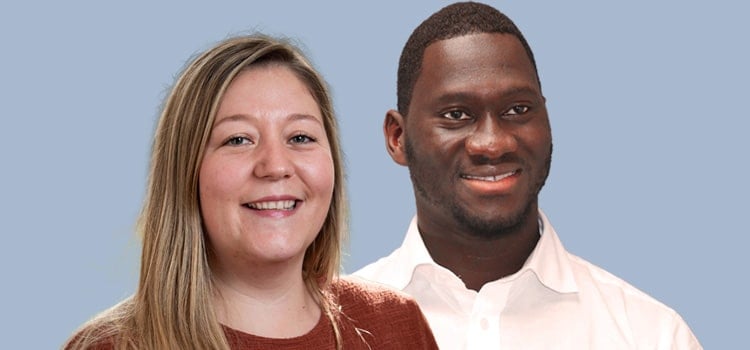 Disability Support Coordinator
A Disability Support Coordinator oversees the provision of care and support to people with a range of learning and physical disabilities. The job involves working as part of a team to support service users, as well as monitoring the support provided and liaising with relevant stakeholders, such as local authorities.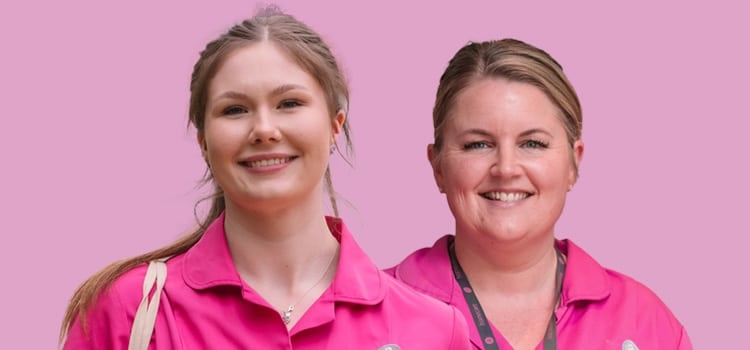 Home Care Coordinator jobs are focused on facilitating care in a client's own home, helping them live as independently as possible. Quite often, the job involves – but is not limited to – coordinating and arranging elderly care. Both roles work closely with the managers to organise rotas and cover shifts when needed.
Similar to Home Care, in Disability Support we support people living in their own homes, but we also provide support to people in assisted housing. We provide regular, daily visits or continuous support, which can include overnight and waking care. It depends on the needs and preferences of our service users," says Curtis, a Disability Support Coordinator for our Poole Team.
What skills do you need as a Care Coordinator?
Flexibility
Care Coordinators are at the centre of a person's care and support. Due to the constant variety in the role, they need to be passionate about helping people and be able to work well under pressure. Their job involves covering shifts for Care Workers and Support Workers when necessary. Therefore, a Care Coordinator needs a flexible approach to work that includes supporting services out of hours.
Communication
Care Coordinators work with a range of different people so need to be approachable and have great listening skills. They work closely with people receiving care and support and listen to what matters to them. They also work with external parties, such as therapists, GP surgeries and hospital staff to make sure people have the right connections with the right teams at the right time!
Experience
A Care Coordinator job is not entry level; some experience is required before you apply. Many Alina Homecare Care Coordinators started as Care Workers, Support Workers or Field Care Supervisors. The job requires a level of local knowledge about how to access healthcare services. Ultimately, the aim is to ease the burden of navigating health services for a person receiving care.
Organisation
Some of the working week is spent doing administrative tasks like coordinating rotas, responding to emails and writing care and support plans. As a result, Care Coordinators need to be highly organised and proficient on a computer. They need to have a professional work ethic as they also work with external teams, including local authorities and the Care Quality Commission (CQC).
Passion
Both Home Care Coordinator and Disability Support Coordinator jobs offer the opportunity to make a real difference to people's lives. A positive and caring attitude is essential when providing care services. Running things smoothly and proficiently not only safeguards the people receiving care and support, but it also helps Care Workers and Support Workers do what they do best.
Compliance
Care Coordinators play an important role within the local service team to ensure health and safety is compliant and in implementing quality care standards. This includes updating and maintaining records so they are complete and compliant for inspections. They support Managers in liaising and cooperating with CQC inspections and negotiating with local authorities.
It's important to be calm when things don't always go to plan. You need to be organised – write everything down! Make plans and have everything set out for what you want/need to achieve that day. It's essential to have systems in place so that things run as smoothly as possible," says Hollie, a Home Care Coordinator for our Cheltenham Team.
What qualities do you need as a Care Coordinator?
Becoming a Care Coordinator isn't just about experience. Most employers look for certain key qualities. If you apply for the job, make sure you convey these qualities in your cover letter and at an interview:
Empathy
You need to have an empathetic attitude and understand the challenges that different people face. This means you understand people's individual needs so you can tailor the care and support provided around their requirements.
Professionalism
Often, you'll be the first point of contact for people receiving care so need to be professional and build positive working relationships. Remember, you're representing the company so make a great impression in the community.
Team Player
You'll be supporting the manager and other members of the team to ensure everyone succeeds in delivering high quality care. Set a great example to other team members and help motivate them to perform their care duties well.
Caring
You must have a caring nature and be passionate about helping others; see your work as a professional duty rather than a job. Your support should always be focused on the interests of the individual and how you can make their life easier!
Respectful
Respecting the people you care for and support is fundamental; taking their own preferences, needs and opinions into account is part of this. They won't always agree with what you think is best so be respectful and encouraging.
Reliable
You must be reliable to be successful in this role – people will be relying on you to make informed decisions! You must be knowledgeable, confident at handling difficult situations, and skilled at problem solving when things don't go to plan.
Empathy is probably the most important quality to have as a Home Care Coordinator – because you're delivering care to elderly people, you need to be understanding and patient. Have a happy and optimistic attitude. Sometimes you're the only person a client sees all day, so you want to make a positive difference to their day!" says Hollie, a Home Care Coordinator for our Cheltenham Team.
You need to have a positive attitude and a passion for doing the job. You're constantly interacting with different types of people, both service users and Support Workers, so great people skills are important. You must be willing to work hard and get things sorted. Sometimes the job can be difficult so don't take things too personally!" says Curtis, a Disability Support Coordinator for our Poole Team.
Quick questions
The role of a Care Coordinator is varied. Some primary duties include:

To learn more about the role in Alina Homecare, contact our Jobs Team now.
A Care Coordinator supports the management team to ensure the effective and successful running of the service. Working directly with the people receiving care and support and their families, they'll liaise with other healthcare professionals, such as local authorities and the Care Quality Commission.

We have three Coordinators within our Team. We cover the Poole and Bournemouth areas so between us we oversee the different areas to make sure shifts are always covered. We share the responsibility of on-call during the week, but I've never felt alone or done an on-call shift where I haven't felt supported by the Team," says Curtis, a Disability Support Coordinator for our Poole Team.
The role of a Care Coordinator and a Manager is similar but with some key differences. Along with the responsibilities described above, a Manager delegates tasks to the Care Coordinator, but they have a higher level of responsibility.

Ultimately, a Manager is responsible for the overall running of the service and supervising all members of the team. They provide effective leadership and must ensure the service is fully compliant with internal and external standards. Managerial duties include recruiting new staff, attending internal and external meetings, and initiating financial, marketing and business plans to grow the service successfully.

A Care Coordinator job is primarily to support the Manager in running the service to ensure success.
A good Care Coordinator will have excellent communication skills as they'll be working with a variety of different people within their own company and externally. They'll have exceptional organisational abilities and the confidence to handle several tasks at once. They'll be reliable and can build trusting relationships and be a great role model for other members of the team.
A Care Coordinator's salary will vary from company to company, and in different locations. According to Indeed, the average salary for a Care Coordinator in the UK is around £24,000.1

At Alina Homecare, Care Coordinators receive a competitive salary with increased pay through career progression, as well as many other benefits when they join us. This salary varies depending on where they work and the Team they work with, Home Care or Disability Support. Learn more about a Care Coordinator job by getting in touch with our Jobs Team.
Due to the demands of the role, our Care Coordinator jobs are full-time and permanent. Often the job of a Care Coordinator can require some additional weekend work and flexibility. You'll spend some time on-call and, on occasion, may need to work outside of your core hours.
All our office Teams are paid monthly on the last working day of the month. In addition to your monthly salary, you'll enjoy great perks like enhanced weekend pay and an on-call premium, paid ongoing training, and paid annual leave.
To become a Care Coordinator for our Home Care Team, you will need a driving licence and access to a vehicle with business insurance. You will need to travel around the local area to visit clients in their own homes to carry out assessments or deliver care. You may also need to transport clients to hospital appointments or on shopping trips.

To become a Care Coordinator for our Disability Support Team, we don't require a driving licence or access to a vehicle. If you don't have a driving licence, then this may be the best option for you. Learn more by completing an application form to get in touch with our Disability Support Jobs Team.

When I started working for Alina Homecare, I didn't drive and it wasn't required. I was in the process of gaining my driving licence. If you apply for a Disability Support Coordinator role, it doesn't matter how you get there as long as you get where you need to be on time!" says Curtis, a Disability Support Coordinator for our Poole Team.
Our Care Coordinator roles involve a mixture of working with your local Team and directly supporting people who rely on our services. You'll spend time working in the office, but you'll also spend time in the local community and visiting people at home. The duties of a Care Coordinator vary daily, so the exact amount of time spent doing one or the other will change.

Remember, the role of a Care Coordinator also depends on the job you apply for. If you aren't sure whether to apply for a role in either of our Home Care or Disability Support Teams, complete our application form to learn more.
You could start your role within a few weeks. Once you apply, you'll have a friendly telephone call with us before booking an interview with a Manager. If successful, you'll then complete pre-employment checks such as a Disclose Barring Service (DBS) and we will contact your references.

Once we have all the required documentation from you, we will book you in for our exclusive induction training and your Alina Homecare journey will begin!

I applied for the job and then received a telephone call from someone in the Alina Homecare Jobs Team. They arranged a face-to-face interview with the Cheltenham Branch Manager. She was so nice and really put me at ease in the interview. I was then contacted the same day with the job offer!" says Hollie, a Home Care Coordinator for our Cheltenham Team.
You don't need to already be a Care Coordinator to apply for one of our roles, but you will need professional experience in providing care and support. Ideally, this would be in a Home Care or Disability Support setting, but we welcome applicants if they have other similar experience.

When I joined Alina Homecare, I had no previous Care Coordinator experience. I did hold my Level 2 NVQ in Adult Health & Social Care. I had years of experience working with people with disabilities, but I wanted to learn something new and see the care sector from a different side," says Hollie, a Home Care Coordinator for our Cheltenham Team.

When I started working for Alina Homecare, I had no previous experience as a Coordinator. However, I did have experience working as a Support Worker for over a year and a half. I'd previously worked in a SEND School for six months, supporting people from the ages of 3/4 up to 17/18," says Curtis, a Disability Support Coordinator for our Poole Team.
Yes! We want you to be successful.

Our exclusive Alina Homecare Academy provides high quality training to help you do your job and develop your career. Our courses are designed to help you learn new skills and retain information that will help you thrive in your job role.

All our Academy trainers hold teaching qualifications, which means they know the best ways to help people develop and grow. As a result of our support, we see our Team members flourish in their roles, receiving promotions and praise from external professionals for their fantastic work.

I've gained experience in preparing rotas and planning, creating care plans, and organising digital records. I've learnt about a different side to care, such as providing care to clients in their own homes and administering medications. I've now started working towards my Level 3 NVQ qualification with the Alina Homecare Academy," says Hollie, a Home Care Coordinator for our Cheltenham Team.
Advice from Coordinators at Alina Homecare
If you've read this far, you've already heard from Hollie, a Home Care Coordinator in our Cheltenham Team and Curtis, a Disability Support Coordinator in our Poole Team.

Hollie and Curtis both started working for Alina Homecare with no previous Care Coordinator work experience – they've learnt so much on the job! Read on for more of their first-hand knowledge about their roles and what it's like working for Alina Homecare.
What attracted you to apply?
"I liked the idea of visiting people in their own homes. I liked that I would gain experience working with the elderly and helping them to live independently at home. Home Care is more person-centred but it's just as rewarding. The job was in Cheltenham where I live, so it seemed like too good an opportunity to pass up!"
What do you love about the job?
"It's very rewarding! I like being able to go home at the end of each day knowing that I've helped people and I've achieved everything that needs to be done that day. It's a great way to start each day, knowing the work will be just as rewarding because you're always helping people and making a difference to their lives. Nine times out of ten, things never go to plan! They job can be challenging but it's important to stay calm and find ways to work around problems that arise."
What do you enjoy about your work?
"Everyone is so lovely! I've received so much advice and guidance from different people within the company. Everyone is so knowledgeable in what they do, and I've come to realise that there's always someone to go to for whatever you need. Everyone is so welcoming and encouraging and really wants you to achieve your best."
What advice would you give to someone applying for the role?
"Do it! The possibilities are endless. When I first started, I wasn't sure if I wanted to progress and complete Levels 4 and 5 to become a Manager. My Manager is so encouraging and always pushing me to do my best, which has made me want to progress and learn more.

"Be positive! Every day is different, but the work is so rewarding."
What was the interview process like?
"After applying for the role, I had a telephone conversation with someone from the Alina Homecare Jobs Team. I was living out of the area at the time with the intention of relocating, so I had my interview via Microsoft Teams with the Manager, Kim. I was offered the job a few days later!"
What do you love about the job?
"There is so much support from the Team. I've never felt alone or unsupported in the role. Sometimes I miss working in the field as a Support Worker, but when I get the opportunity to cover shifts, I enjoy interacting with our service users. It's so rewarding knowing you're having a positive impact and ensuring they get to enjoy activities, such as art classes or days out, and seeing the results when they show off their artwork or photographs."
What do you enjoy about your work?
"I love working for Alina Homecare because everyone works together and we have a great Team. There's a pleasant atmosphere and it's not super formal. They provide support all over the South of England so it's nice to know we're making a positive difference."
What advice would you give to someone applying for the role?
"The job is so rewarding but there can be challenges. No matter how hard it gets, just get through the day and remember, you are not alone. Every day is a learning curve. Roll with it and know that it will make the job easier if those challenges ever come up again."
What challenges have you faced and how did you overcome them?
"I've definitely had a couple of difficulties in the role. One that comes to mind is when a Support Worker called up at 8pm to say they had tested positive for COVID-19 and were unable to work their shift! The only way to overcome these challenges is by working as a team. Our Team is so experienced and if we work together, we're able to overcome any challenges we face."
Care Coordinator interview tips
If you're interested in a Care Coordinator role, we've listed some questions below that you could be asked in an interview. These can help you combat those pre-interview nerves by having prepared answers to commonly asked questions!
With this question, the interviewer wants you to demonstrate your ability to organise workload. They want to see how well you can work under pressure while handling multiple tasks at once. In your reply, emphasise and demonstrate how you can communicate effectively with people to ensure the best possible care plan is in place for their needs.
A Care Coordinator has a duty of care to the people they support. You need to show the interviewer that you have great people skills and a willingness to provide quality care. You'll want to show that you are empathetic and understand that each person has individual needs, but they all deserve to be treated with respect.
The interviewer wants to hear about your ability to listen to all parties and understand their point of view. In the end, they want to hear that you can handle difficult situations and make informed decisions about what is best for the person receiving care.
The interviewer may ask this because they want to hear about your problem solving skills and your ability to find an alternative solution when something doesn't always go to plan. They want you to convince them you're a great fit for the role because you're persistent in putting the person's needs first and arranging the best plan of care for them.
Your answer to this question can reveal your character and why you think you would be a perfect fit for the company. Discuss your strengths and mention qualities you have which would take you far in this role. Applying for a Care Coordinator role means you already have a caring nature and a passion for helping people, which is ultimately what they want to hear!