Support Worker CV template
Need a Support Worker CV template to get yourself noticed? We can help!
Becoming a Support Worker and assisting service users is a highly fulfilling job however, with more than 200 million CVs on Indeed alone, it's increasingly hard to stand out.1
It begins with creating a strong and professional Support Worker CV. Our guide helps you do just that with a free Support Worker CV template to download and our top tips on the most important attributes Recruiters look for.
Many Support Worker jobs do require a CV. Alternatively, you could skip straight to applying for one of our jobs in only two minutes!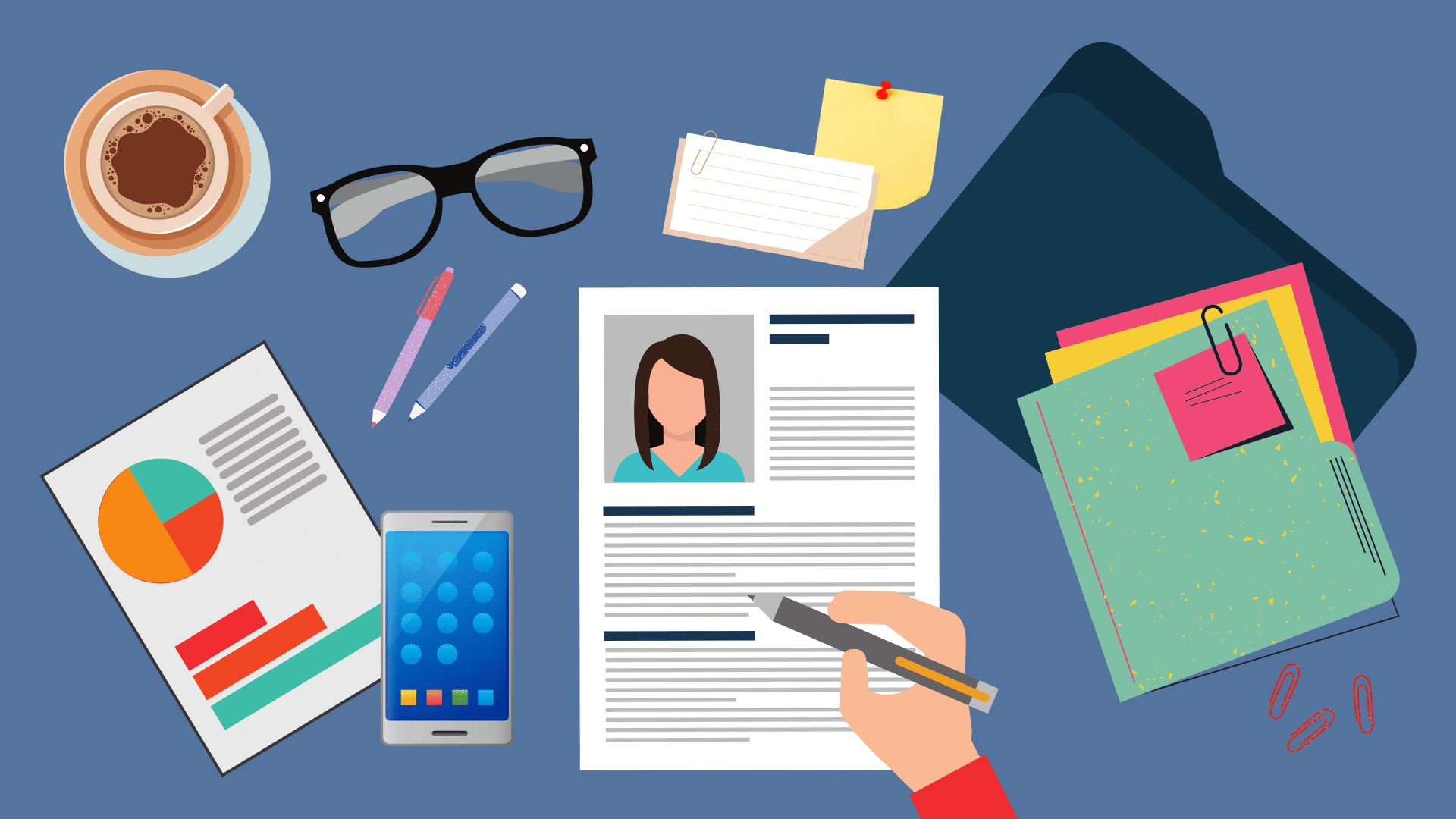 What makes a good Support Worker CV?
Ultimately, your CV is all about you and it's your chance to show why you're the right fit to be a Support Worker. It's important you're honest. If you don't have a certain skill or qualification, don't include it! Make sure you keep your CV short and to the point.
The best Support Worker CV examples include relevant skills, experience or qualifications that are also found within the job advertisement. Therefore, it's essential you make sure you read it carefully and understand what the Recruiter is looking for so you're in the best position to be offered an interview.
Having a strong and professional CV is important. It's a reflection of yourself and proves you'll be great for the job. As a Recruiter I read hundreds of CVs every day, so you want to make sure you stand out from the crowd. You can do this by including certain skills you have or any experience that you think demonstrates your ability to fulfil the role.

Most importantly, a good Support Worker CV is unique and personal to you. Don't be afraid to include anything that's relevant to the role which you think represents why you'd be the perfect candidate. When you're writing your CV, you should always keep in mind that you need to be honest, professional and of course, be yourself."
– Nicol, Disability Support Recruitment Manager
How do I create a Support Worker CV?
It can be overwhelming to think about how to create a professional CV. Our infographic lays out some top tips to keep in mind to set you on the right path: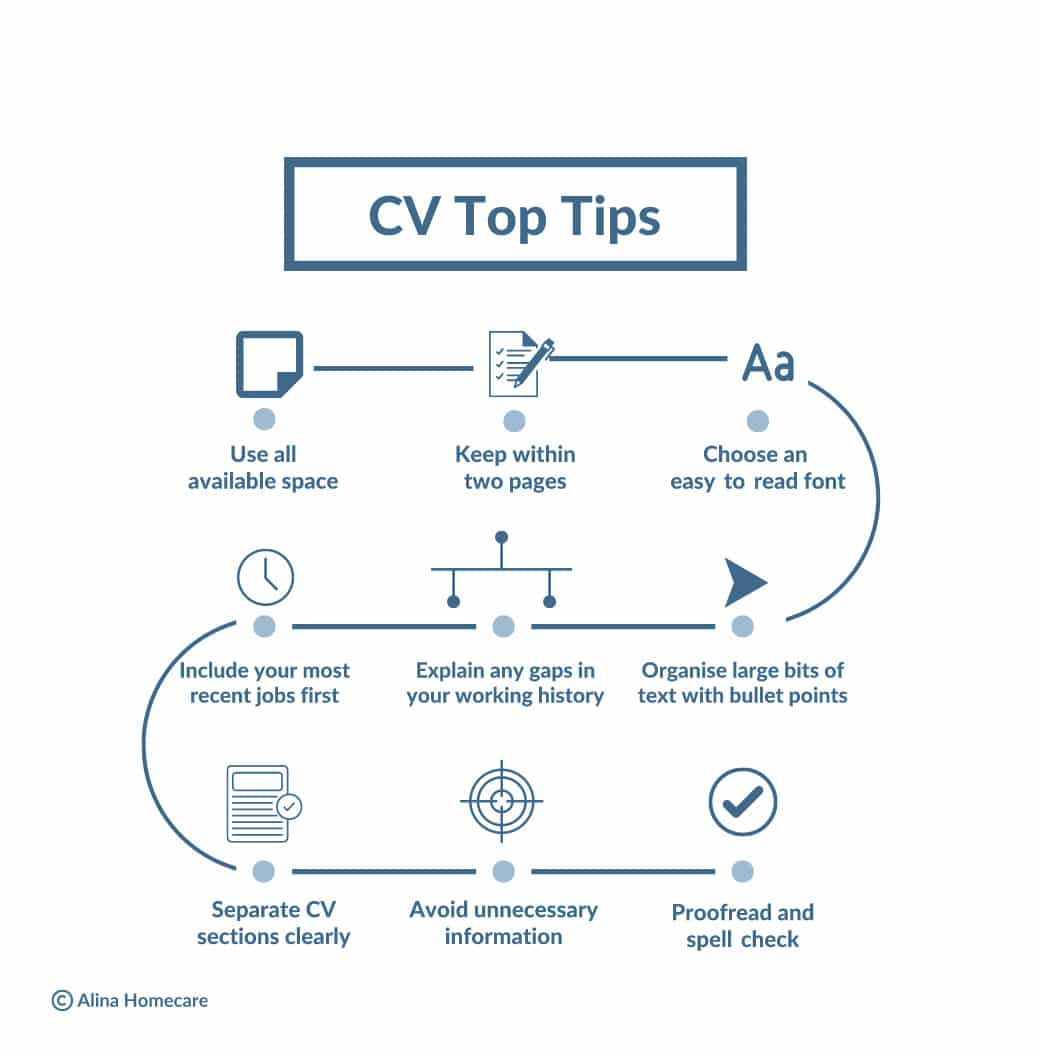 1. Format
When writing your Support Worker CV, there's no one set format to follow. However, make sure your professionalism is reflected within your CV as this is a key attribute Recruiters look for. Our Support Worker CV template takes the stress away and provides you with a great format to use.
Put your most recent job or qualification first as it makes it easier for the Recruiter to read
Use a clear and easy to read font, such as Calibri or Arial, in an appropriate font size
Keep it as short as possible. Your CV should not exceed the length of two A4 pages
Although it's important your Support Worker CV is unique, there are some main sections that Recruiters expect to find on a typical CV and must be included. This is because the Recruiter needs to learn certain information about you to understand if you're the right fit for the job.
Here are the main sections you should include in your CV:
Contact details
Personal profile
Experience
Education & qualifications
Skills
Additional sections (optional)
References (optional)
2. Contact details
You need to ensure you provide current contact details so the Recruiters can contact you quickly and easily to arrange the next steps of the application process. You must include:
Personal phone number
Personal email address
Postal address
Your personal profile is a vital part of your Support Worker CV. It belongs right at the start as it acts as an introduction and is your chance to convince the Recruiter that your CV is worth reading. It's typically around three to four sentences long. Take time to read the job description to make sure your personal profile fits the role.
Who are you?
What can you offer being a Support Worker?
What are your career goals?
As this is the first time the Recruiter is learning about the type of person you are and your previous experience, it's important you convince them that you're the perfect candidate for the role. Don't worry if you don't have any experience of being a Support Worker. You can discuss how other life experiences have given you the skills and qualities for the role.
Here are some examples:
With Support Worker experience
A compassionate and professional Support Worker, with over six years' experience providing support and care for a variety of individuals with a range of disabilities.
Highly efficient and knowledgeable in delivering quality support and promoting personal development. Skilled in the creation of support plans, based on observations and individual requirements. Experienced in liaising with key stakeholders such as people in the community and local authority groups, whilst ensuring all delivery of support is compliant with relevant policies and guidelines.
Without Support Worker experience
Outgoing, caring and responsible individual, looking for the opportunity to become a Support Worker to develop my passion for supporting people. My previous experience as a Teaching Assistant and caring for a group of individuals has driven me to want to support people to live a fulfilling life.
Having a brother with Down's Syndrome has taught me how to support someone with a disability, which I wish to continue as a career. I am hard working, dedicated and a great team player and believe I would make an excellent addition to your team.
4. Experience
After your personal profile, include any previous experience. Make sure any gaps within your work history are explained. Next to each job you list, include a brief description of the responsibilities you had and the relevant skills you developed in these roles.
Don't feel disheartened if you've never had a Support Worker role or similar before. Some of the skills you may have learnt in other positions can also help shape you to be a great Support Worker such as patience, time management and compassion.
List your most recent job first and include your start and end dates for each role (use the word present as the end date if you're currently working in the job)
Write a couple of bullet points per role, describing your key responsibilities
Tailor your work experience to the Support Worker job description
Remember to keep it short and to the point. You don't want to write too much about each of your previous job roles as your CV should only be two pages long. If you've had a lot of jobs in the past, don't include them all. Only include the most recent few or the ones that are most relevant for the role.
With Support Worker experience
Support Worker – (October 2017 – Present)
Part of an established team of Support Workers, providing dedicated support to individuals to encourage personal development
Communicating with key stakeholders such as Regulatory Authority groups, family members and staff to understand if any changes are required to support plans
Running sessions to educate relatives on how to effectively support their disabled loved ones
Without Support Worker experience
Teacher – (April 2011 – September 2022)
Educating primary school children in compliance with the Government's curriculum
Teaching children important life skills and encouraging them to participate in activities
Ensuring all essential documentation is complete and up to date
5. Education & qualifications
Being a successful Support Worker goes far beyond your formal education and any qualifications you may hold. Despite this, you need to include an education section as part of your Support Worker CV.
Put the most recent information first
I

nclude what courses you studied and the grades you achieved

When discussing your school education, you're only required to list Maths and English as most Recruiters look at passes in these subjects as a minimum requirement
When listing your educational experience and qualifications, tailor what you write directly to the role of a Support Worker. Perhaps you studied Health & Social Care at school or have relevant qualifications? Even if you don't, you'll still need to include this section.
Here are some examples:
With relevant qualifications
NVQ Level 2 Diploma in Health & Social Care | September 2019 – June 2021
West College London
A-Levels | Health & Social Care, Art, Geography | September 2017 – May 2019
Graded A, B, C | Bury College
GCSEs | Including Mathematics and English | September 2012 – June 2017
Bury High School
Without relevant qualifications
GCSEs | Including Mathematics and English | September 2006 – July 2011
Having the right Support Worker skills are essential and the best CV examples ensure they display them. Make sure you only include a select few of the most relevant ones to the role.
Create a list of your Support Worker skills and select the ones that are most suited to the role
For each skill, add a short sentence to prove your skills
Many Support Worker CV examples contain important skills such as compassion, patience, flexibility, the ability to work under pressure and active listening
Remember, these skills don't just have to be what you have learnt from previous jobs. Many great Support Worker skills are developed through your personal life as well. Often, it's a good idea to use a combination of both professional skills and skills that you have learnt through everyday life in your CV.
Here are some examples:
With Support Worker experience
Patience – remaining calm in situations where I may experience challenging behaviours
Adaptability – making quick decisions when encountering a sudden change
Time management – efficiently stick to schedules and accurately meet all deadlines
Without Support Worker experience
Effective communication – conversing with clients and other businesses professionally
Creativity – thinking outside the box and coming up with innovative ideas
Teamwork – working effectively in a team to accomplish a mutual objective
Although it's not essential, you may want to include an additional section to showcase any other skills, experience or qualifications. Just make sure that whatever you include is relevant to a Support Worker role.
Any relevant qualifications or Support Worker courses you've completed
Volunteering, projects, achievements or hobbies
Don't worry if you don't have any relevant achievements. You can include any other experiences you've had or hobbies you enjoy that have taught you skills that can make you a great Support Worker.
Here are some examples:
With Support Worker experience
Volunteered once a week to support children with learning disabilities to attend local community events
In my previous role, I was awarded 'Support Worker of the month' twice
Without Support Worker experience
I am part of a netball club and practise weekly which has improved my ability to work and communicate effectively in a team
I played an active role in helping my local community organise a fundraiser to construct a much needed library
It's not necessary for you to immediately include your references on your Support Worker CV. However, it would speed up the process. If you choose not to include them right away, you need to state that references are available on request.
If the Recruiter who is reading your CV thinks you'd be a great fit for the job, they will contact you for your references. Typically, they're looking for two references and these can be from previous employment or academic references.
Where can I find a Support Worker CV template?
Want to become a Support Worker but not sure how to write your CV? Download our Support Worker CV template to get started. You'll then have a strong CV and be on your way to achieving interviews.
Five top tips for writing a Support Worker CV
One of the most important things you must keep in mind is that the information you include in your CV is relevant to the role you're applying for. A good CV is only two pages long, so you're restricted on how much information you can write for each section. Make sure you include the details that will sell you as the best candidate for the job.
When writing your Support Worker CV, you need to be honest throughout. If the Recruiter discovers you didn't tell the truth during your DBS and reference checks, or if you're caught out in the interview, you're likely to be unsuccessful. If you don't have a particular skill or qualification, simply don't include it in your CV.
Someone's CV might get rejected if it contains a spelling or grammatical error. It's important you check your CV and proofread it. It could be beneficial to read it out aloud to check if it sounds natural.
A CV should only be a maximum of two pages long, meaning there isn't a lot of space to go into detail. When writing your CV, remember to keep sentences short and to the point. You can always make a note of any other skills or achievements you want to include and use these in your cover letter or Support Worker interview.
Using a CV template can reduce the potential for stress when creating your Support Worker CV and allows you to spend time focusing on the next steps such as preparing for an interview. We have created a downloadable Support Worker CV template which includes a great format and some key points to help you with what to include. Download our Support Worker CV template now!
Why should I become a Support Worker at Alina Homecare?
At Alina Homecare, we're passionate about helping you develop and grow with us. If you join our Team, you'll receive exclusive Alina Homecare Academy training to help you deliver your best work every day.
You'll be assisted by one of our dedicated Trainers who will help you understand how to provide the best support services possible. In addition, you'll earn competitive pay, have access to our rewards programme with big discounts on top brands and other great benefits.
Our Support Worker jobs at Alina Homecare really are one of a kind! Each day is different and you'll play a key part in helping service users develop their life skills which contributes towards living a fulfilling life. As a Support Worker, you'll be making a real and positive difference.

At Alina Homecare, we value our fantastic Team of Support Workers. When you choose us, you'll enjoy great pay, 24/7 wellbeing support and paid ongoing training via our exclusive Training Academy."
– Nicol, Disability Support Recruitment Manager
Now that you've finished writing your Support Worker CV, you may be wondering what the next steps are.
Normally when someone applies for a job, they'll provide a cover letter along with their CV to support their application. This is often a one page document which highlights your skills and experience and how they make you an ideal candidate. To learn more and help you write a strong Support Worker cover letter, read our guide.
At Alina Homecare, our application process is quick and easy as we don't require a CV or a cover letter! To apply for one of our Support Worker roles, you don't need any previous experience or qualifications as we provide all the training you'll need. All we require is that you have the right to work in the UK and have passed an enhanced DBS check.
So, you've submitted your application and you've just been invited to an interview; great! Now it's important that you make sure you're fully prepared so you're in the best possible position to be successful. To learn more about how you can prepare and what sort of questions you may be asked, read our guide on Support Worker interview questions and answers.
After you've written your CV, make sure you support it with a strong cover letter to introduce yourself and why you'll be a great fit for the role. If you have been invited to an interview, its important you prepare as much as possible.

As a Recruiter myself, it's easy to tell which candidates have put in the effort and who hasn't prepared. Remember to practise, prepare questions to show you're really interested in the role and dress to impress!"
– Nicol, Disability Support Recruitment Manager