Why Apply For Our Disability Support Worker Jobs?
Helping service users achieve their goals and dreams is incredibly rewarding but our disability support worker jobs come with a range of other benefits too, including:

Great pay
Competitive rates

Training
Develop + grow

Choose your hours
Flexible working

Extras
Paid holiday + discounts
What Is A Disability Support Worker?
We provide high quality support to adults and children, to become an active part of their community and to achieve their goals and aspirations.
If you're passionate about supporting others achieve their goals, live a fulfilled life and want a rewarding career, our disability support worker jobs could be right for you.
What Does a Disability Support Worker Do?
Our disability support worker jobs are varied. You'll help service users with a wide array of tasks, including:
Attending appointments – being supportive
Going to day centres – for fun activities
Social activities – to meet new people
Day trips out – like going bowling!
Taking medication – creating routines + collecting prescriptions
Preparing meals – ensuring a healthy diet is maintained
Personal care – maintain good hygiene + getting ready for the day
Support with shopping – budgeting, meal prep & essentials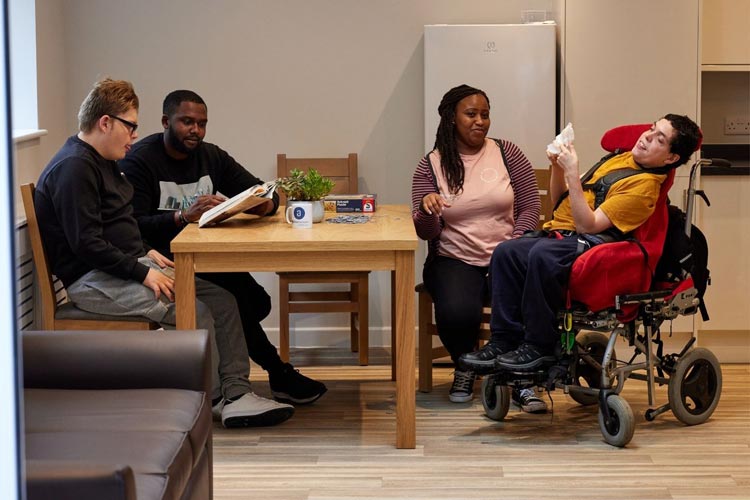 Work With Us
Come & join us today! It's super quick and easy to apply for a disability support worker job.
How much does a disability support worker get paid?
Our pay varies depending on location and your previous experience. To learn more about our disability support worker job pay rates, chat to our friendly Jobs Team who'll provide you with all the information you'll need. You can call on 0330 056 4233.
Can I work part-time?
Yes! We have both part-time and full-time jobs available, so that you can work hours which suit you. It's also a matter of preference, as disability support workers would rather work guaranteed hours and others more flexible hours.
Our full-time hours are 40 hours a week and our part-time hours can be flexible. If you're interested in learning more about our flexible hours, talk to our Jobs Team who'll give you more information.
How soon can I start?
It takes only a few minutes to apply for a disability support worker job. From the day we receive your application, you could be starting your new job in just four weeks time! After you apply, if you seem suitable, you will be booked in for an interview. If you're successful, you'll be given a job offer. You will then complete your induction training at our fantastic exclusive, Alina Homecare Academy. Once completed, you will then meet your amazing local team whom you'll work with, book onto your first shift and then be ready to shine in your new job!
How old are the people I will be supporting?
We support many amazing people of all ages. Some are young adults and are as young as 18.
What skills are needed to apply for a disability support worker job?
Everyone wants a meaningful job. At Alina Homecare, we can give you that. You'll have opportunities to develop as a person and learn new skills to make a difference.
Bring your supportive and happy attitude and we'll teach you the rest. No experience is needed as our exclusive Alina Homecare Academy trains you to succeed as a disability support worker.
We'll support you every step of your career with us, which is why we also offer wellbeing support to all team members.
You'll make new friends and feel inspired to reach your full potential. No two days will be the same and here at Alina Homecare, our roles are more than 'just a job'.