Why Apply For Our Live-in Carer Jobs?
Our live-in carers are important to us so our live-in carer jobs come with great benefits including:
Working patterns to suit you
What is a Live-in Carer?
A live-in carer lives in a client's home helping them with daily life such as personal care, preparing meals, and enjoying social and physical activities.
Our live-in carer jobs offer flexible working patterns that are varied and rewarding.

You'll help clients at home with daily tasks they can't do themselves – from personal care, meal preparation to household duties.

As a live-in carer, you could take clients out & about in their local community delivering our excellent care every day.

Bring your caring & positive attitude – our exclusive Alina Homecare Academy training will help you be the best.
What Does A Live-in Carer Do?
Our live-in carer jobs have a range of responsibilities. Things you could help our clients with: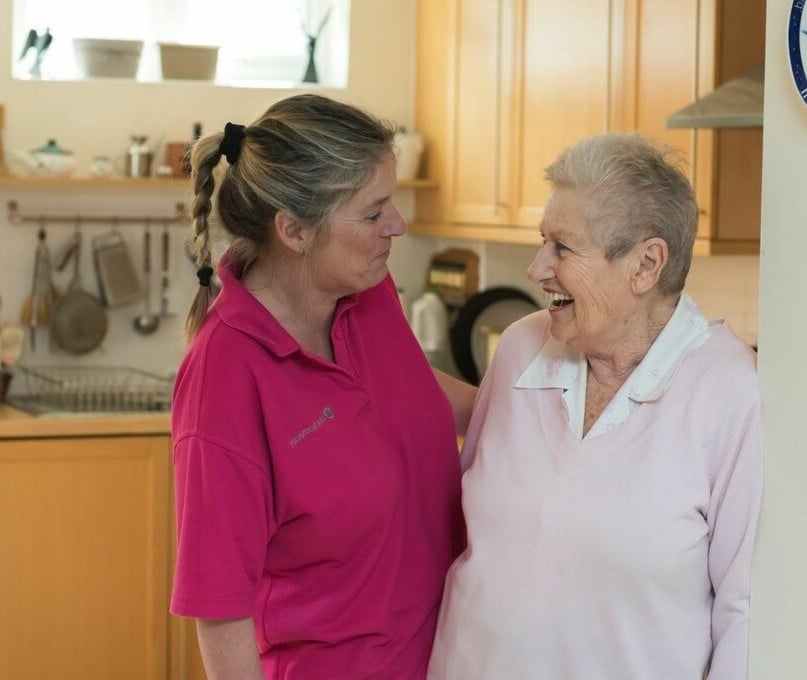 What Skills Do You Need?
Everyone wants to do a job that makes a difference. Our live-in carer jobs do just that. Bring your caring and positive attitude to work and we'll teach you the rest.
All you need is a willingness to learn, a caring and helpful attitude and good communication skills.
As a live-in carer, you'll have a chance to personally develop & grow by learning new skills, meeting new people, and benefit from training that interests you through our Alina Homecare Academy.
Work with us
It's quick and easy to apply for an Alina Homecare job. Do it now!
Our Live-in Carer Job Vacancies
Our Job Checks
Before you join our team, we'll complete some jobs checks. These are in line with CQC regulations and are generally completed within a week. We'll check:
Quick Questions
We offer competitive pay rates for our live-in carer jobs. These vary depending on the client's needs and whether you're supporting a single person or a couple.
We offer a range of different working patterns to suit your's and our client's needs. Some of our live-in carers choose short term placements, others choose more permanent ones. We'll work with you to find the right placement.
You'll work and live in the clients home 24/7. We work across the south of England and have a network of branch teams who are there to support you. Find your local team and apply for a role.
Live-in carers live in the same home as the person/s they care for. Clients who choose to have a live-in carer may have needs that require regular daily attention, other people simply want support and companionship.

If you would like to provide visiting care, you can apply to our Care Worker Jobs.
Joining Alina Homecare is a chance to start an exciting new career. We believe everyone has potential, no matter how much experience they have. We'll support your growth and development from day one, and pay for your ongoing training. As a result, we constantly see team members progress, and many of our operational managers today started out as Care Assistants, Coordinators, Support Workers or live-in carers.