Shopping assistance for elderly people
As we get older, some daily tasks can become more challenging. Shopping assistance for elderly people aims to overcome these difficulties when it comes to grocery shopping. It can include everything from assistance with transport to and from stores to finding specific products and carrying shopping bags.
If your loved one needs care and support at home, a Home Carer can provide help with daily tasks while supporting them to remain independent. They can support with maintaining a healthy and balanced diet, whilst ensuring your loved one remains in control of routines and stays in familiar surroundings.
Why is elderly shopping assistance important?
According to Age UK, 19% of people aged 80-84 say they struggle with shopping for groceries. This increases to 60% for those over 90.1
Older people may have difficulty getting to the shops, especially if they live in a rural area and no longer drive or have a car. Difficulties with mobility may prevent them from being able to use public transport safely. Items in stores can also be stacked on high or low shelves, which may be inaccessible to many elderly people, especially those using a walking stick or wheelchair. Carrying heavy shopping essentials may also be unmanageable, and shopping online may not be possible if they don't have a computer or smartphone, or they struggle with technology.
Without help, seniors who struggle with going to the supermarket may begin skipping meals or eating snack foods that aren't nutritious. Ultimately, this can result in poor health.
At any age, eating well is vitally important for good health. Therefore, being able to shop for food and other essentials is an important part of continuing to live independently at home. For some people, help with shopping for the elderly is their only option.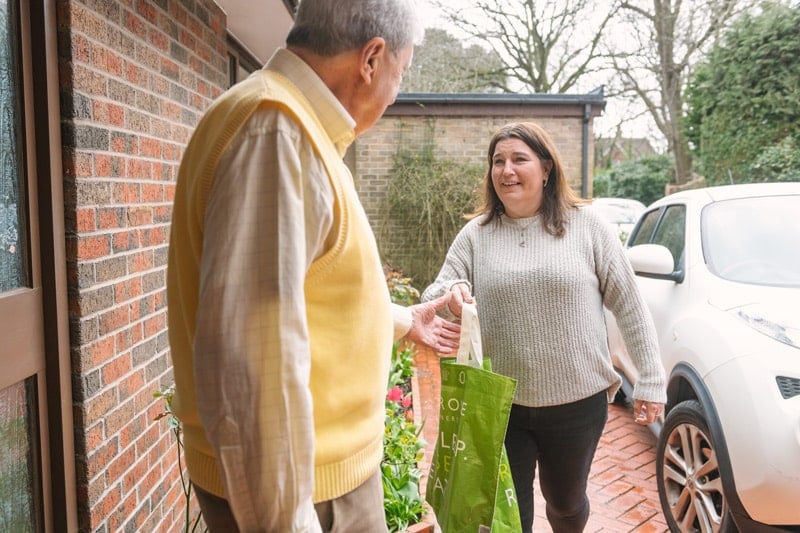 Types of elderly shopping assistance
There are different types of support services available to those who live alone or need additional support with shopping.
Some local authorities, and most Home Care providers, offer an escorted service to help with food shopping for the elderly. This is where someone provides a one to one service to escort an elderly person while they shop in store. They can assist with transport to and from the store, as well as help getting around the store and selecting items.

This service is suitable for older people who are mobile enough to go out but need extra help with transport to, from and around stores. Alongside help with shopping, older people – especially those who live alone – have an opportunity to get out and about and interact with others.
Some supermarkets have specialised services to allow elderly and vulnerable people to shop peacefully. For example, all Tesco stores now implement a 'quiet hour' policy every Wednesday and Saturday morning from 9-10am. They turn off music, reduce loud checkout noises, and dim lighting during this hour so customers can shop in a calm environment.2

Alternatively, the supermarket chain Morrisons has set up a dedicated telesales service aimed at helping to ensure vulnerable and elderly people can get the groceries they need. The service allows customers to choose from a list of essential items and arrange delivery of their order to their doorstep.3

Additionally, if help is needed with moving around the supermarket, some have wheelchairs, mobility scooters, and trolleys that can be used with a wheelchair. You'll need to check your local store to find out if they have these options available.
Some older people may be housebound and unable to go out to get their own shopping. Home delivery services allow anyone to have items delivered straight to their door. Most supermarkets now have online services where you can create a shopping list before browsing and purchasing items. You're then able to schedule the delivery to your door at a suitable time.

When supermarket shopping online, quite often you'll receive suggestions based on previous orders so you can quickly add regular items to your shop. If your elderly loved one has a condition that affects your memory, this could help with buying regular items and minimise forgetting essentials. There's also the opportunity to do an immediate stock check at home, which is something you can't do if you're physically in a store.

Unlike in store shopping, ordering groceries online can often come with a delivery fee. However, this can usually be avoided by ordering enough to meet the minimum amount to qualify for free delivery.

Another opportunity to save money is the online deals that are often advertised. Most supermarkets now provide a loyalty scheme where members can purchase items at a reduced price. It's also possible to save money from shopping online due to fewer distractions and therefore skipping impulse purchases.

Other home delivery services, such as HelloFresh or Ocado, provide an easy way to cook meals at home. They allow you to choose a flexible subscription plan that matches your lifestyle. Fresh, pre-portioned ingredients are delivered straight to your door along with step by step recipe cards. Their flexible services allow you to choose which meals you like, skip a delivery, or cancel anytime. These home delivery options usually require the internet to manage your subscription, but a Home Carer would be able to help with this.
Online shopping has become a popular alternative since the COVID-19 pandemic. In 2022, online retail stores constituted 26.5% of overall retail sales in the UK. This is more than double the amount from the previous decade.4

Internet shopping is an easy way to purchase items such as clothes and household goods and provides an abundance of choice! Items are then delivered directly to your door, usually within a few days. For those unwilling or unable to use the internet, a Home Carer is a valuable addition because they can help with online shopping.
A sunflower lanyard is available for anyone with a hidden disability, condition or impairment that's not immediately obvious to others. It's a way of voluntarily displaying that you have a hidden disability and might need additional support. They're available for free at some supermarkets, or available to buy from the Hidden Disabilities website.

Visiting shops can be challenging, especially for those who are unable to easily access a store or find it difficult to navigate. For some, the shopping experience can lead to a sensory overload and be overwhelming.

Hidden Disabilities found that over 80% of people with a hidden disability agreed shops that recognise the sunflower lanyard are helping to make in store shopping more accessible for people with hidden disabilities. They also found that over 90% are more likely to visit a shop that recognises the Hidden Disabilities Sunflower.5
A Home Care provider can enable you or your elderly loved one to stay in the comfort of your own home with care and support provided by a professional. They'll focus on ensuring you live as independently as possible whilst delivering personalised care and support.

Having a Home Care Assistant is one of the most reliable ways to offer shopping assistance for seniors that doesn't require using the internet. In fact, it could be as simple as providing reliable and safe transport to the store. It's also an option that provides many other benefits, including companionship and Domestic Care.

Typically, help with shopping for the elderly would be only one of the many tasks that a Home Carer performs. They can also carry out other necessary duties such as putting the groceries away, preparing meals and other household tasks.

The biggest benefit of a professional carer is the personal service they provide in the comfort of home. Instead of ordering online, a senior can rely on their care provider to purchase items and brands that they prefer. Being able to count on a friendly face for elderly shopping assistance and other needs makes life easier for those who need extra help to remain independent.

Benefits of a Home Carer for elderly shopping assistance:
Grocery shopping help for seniors
If your elderly loved one is finding shopping in store increasingly difficult, these simple tips can be an effective way to make the experience more manageable:
Make a List
One of the most helpful things to do before going food shopping is to create a list of items so you know exactly what you need to buy. This simple task will prevent you from forgetting essential items or unnecessarily overbuying items you don't need. For some people, organising their list by aisles in the supermarket is the best way to help them remember everything they need and save time when in store.
Meal Planning
Before creating a shopping list, it's a good idea to plan meals so you know the exact ingredients you need to buy. Quite often, creating a meal plan helps to save time and energy when preparing food, knowing you already have everything you'll need. It's also a great way to ensure you're getting a healthy and balanced diet, instead of resorting to quick alternatives if you don't have fresh ingredients at home.
Avoid Crowds
Some seniors find shopping during busy periods overwhelming and would prefer to browse in peace and quiet. Generally, the quietest time for food shopping is early in the morning or late in the evening. Some supermarkets, as previously mentioned, have dedicated 'quiet hours' in stores especially for elderly and vulnerable people to avoid crowds. Shopping at these times will help make the experience less stressful.
Portion Control
For an elderly person living alone, managing portion sizes can be challenging, especially if they're used to cooking for more than one person. In some instances, larger portions of fresh produce are cheaper than their smaller counterparts. It's worth considering buying larger portions to save money. Cooking generous portions and freezing leftovers means you have several meals readily available for future consumption.
Finding free shopping assistance for elderly
If your loved one needs help shopping for food, there's help available from the following options:
By contacting your local authority, you can find available support to help you remain independent at home. This is not limited to shopping assistance but can include things like washing and dressing, companionship, laundry and other household tasks. Your local authority will find an organisation that can help you with short term or long term support at home.
Follow this link to find your local council and contact them for support.
Food Banks
If your loved one is struggling to get out shopping, local food banks are a valuable service in the local community. They can be a great alternative to other options such as online shopping. Often, they'll have volunteers who are willing to deliver food to those who are unable to collect.
The Trussel Trust is one of the largest food bank organisations in the UK. You can find your local food bank by following this link.
Alternatively, you can check local authority websites and social media pages to find local food banks in your area, as well as charity pages who may offer delivery services.
Local Organisations
In your local community, there may be existing organisations that help with food shopping for the elderly, as well as other tasks. If you're part of a church or community group, they can often put you in touch with someone in the community who can help. This may be an individual who has offered their services or part of a larger organisation, such as Age UK.
Volunteers
During the COVID-19 pandemic, it became apparent there was an urgent need to help with shopping for the elderly and other essentials. Many people started to volunteer their services to go shopping for elderly and vulnerable people and deliver items to their doors. You may find volunteers advertising their free services in local churches or community noticeboards.
Benefits of elderly shopping assistance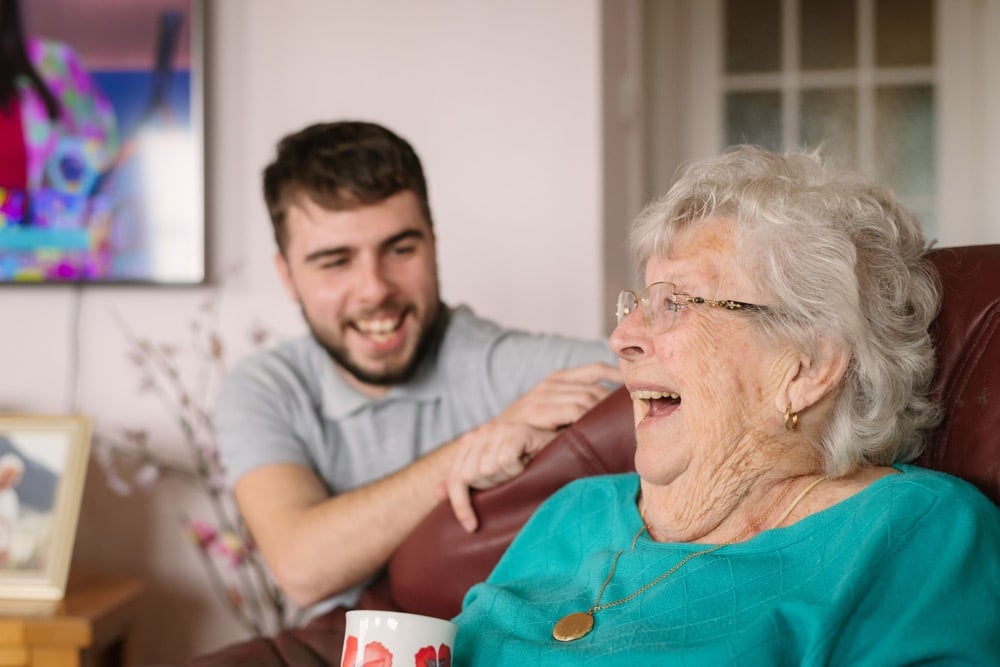 Companionship
Help with shopping for the elderly is extremely beneficial for those who require a helping hand with daily tasks and added social interaction in their lives. A Home Carer not only helps with shopping but also many other household tasks, as well providing valuable companionship.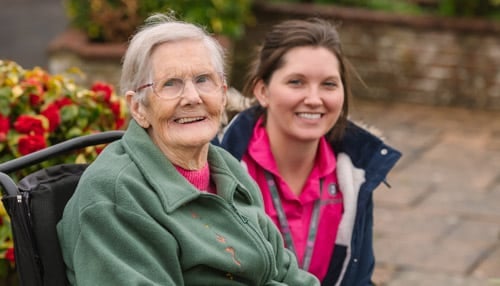 Peace of Mind
Grocery shopping help for seniors can provide a sense of security and peace of mind to families of elderly relatives, knowing their loved ones are being cared for by a professional. A Home Carer ensures safety during shopping trips and allows them to remain independent at home.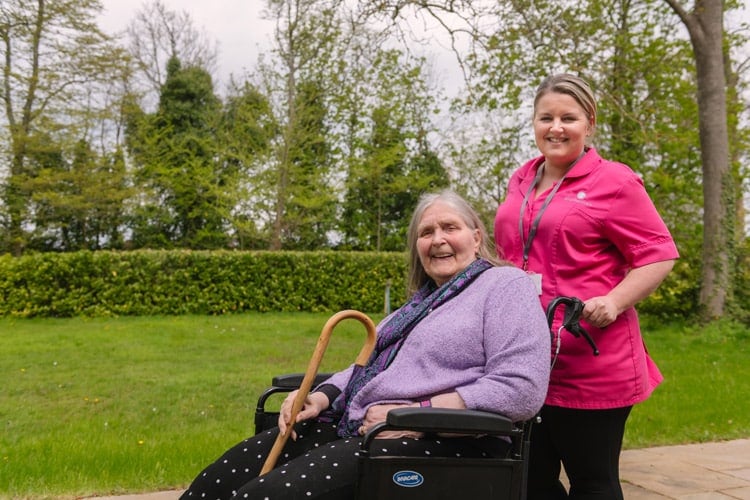 Mobility Help
Shopping assistance enables those with mobility restrictions to have a helping hand with transport to and from stores. Items stored on high or low shelves will be accessible and a Home Carer is available to carry heavy shopping items and bags.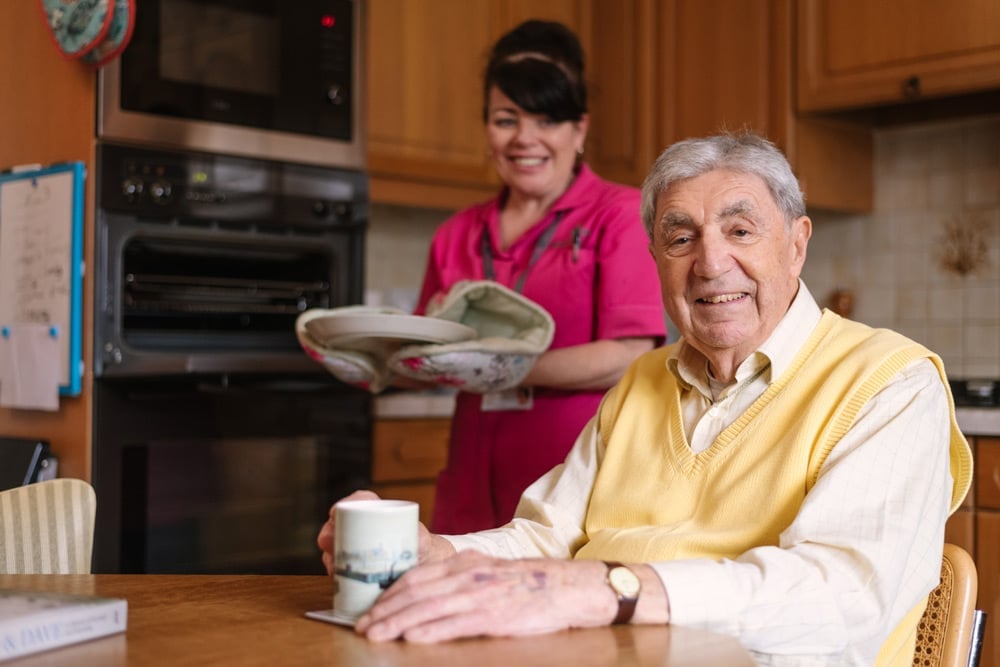 Health & Wellbeing
Along with great company, shopping assistance provides access to fresh and healthy food options which can improve overall health and wellbeing. A Home Carer not only helps with shopping but also with preparing nutritious meals to ensure seniors are eating well.
Alina Homecare has been extremely helpful in a very stressful time for my family. The level of care and dedication has been brilliant. The Team that looks after my Mum is fantastic. The office Team is always on-call and let you know if there are any problems. Nothing is too much for them. They also take my Mum out on social visits and take her shopping which is invaluable."
Andy, Relative, Poole
About our shopping assistance for elderly
At Alina Homecare, shopping assistance for elderly people comes as part of our Domestic Care service. Domestic Care is a form of Elderly Care that provides regular support with daily activities like shopping and other household tasks, such as changing bedsheets, laundry and keeping the home clean and tidy.
Shopping assistance also comes as part of our Companion Care service. This involves a Home Carer visiting your loved one at home to provide valuable social interaction and prevent feelings of loneliness. A Companion Carer will regularly visit the home to provide a friendly face and enjoy a chat over a cup of tea.
Home Carers can help with food shopping as much or as little as needed. For some, this might be help with planning meals for the week and what foods need to be purchased. For others, it might be providing transport to the store and accompanying them inside to select items off shelves. A Home Carer can be flexible or take control of the entire process, whether that's going to the shops or helping to do it online.
I'm a registered blind person. After coming out of hospital, I didn't want to go back to the care agency that I was with as I didn't think much of them. While in hospital, I was introduced to Alina Homecare who came in and did all the paperwork and assessment. I like Alina Homecare because I have the same person nearly all the time – because I'm registered blind that's very important to me. I think they're wonderful as they go the extra mile for me like bringing me a Christmas dinner, helping me to sort out my new mobile phone, helping me to sort out problems with my internet and emails, going to collect my shopping, doing my washing nearly every day. All in all, I'm really glad that I changed and chose Alina Homecare as they're all really lovely and wonderful going the extra mile."
Julian, Client, Basingstoke
As well as assistance with shopping, a Home Carer can prepare healthy meals to ensure your loved ones are eating a balanced and nutritious diet. They'll get to know their dietary preferences and allergies so they can prepare foods they'll enjoy.
Our Home Carers help with food shopping and they're also trained in medication management. This means they can assist with ordering and collecting prescriptions on time which is particularly helpful for those unable to get out of the home. Having a carer take on these tasks provides valuable reassurance that your loved one's health and wellbeing are cared for.
Our shopping assistance for seniors is included as part of our care services. Therefore, the cost varies depending on how frequently you'd like us to visit and how long you'd like us to stay. If Home Care is an option you'd like to explore, contact your local Alina Homecare Team to learn more.
1. Age UK, "Help with shopping", Reviewed 12 September 2023
2. Tesco, "Launching Quiet Hour permanently in stores", Reviewed 12 September 2023
3. Morrisons, "Introducing new measures aimed at helping vulnerable & elderly", Reviewed 12 September 2023
4. Statista, "E-commerce in the UK – statistics & facts", Reviewed 12 September 2023
5. Hidden Disabilities, "Sunflower shopping survey 2020", Reviewed 12 September 2023