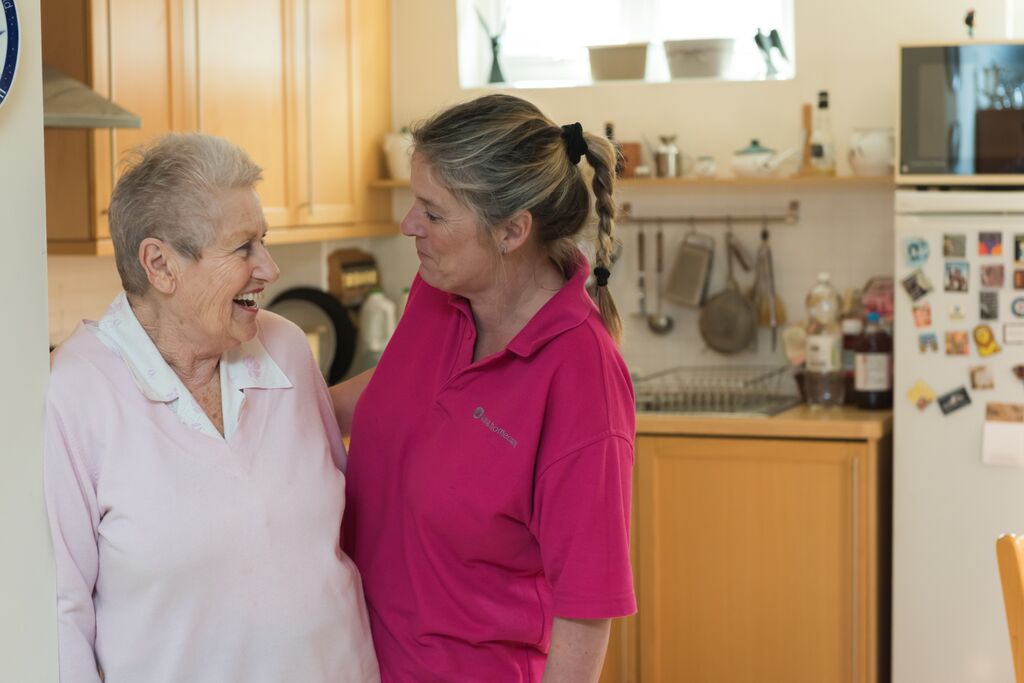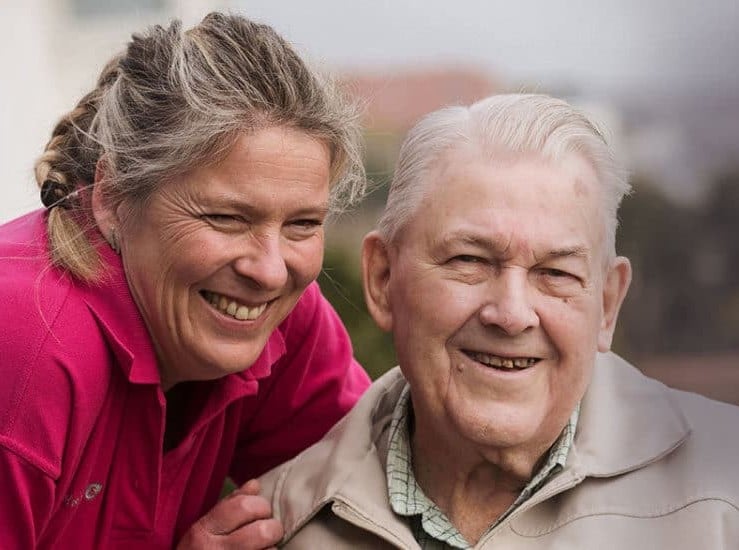 Personal Care
Find excellent quality personal care at home:

Personal Care
Personal care at home helps you or your loved one complete day-to-day tasks like bathing, getting dressed or ready for bed with dignity and comfort.
We work with you to develop a tailored personal care plan focused on your needs and preferences, whether it be helping you maintain your personal hygiene or performing more intimate tasks like changing a catheter.
Our fully trained professional Care Workers always deliver care with compassion, sensitivity, and respect every time. You'll get to know our team and build a relationship built on trust.
You or your loved one may want long term personal care or just a daily visit. Perhaps it's to help after a spell in hospital or those stairs don't make taking a bath seem very inviting anymore? It doesn't matter how much or how little help you need.
We are here to make life easier.
What does Personal Care include?

Dad has had a shower each day this week & the house looks neat & tidy. What a difference! Thought all care companies would be the same. Glad to be so wrong."
Family Member, Brighton

Your Personal Care options
Our personal care options are designed to fit your needs and routines, which we know are individual to each person. That's why we work with you to understand how you like things done and always do our best to help to maintain your independence. Many of our clients ask for help with:
Bathing & showering
Our personal home carers provide a safe and respectful environment to maintain personal hygiene, including changing continence pads, or simply getting you to the loo!
Health & beauty
Whether you have specialist creams, want help with your hair or support with shaving, our personal care assistants can help maintain your appearance.
Oral hygiene
Our carers can help you maintain daily oral hygiene, and can assist with regular visit to your local dentist. Whatever you need, we can help.
Why so many families trust us…
Personalised Care
We provide tailored care. Our care plans match your personal preferences and remain fully flexible should circumstances change. Our carers deliver care with compassion, dignity and respect whilst helping you retain your independence.
Quality Assured
Choosing to recieve Personal Care is a big decision. Our strict performance guidelines, Care Quality Commission ratings & transparency via our care monitoring app, gives added confidence that our quality is assured.
Excellent Training
Our personal care and support teams are carefully selected and receive excellent, training through our exclusive Alina Homecare Academy. We do not use agency or freelance staff to protect our reputation for excellent quality Care at Home.
Quick Questions
Personal care is a term that refers to support for a wide array of different day-to-day activities. These include bathing, showering, applying lotions, dressing, oral hygiene, health and beauty, shaving, going to the toilet, changing a catheter or maintaining a stoma, and more.
The cost of personal care at home varies according to your needs. Our team works with you to find a personalised care plan that suits your requirements, routine and budget. You can find out more about the cost of personal care here or find your local Alina Homecare Team to arrange a no obligation free home visit to discuss your needs.
To arrange a care plan, we recommend contacting your local team to discuss what level you or your loved one needs. Find your local Alina Homecare Team today.
We stand apart thanks to our commitment to quality, compassion and respect. We are quality assured by the Care Quality Commission and invest in rigorous training for our carers through our exclusive Alina Homecare Academy. We also believe that good care should be about you – so we work closely with you to tailor a Care at Home plan that suits your individual needs.

You can find out more information about the various methods of funding your care here.
Alina Homecare provides care in the privacy of your own home across a growing network of locations across the South of England. Find your local Alina Homecare Team. Our friendly teams are waiting to answer any questions you may have.
Your Care at Home choices…
Personal Care
We can help in the morning and evening, check medication is taken safely, and ensured dignity is maintained.
Domestic Care
We're here to make life easier for you. We provide care in your own home if running the home seems overwhelming.
Companion Care
We can drop-in for a chat, a cup of tea, or go out for the day, whatever you'd like to do in the company of our carers.
Dementia Care
Our carers provide help at home to people living with the many challenges dementia and memory loss brings.
Respite & Crisis Care
We're there for you when your carer has regular time away from your home or in the event of an emergency.
Palliative Care
We do all we can to improve quality of life in the face of a serious illness with our personalised care at home.
Stroke Care
We create personalised care plans to help the transition from hospital back home and provide essential support.
Live-in Care
A great choice if personalised 24 hour care at home is needed and an alternative to moving into a care home.