What is Convalescent Care?
Convalescent Care provides support while you or your loved one recovers at home from an operation, illness or injury.
Recovering from any change to our physical wellbeing can be a particularly vulnerable time. Usual activities can be more difficult or impossible, and continuing normal routines can be challenging.
At Alina Homecare, our goal is to aid recovery, supporting you or your loved one to regain as much independence as possible. This could be by helping with daily tasks and maintaining personal hygiene during a period of reduced mobility.
Whatever your circumstances, our quality Convalescent Home Care, delivered by professionally trained Care Workers, is all about you. We personalise care depending on your specific needs. From regular, visiting care at agreed times or 24 Hour Care at Home, our services promise high standards and much needed reassurance.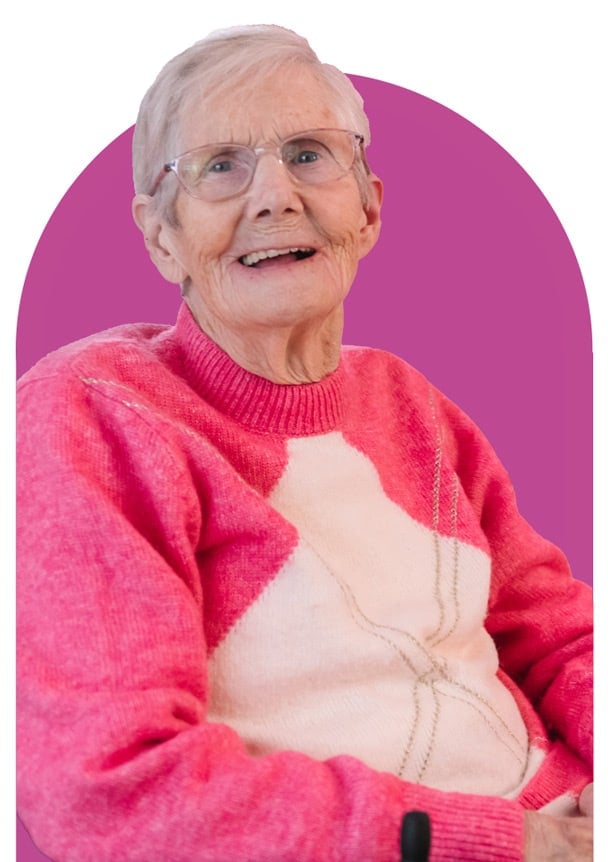 Why choose Convalescent Home Care?
If you or your loved one needs Convalescent Care and are choosing between Home Care or a care home, there are some key things to consider. For some, especially those with specific nursing needs, moving into a care home may be the best option. For others, the move can be difficult – especially following a stressful operation or injury – so Home Care is preferable.
Live-in Care is a great alternative to a care home. Receiving quality care in the familiarity, safety and comfort of the home can support recovery and positively impact overall health and wellbeing. Having your favourite people, pets and possessions nearby can improve your mood and promote feelings of security.
Post-operative rehabilitation is focused on boosting recovery and rebuilding confidence. Convalescent Care following an operation involves achieving goals over a specific time to enable you to regain independence.
If you or your loved one requires continuous assistance following an operation, illness or injury, you may want to consider Live-in Care. This is when a Care Worker moves in with you and provides care and support to you at home throughout the day and night.
Why choose Alina Homecare?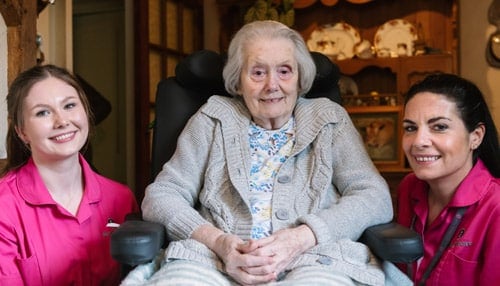 Understanding
Our skilled Carers are trained to understand Convalescent Care and help to aid recovery safely. We adopt a flexible approach and adapt care plans to meet your needs if or when they change. We invest time in our Carers to ensure every Convalescent Care experience is high quality.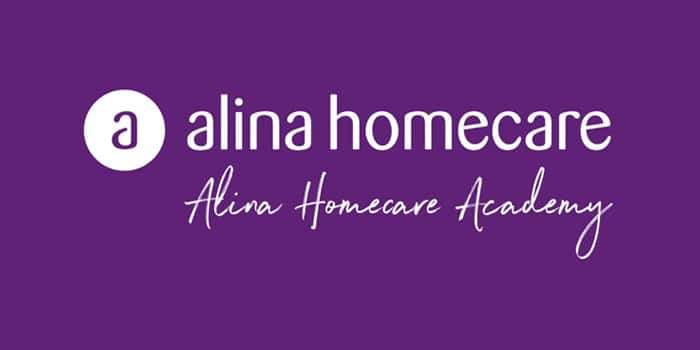 Exclusive Training
Our goal is to understand the best way to support each person and their recovery. We achieve this by ensuring each of our Carers receives excellent quality training from our exclusive Alina Homecare Academy. We work with you and your support network to ensure care is tailored to your exact needs.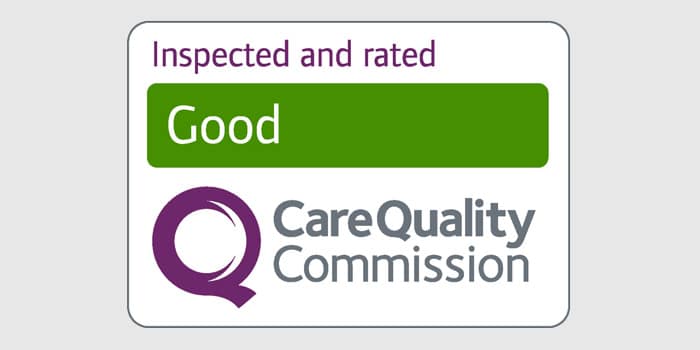 Quality Care
We're regulated by the Care Quality Commission (CQC) and proud winners of the homecare.co.uk Top 20 UK Home Care Group Awards 2021, 2022 & 2023. We take immense pride in the standard of care we deliver and we're passionate about making what we call the 'Alina Difference'.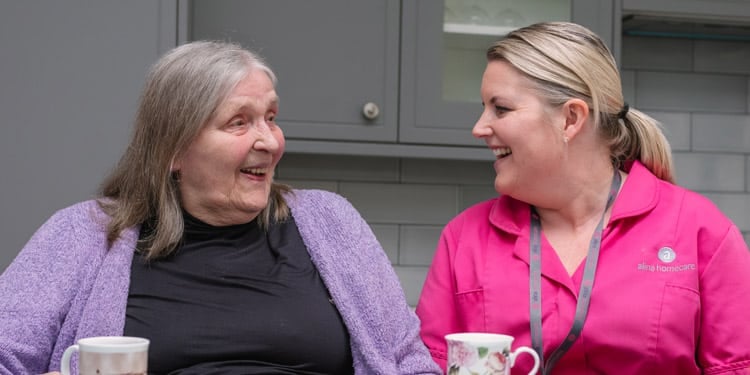 Personalised Care
Our personalised approach to care is unique to each client. Our care services are flexible when circumstances change and always delivered with compassion, dignity and respect. If you choose Convalescent Live-in Care, we'll do our best to match you with a Live-in Carer based on shared interests.
What does our Convalescent Home Care include?
We provide a variety of Home Care options. You can choose half hour visits once or more per day through to 24 hour care assistance. Our services include: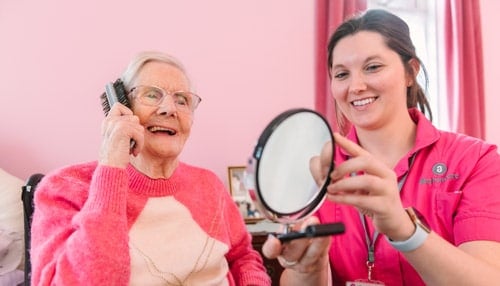 Personal Care
From washing and using the bathroom to getting ready for the day – we can help. Our Carers can change bandages or dressings following an operation and also apply creams or ointments. They'll help you or your loved one to maintain hygienic routines with dignity and respect.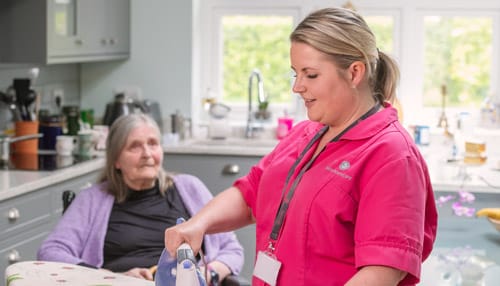 Housekeeping
Laundry, washing the dishes, shopping for groceries or taking out the rubbish. If you're recovering from an operation, illness or injury, our friendly Care Workers can help to keep your home the way you like it so that household tasks don't pile up during your recovery.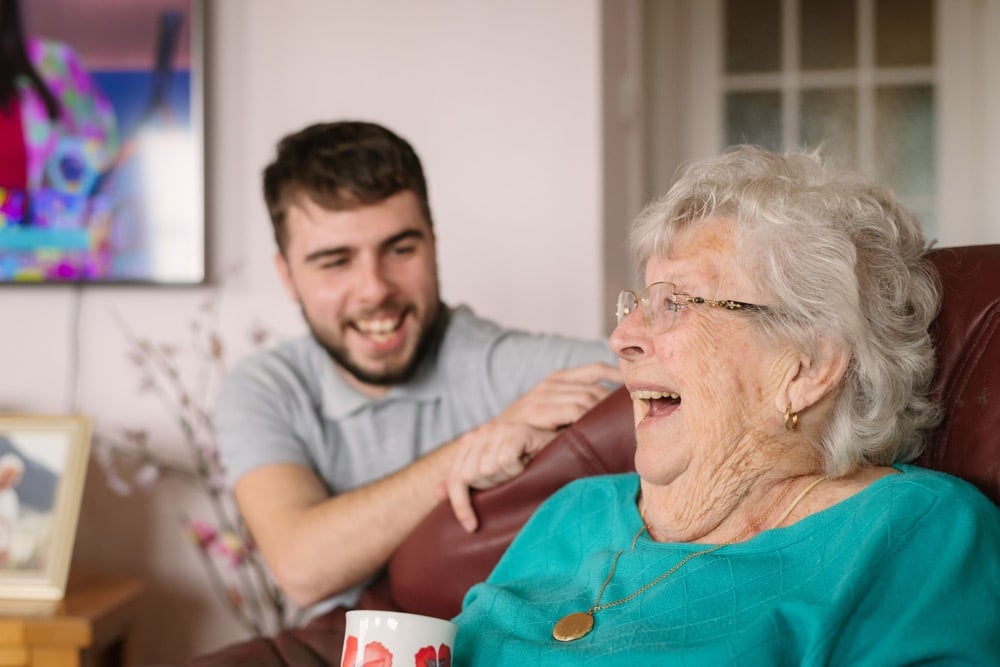 Companionship
Recovering from an operation, illness or injury can be lonely if it prevents you from going about your usual routines. If all you need is a friendly face and some company, our Companion Care service provides just that. Having a friendly face around can encourage a speedy recovery.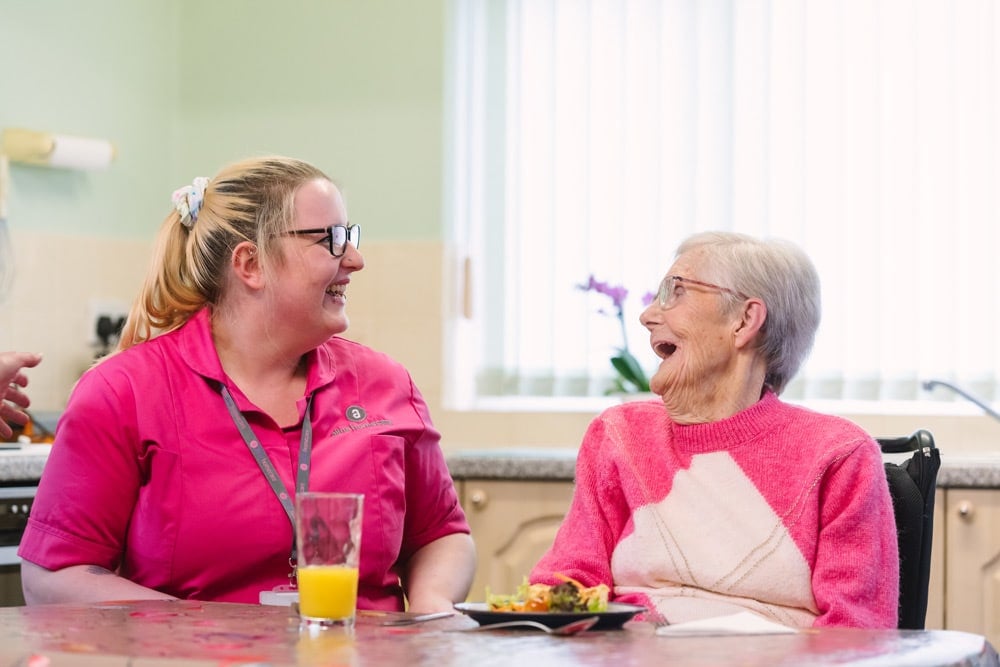 Meal Preparation
Our Convalescent Care Workers can prepare nutritious meals for you or your loved one that take into account your preferences and allergies. We'll help to ensure you eat and drink regularly to maintain a healthy and balanced diet to aid recovery.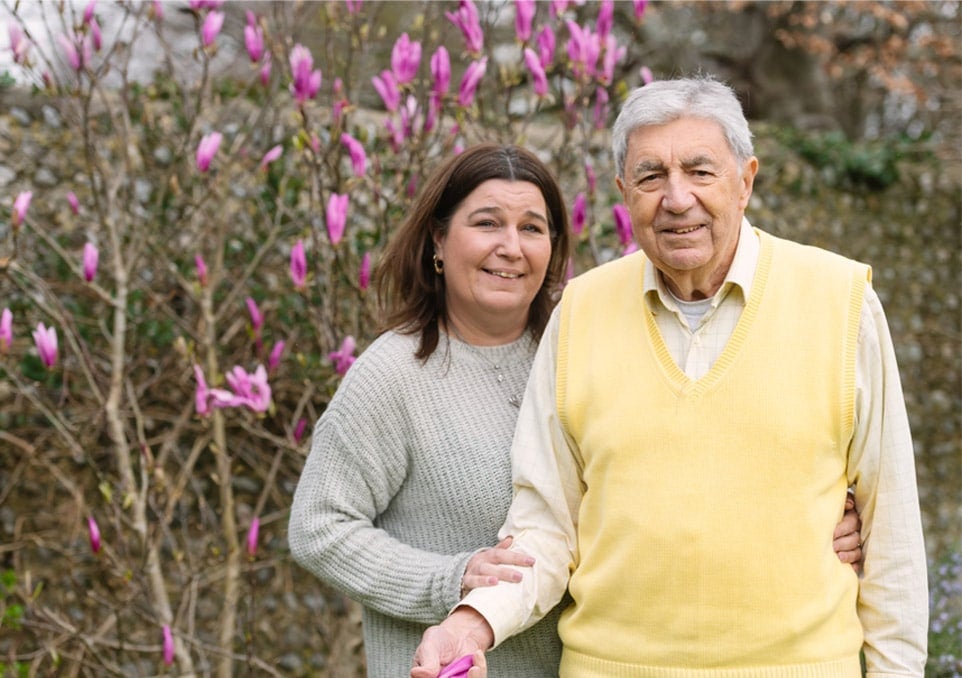 Continuous Care
We can help with both the physical and emotional burden of recovering from a stay in hospital. Our Live-in Care service means support is available throughout the day and night. Focus on your recovery and rest assured that help is to hand whenever you need it.
What are the advantages of Convalescent Home Care?
Receiving Convalescent Care in the safety and familiarity of the home has many advantages. These include:
Familiarity
For many people, remaining in the home they know and love is better for emotional wellbeing and reduces stress. It promotes feelings of safety and comfort which can aid recovery. Our services are led by experienced professional Care Teams so you and your loved ones can depend on us.
Self Sufficiency
Staying at home allows you to stay in control and continue with your daily routines. While you recover, we'll continually assess your care plan and adapt it to meet your changing needs and personal goals. We're here to support you with regaining independence during a challenging time.
Local Community
Home Care allows you to stay in the community you know and love. Family and friends can check in at any time of the day without the restrictions of visiting hours. Live-in Care is a great alternative to a care home and means receiving Home Care that's available at any time of the day or night.
Cost Effective
Convalescent Care at home can be more cost effective that moving into a care home while you recover. In most cases, Convalescent Care is short term, so the costs of living in a care home, alongside the usual running costs of having your own home, can mount up quickly.
Comfort
Our Carers offer friendly and comforting companionship. They'll provide support during your recovery and encourage you every step of the way. They won't just take care of your physical needs, but also your emotional needs on days when recovery feels tough.
Safety
Often, Home Care is a safer alternative to a care home. Receiving one to one, personalised care means your needs are always our priority and reduces the likelihood of falls or further injuries. We'll tailor your care and provide the necessary levels of support to meet your needs.
We work with you and your loved ones to develop a Convalescent Home Care plan that directly suits your personal needs. This involves customising the care required to the person's abilities, interests, personality and history. Our care is always person centred, ensuring your or your loved one's rights to respect are met every time.
Convalescent Care reviews
We're proud to support our clients and their families across the South of England. Read below to see how our services have benefitted them with these independent reviews on homecare.co.uk:
"I'm really glad we chose Alina Homecare when my Mother was released from hospital after a hip operation aged over 85. Nothing prepared us for what was needed and the whole system is very disjointed and hard to navigate. Alina Homecare responded with professional courtesy and flexibility at times, prompt responses to queries…excellent levels of information in addition to a much appreciated level of care."

Frances, Relative, Bristol North
"My Mum is recovering from a hip operation at home and Alina Homecare come in four times a day to do everything from personal care to preparing meals and administering medication. They're always professional and kind and willing to fit in with my parents' schedule of hospital visits, my Dad's dialysis days, and even my Brother's wedding…I recommend Alina Homecare without any hesitation, every one of their Carers has been fantastic."

Jim, Relative, Lancing
Cost of Convalescent Care at Home
The cost of Convalescent Home Care depends on your or your loved one's needs. It depends on the intensity of care and support required, the frequency of care visits, and where you live. Consequently, there's also differences between the cost of Home Care and the cost of Live-in Care.
It's worth considering that Live-in Care is comparable to the care offered in a care home, but with the compelling benefits of staying in the comfort, familiarity and safety of personal surroundings. Our Live-in Care service provides professional, personalised support that focuses on you.
Our quality service focuses on rehabilitation and recovery, enabling our clients to get back on their feet as soon as possible, to minimise the long term financial burden.
If you or your loved one needs Convalescent Care, you may be eligible for funding from the government or your local authority. Request a free quote using our costs calculator.
Quick questions
What is Convalescent Care?

Convalescent Care supports you or your loved one at home with recovery from an operation, illness or injury. The care is usually intended to be short term, but can also be long term if required. The goal is to aid recovery for you to regain independence and, where possible, the ability to manage without assistance.

How much does Convalescent Care cost?

The cost of Convalescent Care depends on the level of care and support required, the frequency of care visits needed, and where you live. Our professional Teams will conduct a comprehensive assessment of your needs to determine the level of support for you.

How can I fund Convalescent Home Care?

Many of our clients pay for their care privately, but there are funding options available. If you're entitled to state Home Care funding, your local authority will carry out an assessment to check your eligibility for care, as well as the type and amount of support you need. In some cases, a local authority may be the one arranging care for you following an operation or hospital discharge.
What can I expect from Convalescent Care at home?

Our Convalescent Care is provided by Carer Workers in the comfort of home. They'll help with personal or domestic needs so that you can recover as quickly as possible.

At Alina Homecare, we can organise daily visiting care or 24 hour Live-in Care if required, meaning you remain in control of your recovery journey. We'll carry out a free home visit before care starts to understand your needs and preferences. If care is needed as soon as possible, we can offer same day home visits. Once you've agreed a care plan, we'll constantly monitor your care to ensure it continues to meet your requirements. We work with you and your support network to provide the type of support that's most appropriate for your circumstances.

What's included with Convalescent Home Care?

Our compassionate Carers can help you with every aspect of your recovery, whether that's helping with exercises and mobility, ensuring you eat a nutritionally balanced diet, or supporting you with Personal Care. They can escort you to medical appointments and accompany you to rehabilitation activities outside of your home.

How can I arrange Convalescent Care?

Our Carers are friendly, approachable and ready to help. Our dedicated Teams will assess your care needs and arrange a care plan personalised to you. Find your local Team to discuss how we can help.
How does Alina Homecare compare to an introductory agency?

Introductory agencies don't have to be regulated by the Care Quality Commission (CQC) and quality cannot be guaranteed. At Alina Homecare, we provide fully regulated services that are inspected by the CQC. We also provide comprehensive training for our Care Workers, whereas agency carers may not complete any training. In addition to this, our services are managed locally; this means you can count on us when your Care Worker has time off as our local Team will step in to ensure continuity of care.

What training do you provide?

At Alina Homecare, all our Carers received excellent training from our exclusive Alina Homecare Academy so that our standards and quality reputation are upheld.

Our expert Trainers all hold teaching qualifications and have an extensive wealth of experience working in Health & Social Care. We provide ongoing training for our Teams to equip them with greater knowledge to make life easier and safer for the people we support. We're proud of our Alina Homecare Academy so we know our Care Workers are always delivering high quality care.
Contact us