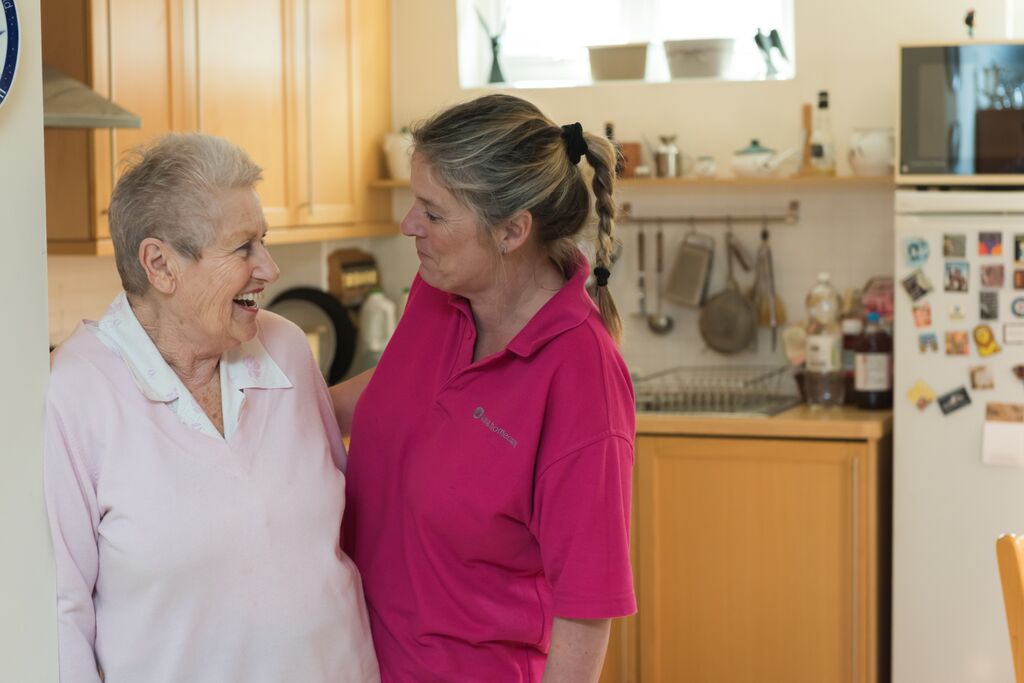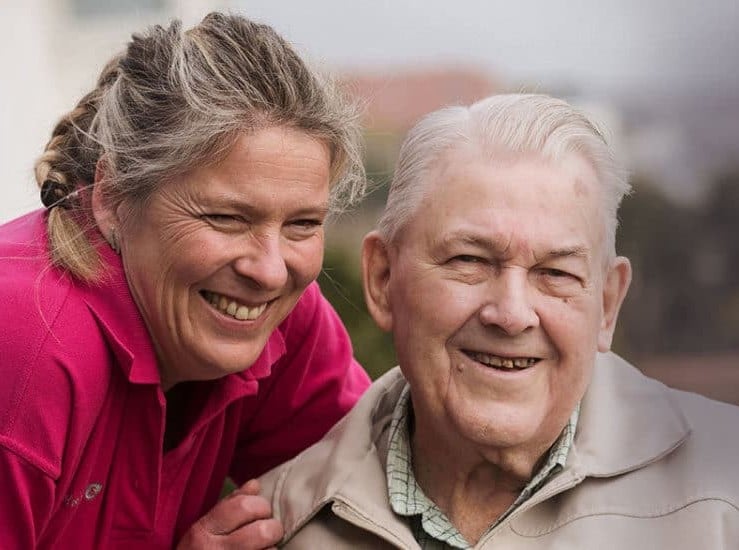 Dementia Care
Find excellent quality dementia care at home:

Why choose Dementia Care?
Regardless of symptoms or needs, we have the knowledge and skills to provide quality dementia care and support. We treat all our clients with compassion, respect and patience, to develop confidence and trust in us.
We build a professional relationship, understanding medical needs, routines and preferences to design a dementia care plan that is specific to each person and their way of life. Our staff are trained to notice mood and behavioural changes and can react flexibly and responsively to solve any discomfort or distress.
Learning a loved one has dementia can be a worrying and stressful time. Family members are often untrained or unable to support someone with dementia. Others might not have a full understanding of what dementia is like to live with.
We believe receiving dementia home care helps to keep some continuity as other things change; 60% of people receiving home-care services are living with dementia.1 Leaving the beloved home filled with familiarity and memories can be unsettling at the best of times but can bring added concern to people living with dementia. Remaining at home surrounded by treasured things helps retain a connection with a familiar place; home is where we feel comfortable, safe and belong.
FREE! 'Dementia Care – Your questions answered'
What is Dementia Home Care?
Dementia home care is specialised and specific to each person's needs. Your carers will also provide…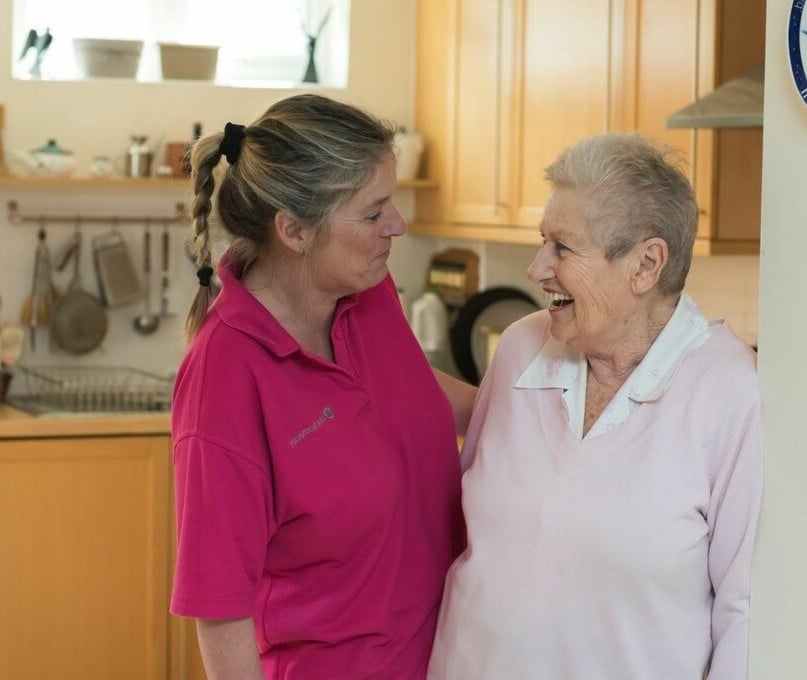 Dad's memory is very bad, but he remembers the carers & it's lovely to hear them chatting away & laughing."
Family member, Andover
Quick Questions
According to research carried out by the Alzheimer's Society, 1 in 6 people over the age of 80 have dementia in the UK and the figures are predicted to rise.

Dementia is commonly mistaken as a condition. However, it's an umbrella term that is used to describe a common set of symptoms that may include memory loss and difficulties with thinking, problem-solving or language. A person with dementia may also experience mood or behavioural changes. These changes can be small initially but increasingly can affect daily life.

However, dementia doesn't mean someone is unable to do things for themselves but rather they just need some extra support, to help them adapt and learn how to live with dementia.
It depends on the level of care needed. Care at home allows people to stay in their own environment and doesn't involve the distress and upset of moving. Change can be difficult but it's particularly challenging for those with dementia.

However, if the level of daily care needed is significant it may be safer and appropriate to consider a care home where specialist resources and nursing care are available.
It's recommended that if someone with dementia is not able to live safely independently or as dementia progresses, then it's the right time to start looking into care arrangements.

Want to chat with your nearest Alina Homecare Team about how we can help you? Click here.
For more dementia resources, visit the Alzheimer's Society website for additional detailed information.
We can support 24 hours a day or call in daily. It's up to the needs and preferences of each person.
Costs vary depending on the needs of each individual and will be discussed during the first consultation with your local Alina Homecare Team. To arrange a free no obligation home visit consultation, click here.
Our dementia carers have received excellent training from our award-nominated Alina Homecare Academy to provide high-quality and respectful care. Our carers are friendly, approachable and sensitive to each client's needs.
Why so many families trust us…
Personalised Care
Everyone's needs are different. That's why we provide personalised care unique to each person. Our high-quality dementia care is flexible when circumstances change and always delivered with compassion, dignity and respect.
Quality Assured
We do understand choosing dementia care is a big decision. Our strict performance guidelines, Care Quality Commission ratings & transparency via our care monitoring app, gives added confidence that our quality is always assured.
Excellent Training
Our care and support teams are carefully selected and receive excellent training through our exclusive Alina Homecare Academy. We do not use an agency or freelance staff to ensure our high quality reputation is maintained.
About our dementia carers…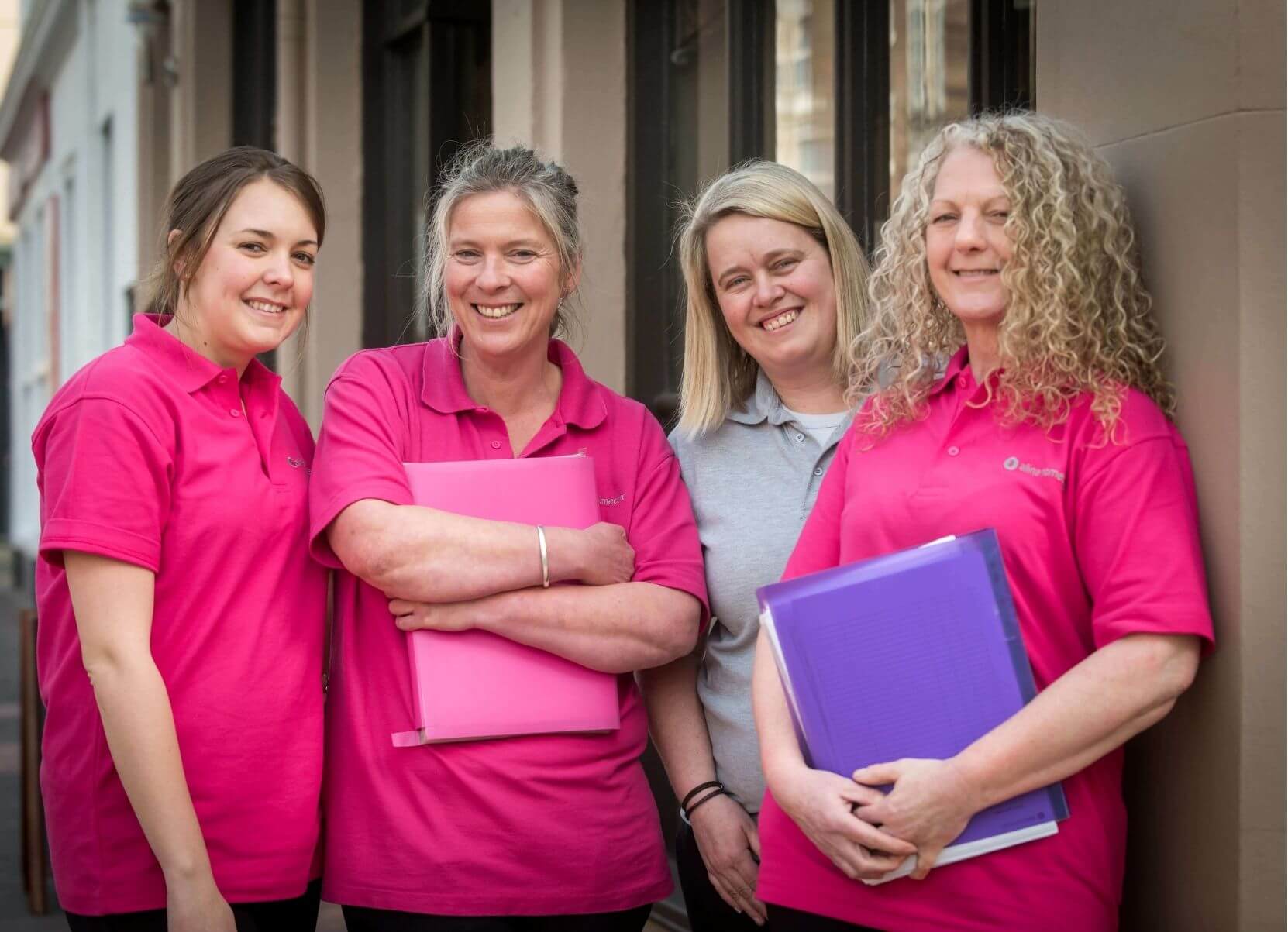 Dementia Care is highly personal and dependent on needs. Every person is unique and so is their dementia experience. Our job is to find and understand the best way to support each person living with dementia. We achieve this by ensuring each of our carers receive advanced training to support the person, not the diagnosis because we believe dementia care is a specialist skill.
We also endeavour to match our care teams to clients based on any mutual hobbies or interests, as well as their skill level, to lay the foundations for solid relationships. We invest our time to ensure every dementia home care experience is of the highest quality and a positive one.
It doesn't matter how much or how little help you need.
We support you to make life easier.

Your home care choices…
Personal Care
We can help in the morning and evening, check medication is taken safely, and ensured dignity is maintained.
Domestic Care
We're here to make life easier for you. We provide care in your own home if running the home seems overwhelming.
Companion Care
We can drop-in for a chat, a cup of tea, or go out for the day, whatever you'd like to do in the company of our carers.
Dementia Care
Our carers provide help at home to people living with the many challenges dementia and memory loss brings.
Respite & Crisis Care
We're there for you when your carer has regular time away from your home or in the event of an emergency.
Palliative Care
We do all we can to improve quality of life in the face of a serious illness with our personalised care at home.
Stroke Care
We create personalised care plans to help the transition from hospital back home and provide essential support.
Live-in Care
A great choice if personalised 24 hour care at home is needed and an alternative to moving into a care home.