Dementia Care
Find quality Dementia Care in the comfort of your home.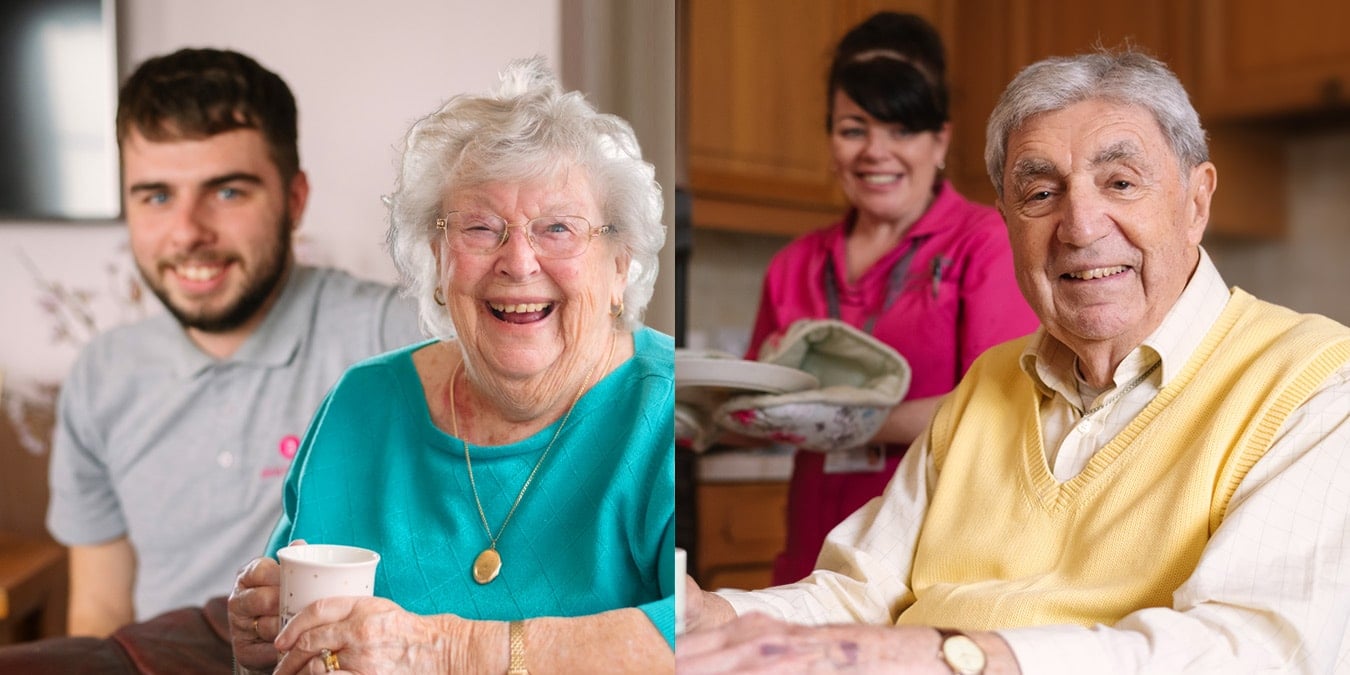 Dementia Care is a type of support available to help you or your loved one manage the symptoms of dementia. This includes everything from medication reminders to help going to the bathroom, or simply providing a friendly face when you need it.
If your loved one has been diagnosed with dementia, you may find they need extra support with daily life at home. We believe receiving Dementia Home Care helps keep some continuity as other things change.
Leaving the beloved home filled with familiarity and memories can be unsettling at the best of times but can bring added concern to a loved one living with dementia. Remaining at home surrounded by treasured things where your loved one can continue their usual routines can promote feelings of comfort and safety.
Your home. Your care. Your choice.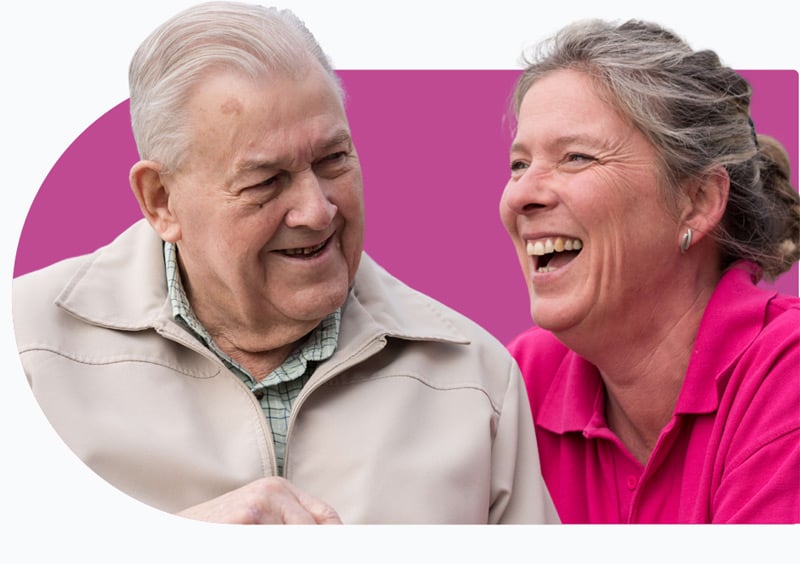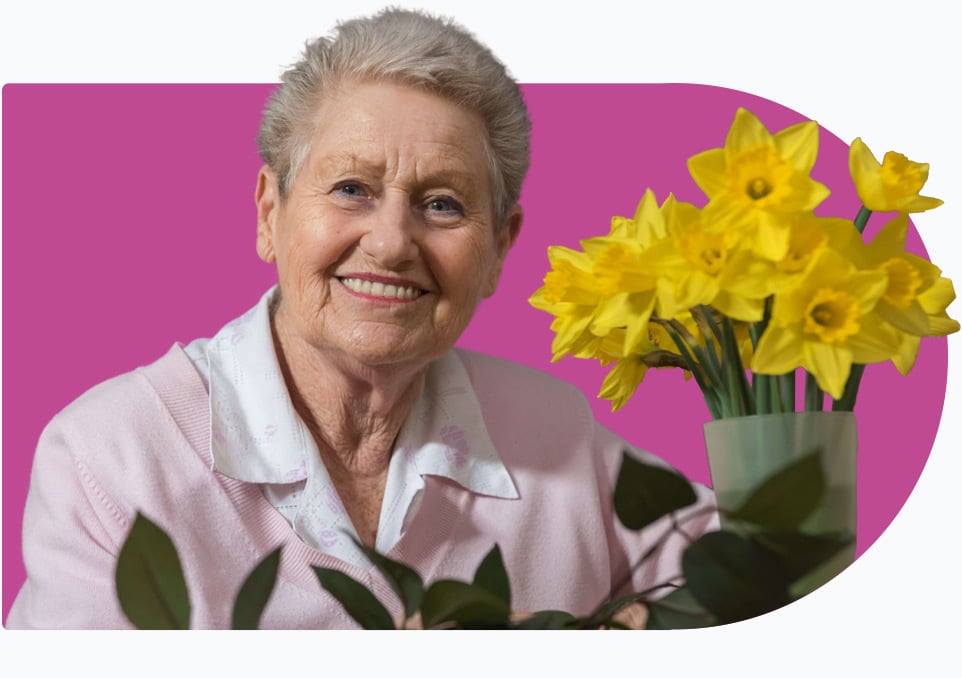 Why choose Dementia Care?
Home Care Workers can help guide your loved one with dementia through their symptoms to improve their quality of life. They can be a highly valuable part of your loved one's care plan when help at home is needed.
If your loved one needs a few hours of support each week or as time passes, they need a Live-in Carer to provide continuous assistance, we can help make life easier.
All our Dementia Care Workers are trained through our Alina Homecare Academy to understand how to care for your loved one with dementia. They're educated to notice mood and behavioural changes and can react flexibly and responsively to solve any discomfort or distress.
We focus on building a professional relationship, understanding needs, daily routines and individual preferences to design a dementia care plan that is specific to each person.
Regardless of symptoms or needs, at Alina Homecare we have the knowledge and skills to provide quality Dementia Care. All our clients are treated with compassion, respect and patience to develop confidence and trust in us. We believe people with dementia can still enjoy a happy and fulfilling life with the right professional support.
Why choose Alina Homecare?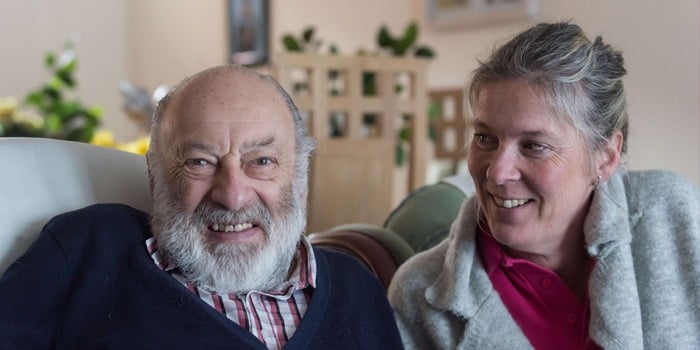 Understanding
Our Team has many years' experience. We understand the challenges, and we're ready to help you every step of the way. Our entire service is designed to be simple and less stressful.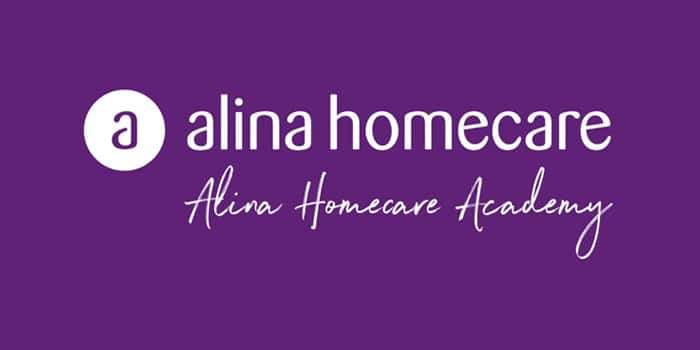 Excellent Training
Our Carers are carefully selected and receive training through our exclusive Alina Homecare Academy. We do not use an agency or freelance staff to maintain our quality reputation.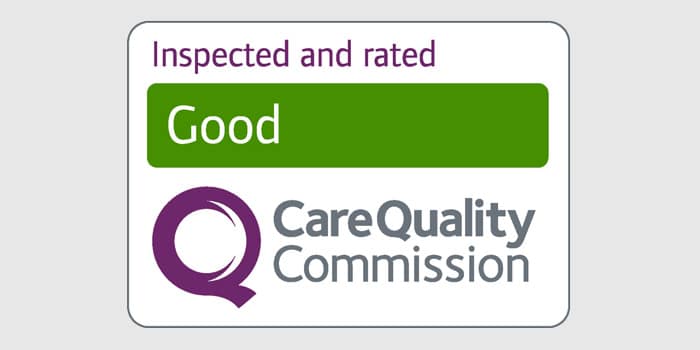 Quality Care
Our strict performance guidelines, Care Quality Commission ratings and transparency via our care monitoring app. give added confidence and quality assurance.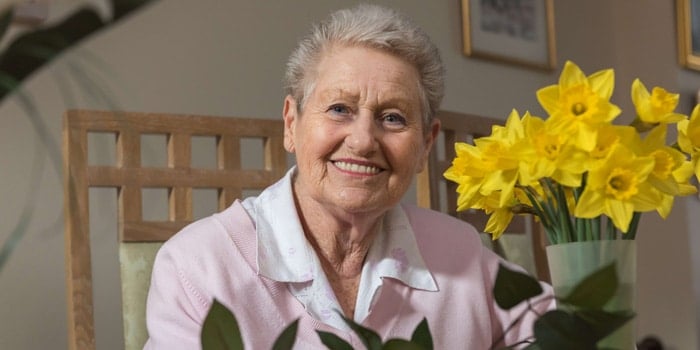 Personalised Care
Our personalised care is unique to each client. Palliative Care is flexible when circumstances change and always delivered with compassion, dignity and respect.
What is Dementia Live-in Care?
If your loved one with dementia requires continuous assistance, why not consider Live-in Care? This is where a Care Worker moves in with your loved one and cares for them throughout the day and night.
Live-in Care is a great solution for people who are struggling to cope with the impacts of dementia or if their dementia has progressed. Care is provided 24/7 in the home, where your loved one often feels the most safe and comfortable. This provides peace of mind, knowing there is someone there to provide care at all times.
One of our specially trained Care Workers will move in with your loved one and help them with daily tasks and assist them with managing their routines. We understand the importance of matching the right Care Worker to the person they'll be providing support to. Therefore, we look at any similar interests and hobbies, as well as their skill level.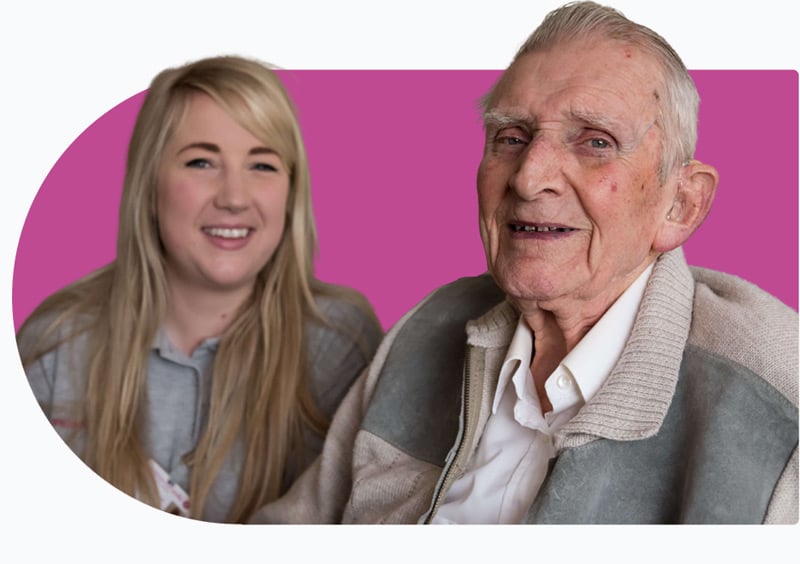 How can Dementia Home Care help?
Whatever you need, when you need it, we can help. Our Dementia Care service can include:
From washing and going to the bathroom to getting dressed and ready for the day, our Home Carers for dementia will help your loved one maintain their Personal Care routine with dignity and respect.
Laundry, washing the dishes and taking out the bins. Our Care Workers will keep things neat and tidy at home so household tasks don't become overwhelming.
Our Dementia Carers help your loved one remember to take their medication. This can be tracked by our care monitoring app. for peace of mind.
Our Carers prepare nutritious meals for your loved ones that takes into consideration their tastes and any allergies. They can also ensure your loved one eats and drinks regularly to maintain routines and a balanced diet.
We all need someone to chat to from time to time. Our Dementia Carers can help keep your loved one company.
We can help with both the physical and the emotional burden of dementia.
If they can, we support your loved one to get out into the local community.
We all need a break sometimes. If you're a caregiver to your loved one with dementia and need some regular time to yourself, we can help.
What are the advantages of Dementia Home Care?
Learning that a loved one has been diagnosed with dementia can be a worrying and stressful time. Relatives are often untrained or unable to support someone with dementia. Others might not have a full understanding of what dementia is like to live with. Here are some of the advantages to Home Care for dementia:
Familiarity
Home Care and Live-in Care for Dementia allow your loved one to stay in the comfort of their home and continue their daily routines. This reduces the stress and disruption moving may bring to someone with dementia.
Independence
Dementia Home Care allows your loved one to not only continue their usual routine but stay in control of it. Care will regularly be assessed and adapted to meet their changing needs and personal goals.
Stay Local
Change can be hard, especially for someone with dementia. Home Care allows your loved one to stay in the community they know and love where they can enjoy local events and familiar faces.
Respite
Home Carers for dementia offer caregivers regular time off. This allows you to take a well deserved break and dedicate time for yourself knowing your loved one's needs are being taken care of.
Reassurance
Our Dementia Carers offer friendly and comforting companionship. They don't just take care of you and your loved one's physical needs but also any emotional needs and their mental wellbeing.
Safety
Often, Home Care is safer than a care home. Research proves people living in a care home are three times more likely to have a fall compared to living at home, increasing the likeliness of a hospital admission.1
---
Family & Community
People in care homes can often feel lonely and depressed. This is more so common with people with dementia. Staying at home means friends and family can visit whenever which can make them feel safer and happier.
---
Cost Effective
Dementia Home Care can often be more cost effective. With our Dementia Live-in Care, the care you receive is one to one which is often not the case in care homes and they're usually a more expensive option.
---
What to expect from Dementia Care
at home
Our Dementia Care service is provided by Dementia Carers in the comfort and familiarity of the home. They will help your loved one with their needs to help them to live as independently as possible for as long as possible.
From preparing balanced meals to light household chores, or even just being a friendly face to pop in for a chat. At Alina Homecare, we make life easier.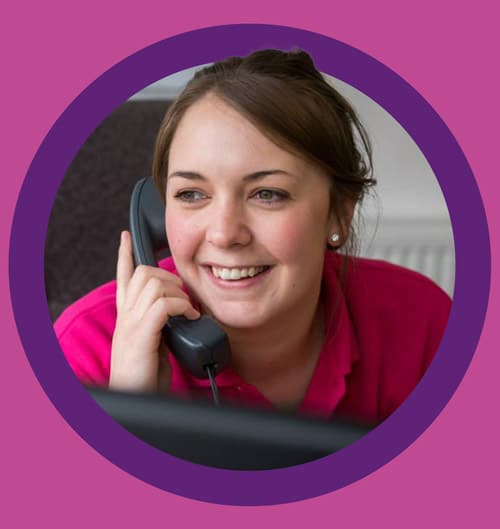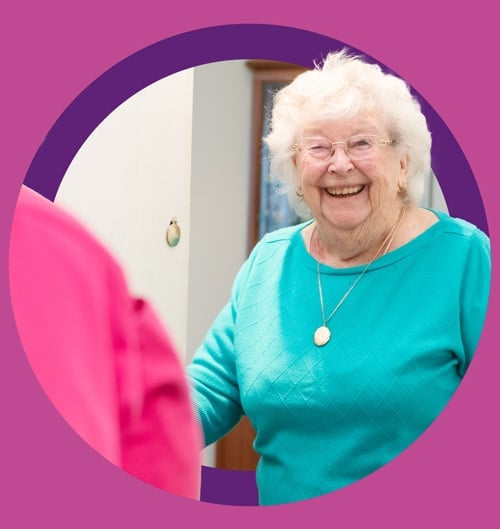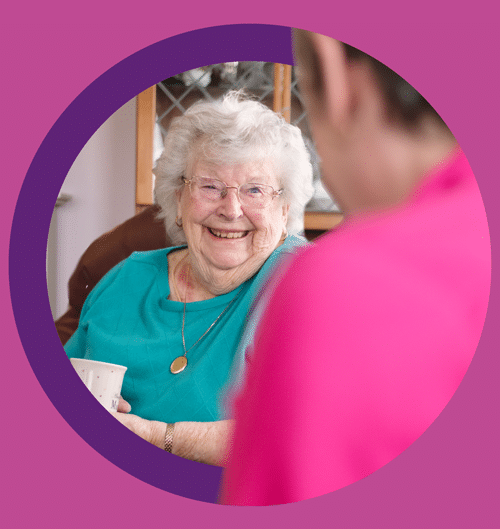 We're proud to serve our clients and their families across the South of England. Find out how our Dementia Care services have benefitted them with these reviews taken from independent review site, homecare.co.uk:
"My Father has been receiving lunchtime visits from Alina Homecare for a few months now. He has Alzheimer's and can sometimes be confused and a little difficult. All of the Carers are very good with him; they are patient, and they make him lunch and a cup of tea. Wash up the plates and sit and talk to Dad, try and calm him if he's anxious."
"Alina Homecare provided daily care for our Mother for about a year as her dementia progressed and she needed help with getting up and personal care. Alina Homecare did their best to provide the same care staff each week and they built a lovely relationship with our Mother, encouraging her in a gentle and humorous way…"
"My Dad was 97 when Alina Homecare Andover first came to provide 24 hour Dementia Care. They were a revelation in compassionate and empathetic assistance as he quickly declined into dementia. In his final days, doing those personal jobs that needed doing whilst the shell that had been my Dad declined they excelled and…"
"We are delighted with the service provided by Alina Homecare. Their professional and caring approach has been evident in every single contact that any member of the family has had with them. My Dad who's Lewy Body Dementia has become more severe in the last few months, needed some extra care to help him remain living at home…"
"I am very pleased with the care service my Mother has received so far. The Carers are professional in their manner and very friendly to her. They engage her in conversation which I feel is important as she has dementia. If they complete their tasks before the allotted time period ends they ask if there is anything else required. They all have their own…"
"Since early 2021, Alina Homecare has provided home care for our 79 year old Mum who has dementia. We were anxious initially with no prior experience but the service has been exceptional. The agency itself has been highly professional, alerting us to any concerns they have or queries relating to the care and wellbeing of our Mum."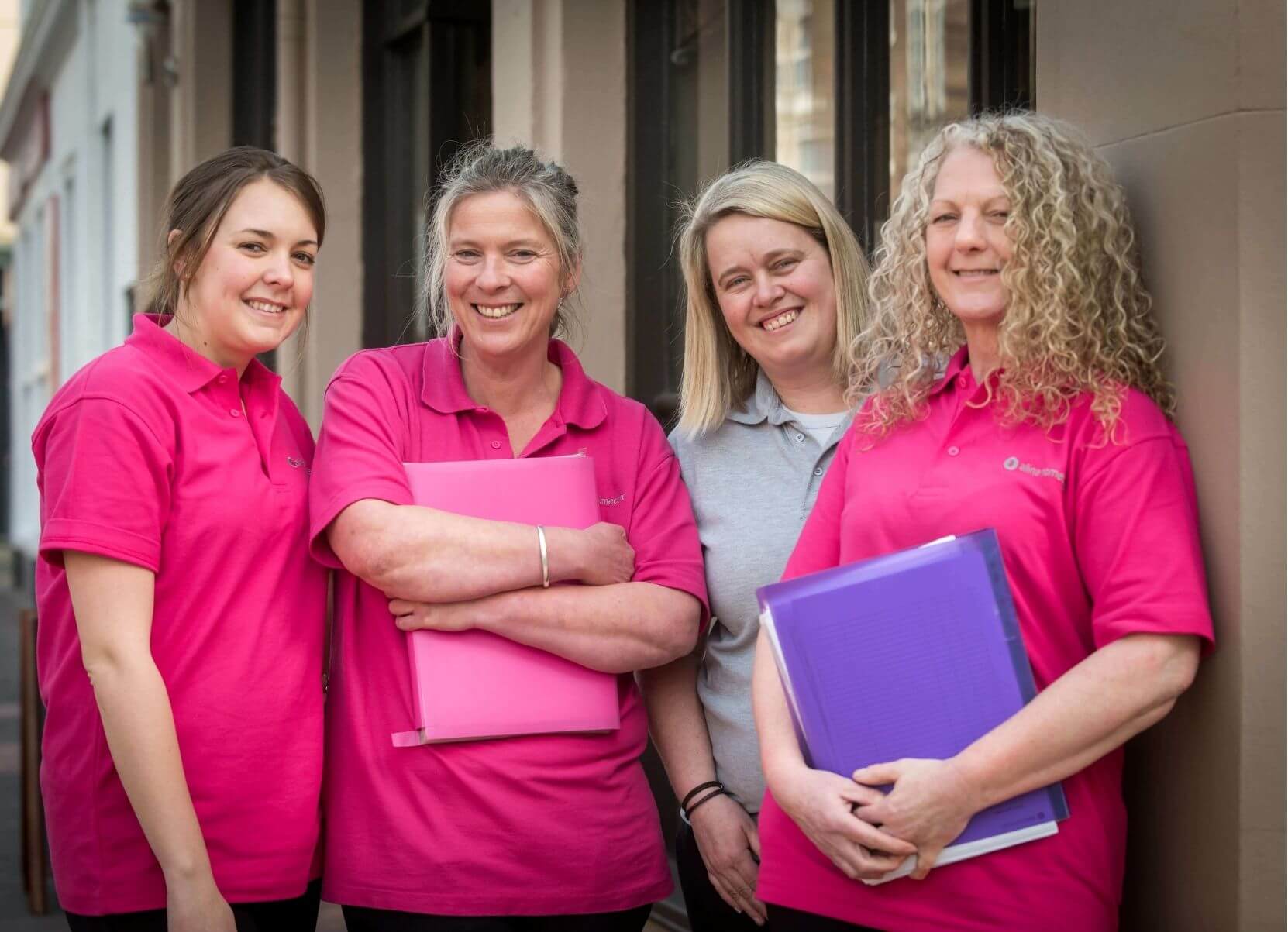 Dedicated Team
Our experienced local Teams know their communities inside out. From your local GP to your local supermarket, their knowledge helps make life easier. With central support, you can enjoy added peace of mind.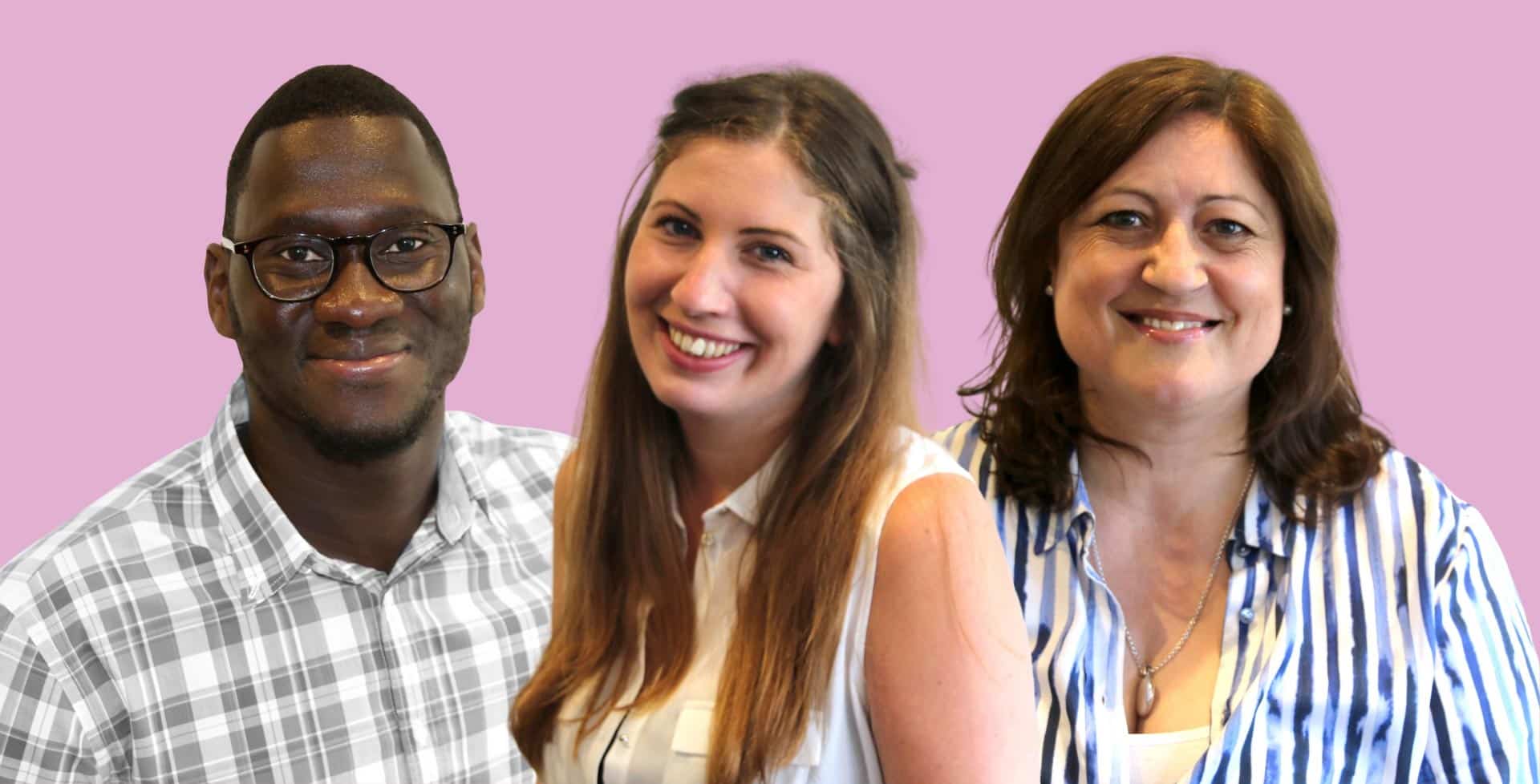 Quality Team
Our central Quality Team sets us apart from agencies and self-employed carers. Our award-winning care is reliable, regulated by the CQC and reinforced by our unwavering commitment to high quality care.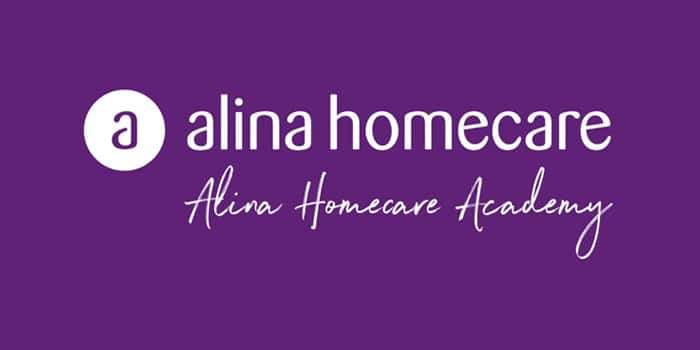 Exclusive Training
All our Care Workers are carefully selected and receive excellent training through our exclusive Alina Homecare Academy. We don't use agency or freelance staff to protect our quality reputation.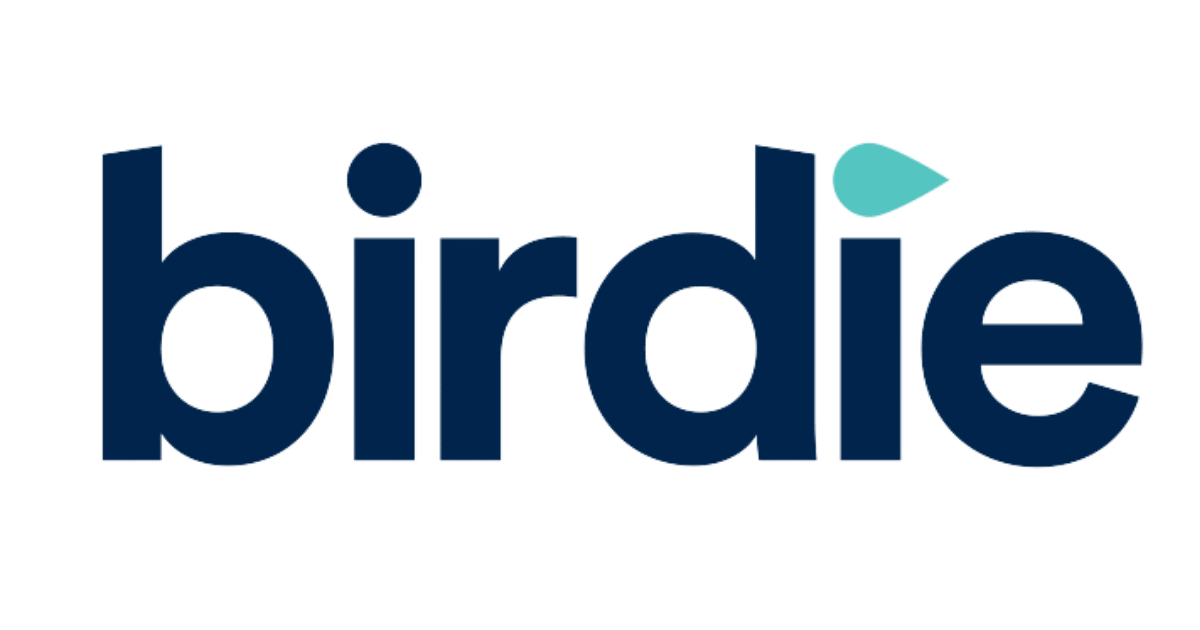 Care Monitoring App.
Enjoy full transparency via our care monitoring app., allowing you and your loved ones to track Dementia Care as it happens. The app. monitors all aspects of care from mood changes to medication for added confidence.
The cost of Dementia Care varies depending on individual needs. Perhaps you're looking for a couple of hours of care a week or a Live-in Dementia Carer for round the clock support.
Our Team will work with you and your loved one to form a bespoke care plan that suits your individual requirements, routines and budget.
When you get in touch with us, we can arrange a no obligation free home visit to discuss your care needs in more detail.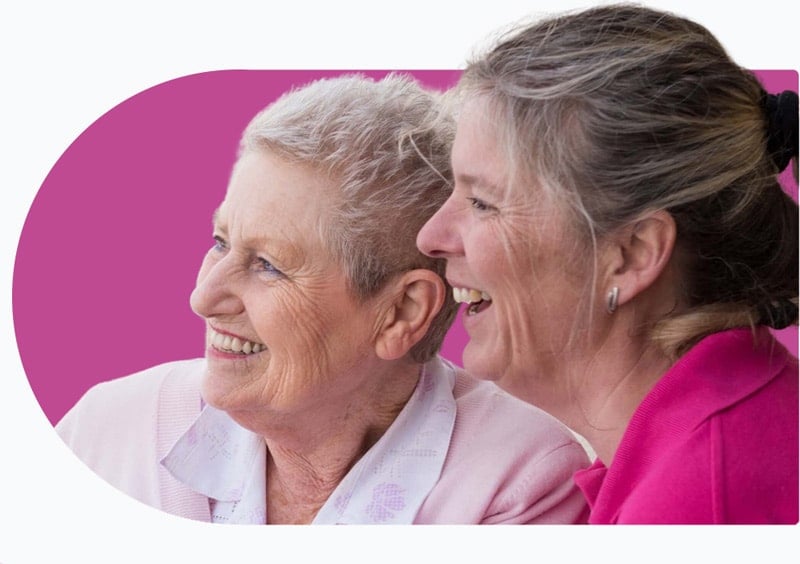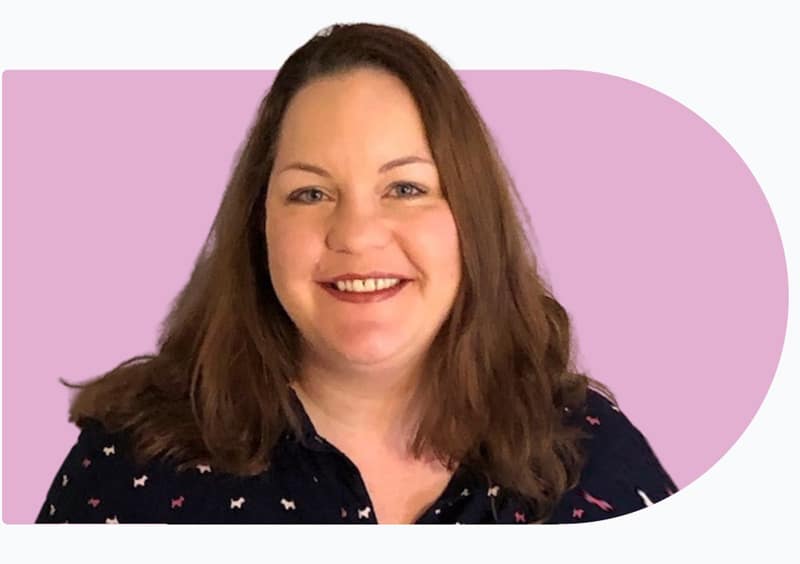 Meet Jo, a Dementia Care expert
I've worked in the care sector for many years and a lot of my experience has been based around dementia. Previously, I was a manager for a dementia day care centre where I trained as a Dementia Champion and won a regional care award for my dedicated work. Since joining Alina Homecare, I continuously share my dementia knowledge to my Team and support our Dementia Care Workers."
Each persons requirements and dementia experience is unique. Our job is to understand the best way to support each person living with dementia. We achieve this by ensuring each of our Carers receive advanced and high quality training to support the person, not the diagnosis.
We also endeavour to match our care Teams to clients based on any mutual hobbies or interests, as well as their skill level. We invest our time to ensure every Dementia Home Care experience is of the highest quality.
At Alina Homecare, we're regulated by the Care Quality Commission (CQC) and proud winners of the homecare.co.uk Top 20 UK Home Care Group Award 2021, 2022 & 2023. We are extremely proud of the standard of care we deliver and we're passionate about making what we call 'The Alina Difference' to peoples lives.
It's no wonder why we're recommended by 97% of our clients!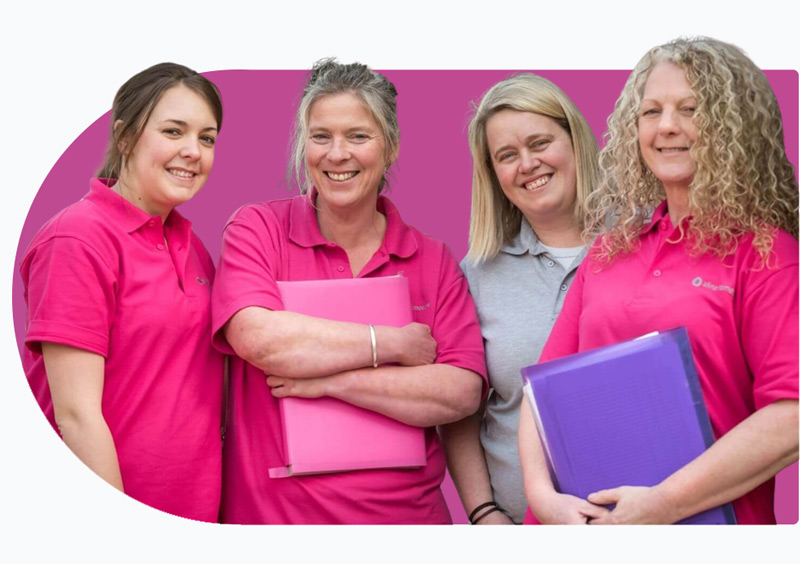 Quick questions
What is Dementia Care?

Dementia Care is when our professionally trained Care Workers cares for your loved one with dementia in their home to meet their needs and help them manage their routines. We care for your loved one regardless of what type of dementia they have. Our Dementia Care service includes Lewy Body Dementia and Alzheimer's Care at Home.

Contact your local Alina Homecare Team to learn more about how we can help you.

What is included in Dementia Care?

Among other tasks, Dementia Care can include washing, companionship, preparing meals and much more. Whatever you need, we can help.

Who delivers Dementia Care?

Our Home Carers for dementia will care for your loved one in the comfort of the home.

How long are Dementia Home Care visits?

The length of our Home Care visits varies and depend on the needs and the preferences of the client. Our care visits typically start from just 30 minutes and can last for however long required. With our Dementia Live-in Care service, care is provided 24 hours a day.
How does Alina Homecare compare to an agency?

Agencies are not regulated and quality cannot be guaranteed. We provide fully-regulated services that are inspected by the CQC. We also provide full and exclusive training for our Care Workers, whereas private and agency carers may not have comprehensive training. In addition to this, our services are also backed up with central support; this means you can count on us even if your Care Worker needs time off as our local Team can step in to ensure continuity of care.

What areas do you cover?

We provide Dementia Home Care across the South of England. Find your local Team.

How is Dementia Care monitored?

Like all our services, our Dementia Care is regulated by the CQC. The CQC is an independent regulator that inspects our services to ensure our quality standards are maintained. This includes checking that our care is focused on our clients as individuals, as well as that we keep you safe and secure at all times.

In addition to this, we are proud to partner with Birdie Care. Birdie's innovative care technology enables us to digitally log and monitor the support we provide. The Birdie Family App, with your consent, also allows full visibility of care at any time for you and your loved ones. It's a great way of providing added reassurance that you're receiving the highest quality care.  
Contact us