What is Mobility Care?
Mobility Care at Home is available for people living with reduced mobility who require additional assistance completing daily tasks. Whether you or your loved one struggles with mobility issues due to a disability or a condition, or simply as a consequence of growing older, we can help.
Mobility concerns are more common as we get older, and a lack of freedom of movement can be frustrating. As we age, physical problems such as arthritis, diabetes, heart issues, or surgeries, such as hip or knee replacements, can all affect mobility. This can result in lack of confidence in carrying out usual activities and tasks, especially if there's a risk of falling or injury.
Mobility help at home enables a person to do as much as they can independently, with the right level of care and support. Whether you need help with mobility due to a restricting health condition or general frailty, our compassionate Mobility Care provides support in the comfort of home. Each person's safety is our number one priority.
We'll work with you to create your care plan, giving you choice over how you live. Our Home Carers are available to support and enable your mobility so you can undertake tasks with confidence and reassurance.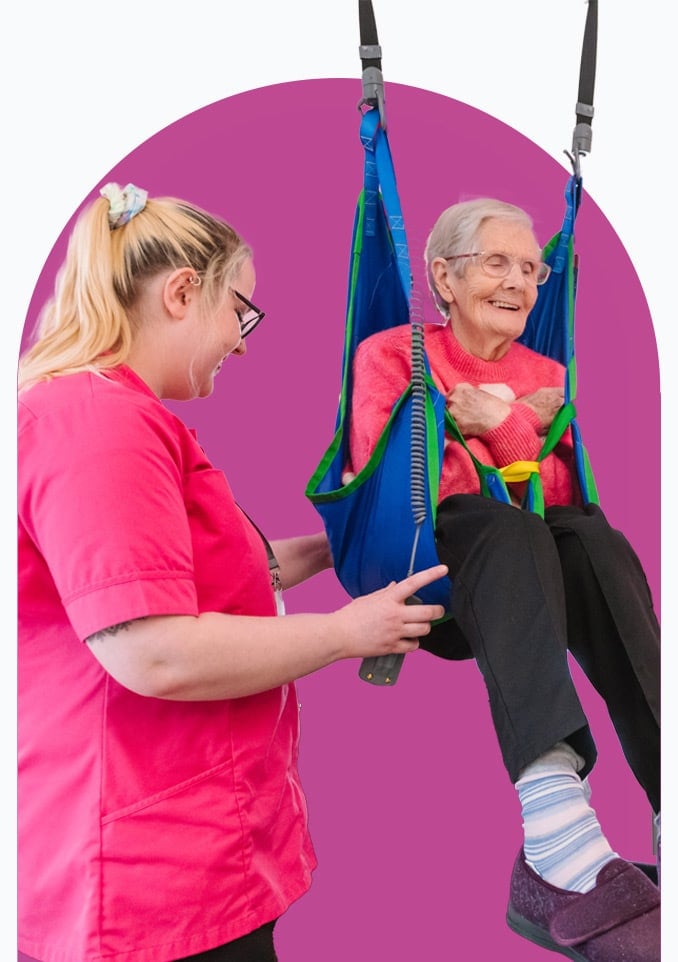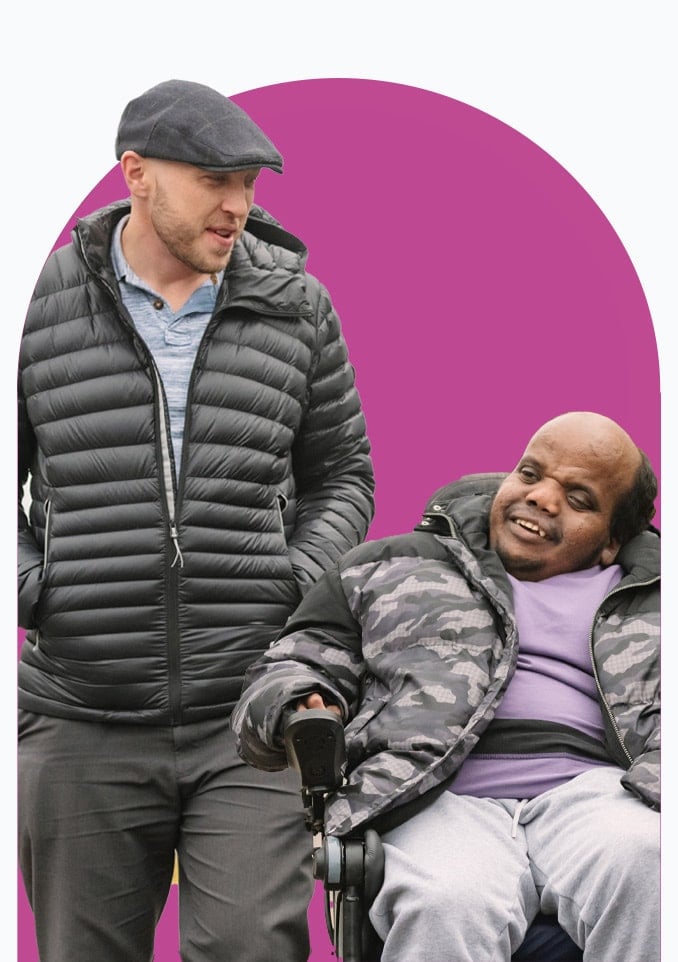 How can Mobility Care help?
It's important to be aware of a decline in mobility and understand when mobility assistance may be required. Mobility limitations are increasingly common in older people, affecting about 35% of people aged 70 and most people over 85 years. Mobility limitations have been associated with an increased risk of falls, hospitalisation, decreased quality of life, and even mortality.1
Common signs of mobility issues are:
Decreased mobility can often be due to muscle weakness or joint problems because of aging, illness or injury. However, neurological conditions such as multiple sclerosis and Parkinson's can also be contributing factors to mobility impairment.
Having a Carer to support you with mobility in your home can be highly beneficial to the quality of daily life. It's essential to nurture and encourage as much independence as possible with the right level of care and support.
We know regular exercise is important to strengthen muscles and improve flexibility. That's why our Carers work closely with other healthcare professionals to assist you safely with completing exercises that support improved mobility.
If you use walking assistance devices, we can support with those too. Our Carers are highly trained in handling walking aids for seniors to ensure safe movement. They'll support with using stairs, transferring to and from a wheelchair, assistance with Personal Care, and much more.
Why choose Alina Homecare?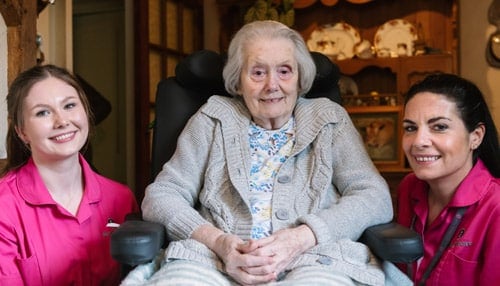 Understanding
Our skilled Care Workers are trained to understand Mobility Care and the safe use of mobility aids. We adopt a flexible approach and adapt care plans to meet your needs if and when they change. We invest time in our Carers to ensure every Mobility Care experience is high quality.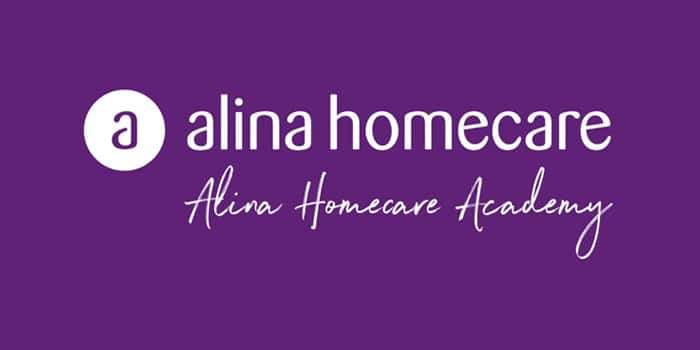 Exclusive Training
Our goal is to understand the best way to support each person safely. We achieve this by ensuring each of our Carers receives excellent quality training from our exclusive Alina Homecare Academy. We work with you and your support network to ensure care is tailored to your exact needs.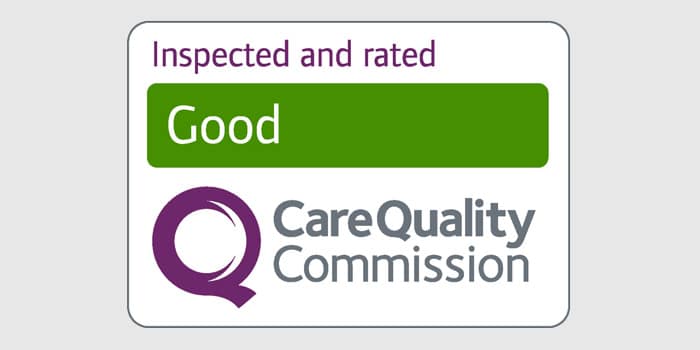 Quality Care
We're regulated by the Care Quality Commission (CQC) and proud winners of the homecare.co.uk Top 20 UK Home Care Group Awards 2021, 2022 & 2023. We take immense pride in the standard of care we deliver and we're passionate about making what we call the 'Alina Difference'.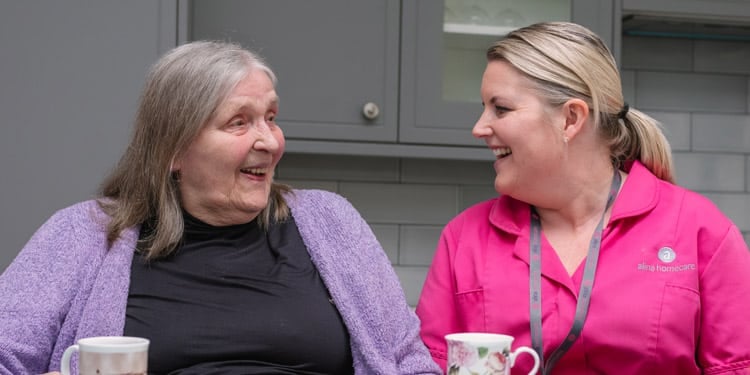 Personalised Care
Our personalised approach to care is unique to each client. Our care services are flexible when circumstances change and always delivered with compassion, dignity and respect. If you choose Mobility Live-in Care, we'll do our best to match you with a Live-in Carer based on shared interests.
What does our Mobility Care service include?
Receiving compassionate care in the familiarity, safety and comfort of home can positively impact both physical and mental wellbeing. This can be especially true when compared with receiving Mobility Care in a care home. In fact, older people living in care homes are three times more likely to fall than older people who live in their own homes.2
Remaining at home provides structure and allows you to stay in control of usual routines. Our mobility assistance doesn't just support you physically but can also provide mental wellbeing benefits. Being encouraged to maintain an active lifestyle – whether that's moving to the kitchen to prepare a meal or taking a stroll to the local shops – mobility help at home can improve overall wellbeing.
Our Care Workers are experienced in providing quality dedicated care. Where required, we can assist with the correct usage of equipment that will keep you safe. Our Home Carers are professionally trained in using mobility aids, such as hoists and stairlifts. Therefore, with our support, living at home with mobility issues is possible and offers a great alternative to other types of care.
We'll tailor your care plan to ensure we provide the necessary levels of support for you. We offer regular, short visits or continuous 24 Hour Care at Home. Our fully managed service is holistic so you and your loved ones can always depend on us.
At Alina Homecare, we believe everyone has the right to enjoy life independently in their own home. Our Live-in Care service means continuous support and reassurance is always nearby and allows you to continue living in comfort at home.
Respite Care can provide an opportunity for a family member to take a much needed break from caring for someone with mobility issues. If you care for a loved one who needs Mobility Care, finding time for yourself can often feel difficult; however, it's essential for your wellbeing.
From washing and using the bathroom to getting dressed and ready for the day, our Mobility Care includes everything to make your life easier. Our Home Carers will help you or your loved one to maintain Personal Care routines with dignity and respect.
We know how much mobility issues and frailty can affect a person's mood. We recognise the challenges faced can also impact someone's emotional, social and psychological wellbeing. That's why we adopt a compassionate and flexible approach to care to ensure you're as comfortable as possible.
What are the benefits of Mobility Care?
Our Mobility Care Teams will work alongside you and your loved ones to determine the most appropriate care for you. Creating your care plan is a collaborative process so everything is tailored to your requirements. This means you maintain as much autonomy as you want, always remaining at the centre of your decision making. Our dedicated Care Teams will constantly review your care plan so we continue to meet your needs if or when things change.
Cost Effective
Mobility help at home can be a more cost effective alternative to a care home. Our services are tailored to each individual person and our dedicated Teams ensure the care we provide is excellent quality.
Independence
Support in the comfort of home enables you to stay in control and continue making independent life choices. We continuously assess and adapt your care plan to meet changing needs and personal goals.
Local Community
Our Mobility Home Care service supports you or your loved ones to remain active in your local community, visiting friends, family and neighbours. Having familiar possessions nearby can improve mood.
Comfort
Many of our clients find staying in their own homes preferable to moving into a care home. It means loved ones can visit any time of the day without worrying about the restriction of visiting hours.
Less Stress
Moving into a care home can be a stressful adjustment as we get older. Our Mobility Care at Home helps to reduce feelings of anxiety by enabling you to stay comfortable and safe in the home you know and love.
Familiarity
Mobility Home Care allows you to stay in the comfort of home and remain in control of daily routines. Maintaining normality in a familiar place can have a positive impact on mental health and wellbeing.
Safety
Elderly people are at a higher risk of falls, so having a Mobility Home Carer can prevent accidents. People receiving Live-in Care have fewer falls and hip fractures than those living in a care home.4
Mobility Home Care reviews
"From initial phone enquiries to home visits and assessments and then the ensuing care provided, Alina Homecare have been excellent communicators with us (her children) and with Mum herself. They show great care and sensitivity regarding her care and offer a flexible package of care…"
"I've found the Carers professional, kind and easy to deal with. They were concerned with maintaining the greatest amount of dignity for my Father whilst getting on with the necessary care. They arrived promptly, communicated information well and did a wonderful job of making him comfortable…"
"We are very happy with Alina Homecare. The Carers are all calm, kind and able to deal with the problems we have. My Husband has severe mobility problems as well as dementia and they keep him happy and don't rush him; they're able to deal with his frustrations with kindness and understanding."

Anne, Relative, Poole
Arranging Mobility Care
Choosing the right Home Care provider can be a challenging decision. Our professional Care Teams are available to guide you through the process.
Before you start your care journey with us, we'll conduct a comprehensive assessment of your mobility needs. We'll identify any equipment that may help with your mobility. Additionally, we can make recommendations for home adaptations that would enable you to have a better quality of life at home.
From understanding your care options to dealing with other healthcare professionals, we work with you and your support network throughout the entire process. Once we fully understand your requirements, we'll work together to create a care plan that's suitable to you and catered to your needs.
All our services are designed to be as simple and stress free as possible. We work wherever possible to your timings to ensure care is in place when it's needed. Our aim is to make life easier, ensuring you're safe and comfortable at home with the right support.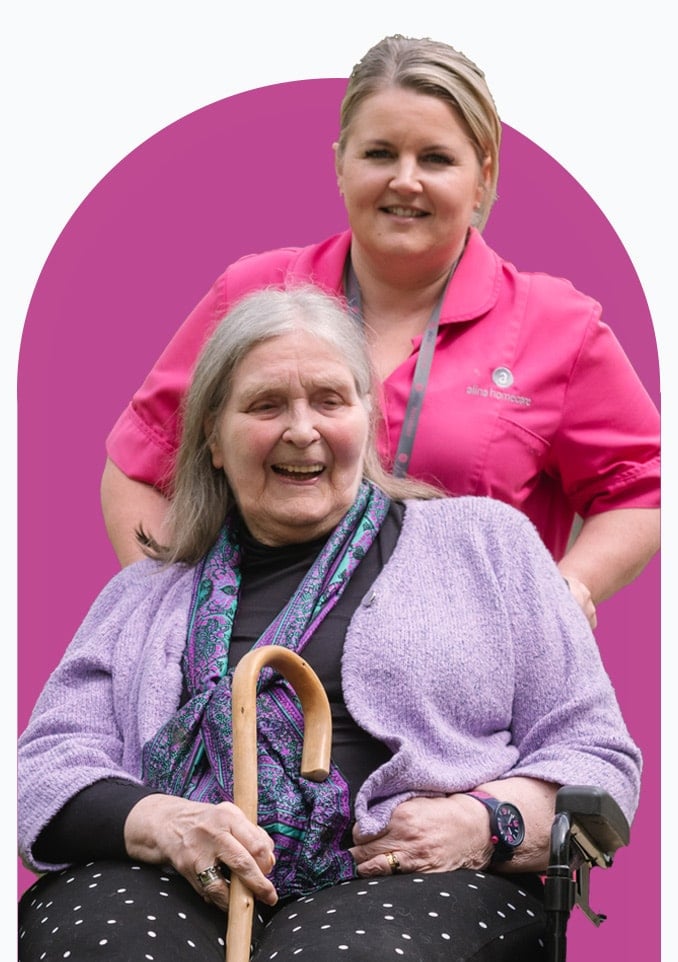 Cost of Mobility Care
The cost of our Mobility Care service depends on the level of care and support required. This includes the services chosen, the frequency of care visits needed and where you live.
Our services are competitively priced and provide excellent value for the quality care we deliver. Our expert Teams will conduct an assessment of your needs to determine the type of support required. There are also differences between the cost of Home Care and the cost of Live-in Care.
There are several ways to fund care. If you need support paying for Home Care, you may be eligible for benefits or other financial support from your local authority. Complete our costs calculator to receive a free quote.
Quick questions
What's included with Mobility Care at Home?

Our highly personalised Mobility Home Care service includes:

How much does Mobility Care cost?

The cost of care varies depending on specific care needs and location. If you or your loved one requires continuous care, the cost will be higher than visiting care.

Our experienced Care Teams will conduct a comprehensive assessment of your needs to determine the level of support required. Once we fully understand your requirements, we can give you a more accurate quote.

How can I fund Mobility Care?

Most of our clients fund their care privately, but you may be eligible for state benefits or other financial support from your local authority. You can request to have a financial assessment to determine if you're eligible for help towards the cost of care. If you meet certain criteria, your local authority may help towards funding Home Care.

How can I arrange Mobility Home Care?

Our friendly and experienced Teams are available to help you or your loved one with Mobility Care requirements. You can start by finding your local Alina Homecare Team to discuss how we can help!
How does Alina Homecare compare to an introductory agency?

Introductory agencies don't have to be regulated by the Care Quality Commission (CQC) and quality cannot be guaranteed. At Alina Homecare, we provide fully regulated services that are inspected by the CQC. Additionally, we have our own internal Quality Team to uphold our high quality standards.

All our Home Carers undertake mandatory induction training, whereas agency carers may not complete any training. In addition to this, our services are managed locally; this means you can count on us when your Care Worker has time off as our local Team will step in to ensure continuity of care.

What training do your Carers receive?

We have our very own Alina Homecare Academy. Our company is built on core values that we passionately believe in and are at the heart of everything we do. We ensure all our Care Workers receive a high level of training so that our standards and quality reputation can be upheld.

Our expert Trainers all hold teaching qualifications and have a vast wealth of experience working in Health & Social Care. We offer several specialist qualifications for our Teams to equip them with greater knowledge to make life easier and safer for the people we support. We're proud of our Alina Homecare Academy so we know our Teams are always delivering high quality care.

Like all our services, our Mobility Care is regulated by the CQC. The CQC is an independent regulator that inspects our services to ensure our quality standards are maintained. This includes checking that our care is client focused and that we always keep you safe and secure.

In addition to this, we are proud to partner with Birdie. Birdie's innovative care technology enables us to digitally log and monitor all the support we provide. The Birdie Family App, with your consent, also enables shared visibility of care at any time for you and your loved ones. It's a great way of providing added reassurance that you're receiving the highest quality care.
Contact us