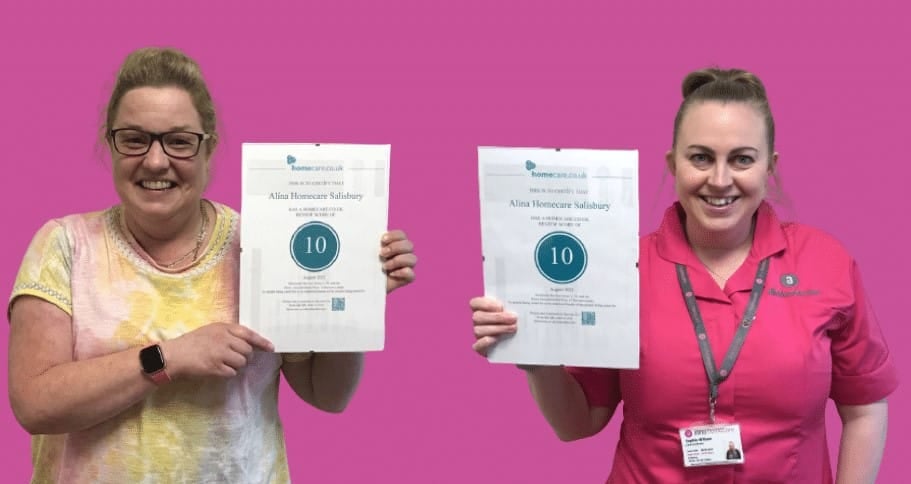 With so many families looking for excellent homecare its reassuring to learn that local companies are held in such high regard by local people. Our Alina Homecare Salisbury Team has achieved the highest client review score possible, 10 out of 10 on homecare.co.uk – the online homecare directory website.
Independent reviews from clients and their families are based on six major categories: overall standard, staff, care/support, management, treated with dignity, and value for money. 93% of all reviews received for Alina Homecare Salisbury were five out of five in all six categories. High rating scores are hard to achieve with few homecare businesses reaching this rank.
Alina Homecare Salisbury Branch Manager, Claire Walters says, "We are ecstatic to have reached a 10 out of 10 review score on homecare.co.uk. We've recently also received a GOOD rating from the Care Quality Commission and are winners of homecare.co.uk's Top 20 Home Care Provider in South West England 2021. These fantastic achievements are testament to the hard work and dedication the Team put in everyday. I'm so proud of my Team!"
Operations Director, Justine Pickford said, "We are thrilled to have received such an accolade. The Team's dedication to providing the "Alina Homecare Difference" is inspiring and we cannot wait to see what is next for them."
The branch is located on Lysander Way, Salisbury. Alina Homecare Salisbury's services are provided to residents living in Alderbury, Bishopdown, Coombe Bissett, Gomeldon, Laverstock, Netherhampton, Odstock, Old Sarum, Porton, Quidhampton, The Winterbournes, & Wilton.