If your loved one has been diagnosed with Alzheimer's disease, you may find they need extra support with daily tasks and activities. A diagnosis brings physical and emotional challenges, not only to the person with Alzheimer's but also their loved ones. Home Care for Alzheimer's can help by providing continuity, routine and familiarity of being at home.
This guide to Alzheimer's Home Care will take you through what Alzheimer's is, as well as the common symptoms your loved one may experience. Furthermore, it'll help you choose the best option of care for your loved one.
Our Care Workers are trained to deliver excellent quality care with dignity and respect. Perhaps your loved one needs support for a few hours each week or as time passes, they require a Live-in Carer to provide round the clock assistance. At Alina Homecare, we help make life easier.
What is Alzheimer's disease?
Alzheimer's disease is the most common form of dementia. According to the Alzheimer's Society, as many as 900,000 people have dementia in the UK1 . Many people who are diagnosed with Alzheimer's are over 65. As people get older, their risk of developing the disease increases. It affects roughly one in fourteen people older than 65 and one in six people older than 80.2&3
The following image provides an overview of Alzheimer's: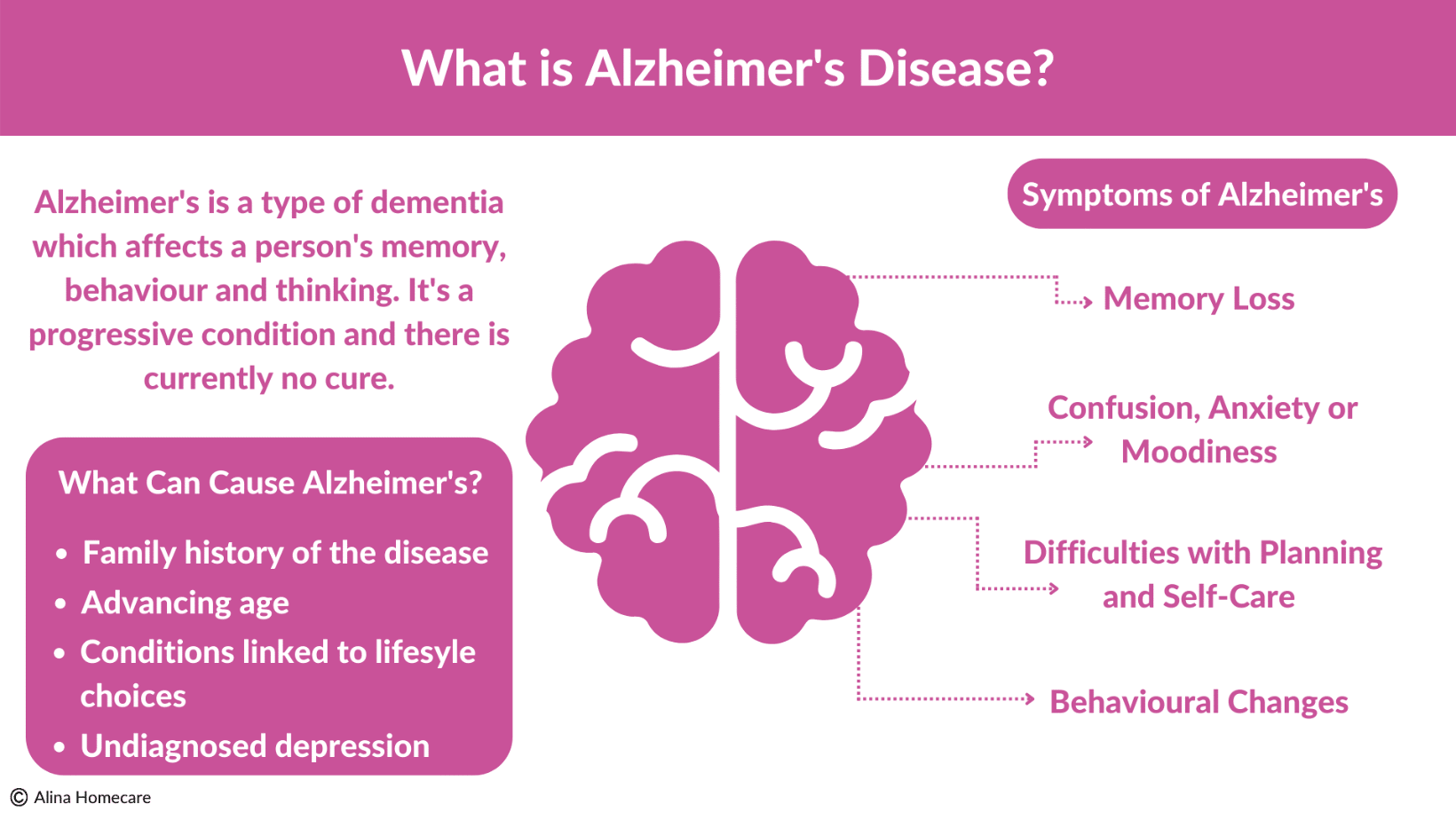 As it is a progressive condition, Alzheimer's gets worse as time passes. This means the level of support required by you or your loved one will also increase over time.
It often affects a person's ability to think, as well as their memory and other brain functions. Currently, the precise causes of Alzheimer's are unknown although a variety of factors are believed to contribute. These can include:
A hereditary history of the disease
Advancing age
Conditions linked to heart disease and lifestyle choices
Undiagnosed depression
Unfortunately, there currently isn't a cure for Alzheimer's disease, but treatments can help slow down the progression of the symptoms. Home Care Workers can help guide the person with Alzheimer's through these symptoms to improve their quality of life. They can be a highly valuable addition to your or your loved one's Care Team when help at home is needed.
There are different, common symptoms that come with Alzheimer's which gradually worsen over time. Typically, symptoms can include:
Memory loss
One of the most obvious and earliest symptoms of Alzheimer's disease is the loss of memory. As a result, this could make every day tasks more difficult such as remembering to cook a meal or feeding a beloved pet. Our Alzheimer's Care at Home Team can support you or your loved one with this by providing necessary reassurance and reminders.
Confusion, anxiety or moodiness
People with Alzheimer's can get confused about where they are, what they're doing and what time it is. Having a friendly face to help them through this confusion is often crucial and our Care Workers are ready to offer a helping hand.
Difficulties with planning and self care
If you or your loved one are living with Alzheimer's, daily tasks such as washing clothes or cleaning the home can become challenging. Our Care Workers can help so household tasks don't pile up and become overwhelming. They could do a spot of spring cleaning, help collect a prescription or even simply prepare a healthy meal.
Behavioural changes
As time passes and Alzheimer's progresses, it can affect behaviour. This can be incredibly difficult for loved ones to witness or manage. Our Care Workers can provide caring and compassionate support as you and your family navigate the difficulties of Alzheimer's disease.
The benefits of Alzheimer's Home Care
Deciding whether Care at Home can benefit your loved one's quality of life can be a hard choice that requires a lot of thought. Consistency and familiarity are vital factors to consider when choosing the right care option.
A care home may be the right option for some but moving to a new and unfamiliar environment can cause additional stress, confusion and discomfort for someone with Alzheimer's. Although the severity of Alzheimer's disease sometimes makes Home Care unsuitable, it can often be the best option.
If your loved one's Alzheimer's is severe enough to require 24 hour Care at Home, why not consider Live-in Care? With this type of Home Care service, a care worker will move into the home and provide support and assistance. This option will allow your loved one to form a bond with the Live-in Care Worker in the familiar environment of their own home which could make living with Alzheimer's more comfortable.
The benefits of Home Care for your loved one with Alzheimer's include:
Options for Alzheimer's Home Care
Providers of Alzheimer's Home Care services vary significantly. Some involve certified health professionals who can deliver medical treatment. Other Alzheimer's Home Care services – such as ours – offer non-medical assistance. This can include help with daily domestic tasks, Personal Care, or companionship.
The most common kinds of Alzheimer's Home Care services are: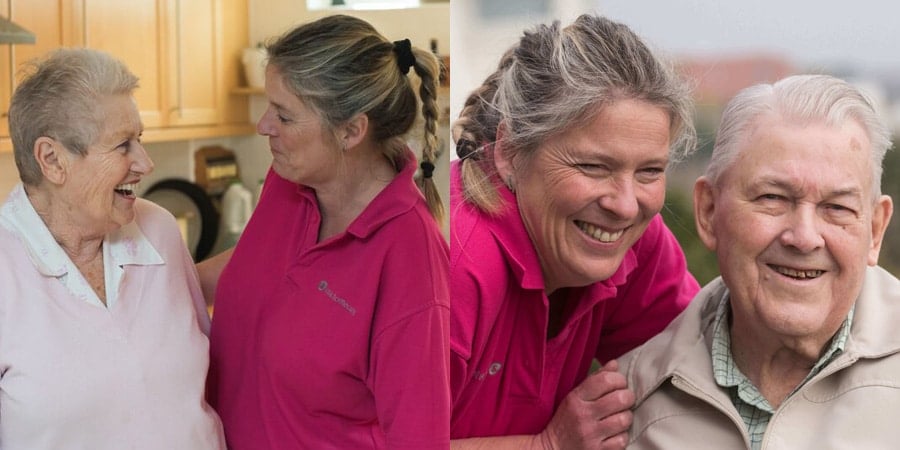 You can work with us to develop an Alzheimer's Home Care plan that suits the individual needs of the person requiring care. This involves customising the Alzheimer's care required to the person's abilities, interests, personality and history.
Person centred care allows people with Alzheimer's to have the best quality of life. This can be a good way of managing the psychological and behavioural symptoms of Alzheimer's. It's vital to know as much about the person needing care as possible to ensure that their Alzheimer's Home Care plan is tailored to their specific needs.
If you want to hear more about Alzheimer's care options, including Care at Home, you can listen to this sound clip from the Alzheimer's Society:
How much does Alzheimer's care cost?
The cost of Alzheimer's Home Care varies based on several factors. This includes the services chosen, your location and whether the costs are eligible for insurance coverage. Some insurance policies cover specific types of Home Care for people with Alzheimer's. The person requiring care must satisfy certain criteria such as being housebound and needing the assistance of a qualified professional. In addition, the services must be regarded as reasonable and required for treatment.