30+ activities for elderly people
As we age, it can become more difficult to continue doing the activities we've enjoyed for most of our lives. At the same time, life after retirement and into old age can offer more time for hobbies and activities for elderly people.
Whether you or your loved one struggles with mobility, illness or frailty, there are still many activities for elderly people to do and enjoy!
If you're looking for ideas and inspiration of things for elderly people to do, we've put together this guide of over 30 elderly activities. If you need help with these activities or getting out and about, our friendly Companion Carers can help. Our Teams can take you or your elderly loved one out for a day trip, to a community event, or even just play a board game with you at home!
Read on to find activity ideas for seniors that they'll enjoy!
Creative activities for older adults
1. Painting or drawing
What: Art is all about self expression – which means it can be whatever you want it to be! Whether you're a dab hand with a paint brush or not, practice makes perfect when it comes to painting. It can be a great way for you or your elderly loved one to pass the time.
Why: It's a long established fact that painting can be therapeutic. Studies even show that painting helps with communicating difficult feelings, for example in the event of a difficult diagnosis such as cancer.1
How: There's no right or wrong way to paint. You could treat your elderly loved one to a painting class to get started or show them videos online for inspiration. You could even start by just buying some paint and a brush and let imagination lead the way.
2. Scrapbooking memories
What: Some elderly people can struggle with a slower pace of life as they age and retire. You or your loved ones can make the most of your free time by documenting memories with a scrapbook or memoir.
Why: Making a permanent record of fond memories can be therapeutic as well as a way of preserving the past for future family generations. For instance, some care homes offer scrapbooking as elderly activities as a way of getting residents to be creative. Involving younger people such as Grandchildren is a wonderful way to bond and form close relationships whilst doing something enjoyable together.
How: For a scrapbooking activity, you or your elderly loved one will need a book, some scissors and glue. However, if your elderly loved one struggles with frailty and cannot use scissors, they may require assistance. Memoirs can therefore be a great alternative; an elderly person can dictate to a scribe such as a Grandchild, or record their voice on a mobile phone.
3. Making your own jewellery
What: If you're looking for creative things for elderly people to do, jewellery making is a recent popular trend. Beading – where beads are threaded onto a chain – is a common activity idea for seniors, especially in care homes.
Why: Jewellery is popular with people of all ages, and making your own is an opportunity to stimulate the brain and get creative. Jewellery making also provides a sense of accomplishment, which can be especially important for elderly people.
Jewellery making is also something that can be done with people of all ages. If you or your loved one need an activity to keep a Grandchild occupied with their elderly Grandparents, jewellery making is a simple but creative way of keeping them engaged.
Making your own jewellery is also something personal which can be shared as gifts to other family or friends. Gifted jewellery can hold sentimental value that gives loved ones something to remember you by.
How: Look for a local jewellery making class. Alternatively, you can buy supplies such as thread and beads inexpensively online or at local market stalls.
4. Knitting and crocheting
What: Knitting is the process of using a pair of long needles to form loops, moving a set of loops from one needle to the other. Crochet, on the other hand, uses a single hook to hook loops together. Both are common activities for elderly people. From making sweaters and mittens to soft toys and blankets, there are many great ideas and patterns available for both knitting and crocheting.
Why: In a survey, 1 in 5 elderly people said knitting was an activity that helped reduce their pain from arthritis; 70% also said it helped improve their health.7 It's also believed that the focus required for knitting can improve mental clarity and slow the onset of dementia.
Additionally, knitting and crocheting items for Grandchildren or other friends and family can result in a sense of pride and achievement that you've created something memorable and valuable. Many Grandparents enjoy creating items of clothing or cuddly toys for their Grandchildren which can then be passed down through generations.
How: Knitting and crocheting may prove challenging for older people if they struggle with frailty, particularly in their hands. Good eyesight is also necessary. However, if you or your loved one are able, it's easier to begin with crocheting than knitting. There are many videos available online along with books to help you learn.
5. Writing letters
What: Letter writing is often called a dying or outdated art form. Many younger people have never written or received a letter!8 Of course, older people are much more familiar with letter writing and it remains an enjoyable and personal form of communication.
Why: Incredibly, studies show people who write by hand in later life slow their memory decline by 32%.9 Writing by hand activates 14 areas of the brain10 which means writing letters could actually be good for your or your loved one's health!
Writing letters doesn't just mean writing to someone else – you could write a letter to yourself as a way of processing thoughts and feelings.
How: Writing letters to a pen pal is becoming less and less common but could be a fun and unique way of staying connected with friends and family. A pen and paper are all you need to get started!
6. Arranging flowers
What: Vases filled with fresh flowers and plants are a wonderful way to lift your mood, whilst also adding a splash of colour and fragrance to the home. Whether you prefer using real flowers or artificial materials, creating a flower arrangement is an opportunity to express creativity.
Why: Research has proven there are many benefits of flower arranging for elderly people. Not only does it enable you to be creative and use your imagination, but it also encourages precise hand to eye coordination and improves dexterity. Additionally, it requires concentration and stimulates the senses which can alleviate stress, therefore promoting a calm atmosphere.11
Flower arranging is a great activity idea for someone with dementia. It engages the senses, provides cognitive and sensory stimulation, improves motor skills and instils a sense of accomplishment.
How: If you have your own garden and grow your own flowers, you could use home grown flowers to create an arrangement as a gift. Alternatively, you can make paper flowers using high quality paper that won't rip easily. Supplies such as clippers, netting and floral tape can be bought online or from your local garden centre.
7. Journaling
What: Journaling is a powerful tool that can be enjoyed by people of all ages. It's well known for being therapeutic and is beneficial for processing thoughts and feelings.
Why: Keeping a journal is a great way of recording memories and past experiences which can then be passed down for generations. The act of writing daily is proven to sharpen the ability to recall information and remember it later in life.
Journaling is known to reduce stress; it provides an opportunity to face your vulnerabilities and embrace and overcome them. Positive affect journaling has been found to reduce symptoms of anxiety and depression and improve wellbeing.12
Not only does journaling have many health benefits, but it's also a great way for those who struggle with verbal communication to express themselves.
How: Starting journaling is simple – all you need is a pen and paper! Try setting aside a few minutes each day to write. Your journal doesn't need to follow any certain criteria, it can be whatever you want it to be! From recalling special memories, or simply writing about something that made you happy that day, journaling is personal to you and there's no right or wrong way to approach it.
8. Making music
What: Music is a hobby for people of all ages – from attending concerts to learning an instrument. You or your elderly loved one could consider joining a local choir. If your loved one has dementia, there are even specific musical activities for older people aimed at improving memory. According to Dementia UK, music therapy for older people with dementia can reduce distress and form part of a dementia care plan.2
Why: According to the NHS, music can light up parts of the brain that other activities cannot reach. It can therefore be a great resource for people with dementia and even stimulate memories.3 A prime example is 'Our Dementia Choir' which was formed in 2018 as part of a BBC documentary. Led by actress Vicky McClure, she set out to discover the true extend of the power of music in combatting dementia. The choir had such a positive effect and proved that people living with dementia can achieve something remarkable.4
Studies also show music can reduce pain in people with conditions such as cancer and can ease feelings of anxiety. Considering that elderly people can struggle with anxiety and depression, musical activities can be particularly worthwhile.5 Other studies suggest learning an instrument is an activity for elderly people that comes with health benefits, such as improved memory and brain function.6
How: If your loved one has dementia, musical activities can be especially useful. You can search for musical therapy on the British Association for Music Therapy website.
You or your loved one might also like to consider learning a musical instrument; it's never too late to start strumming a guitar or playing the piano. To get started, you or your elderly loved one could use music videos or find lessons locally.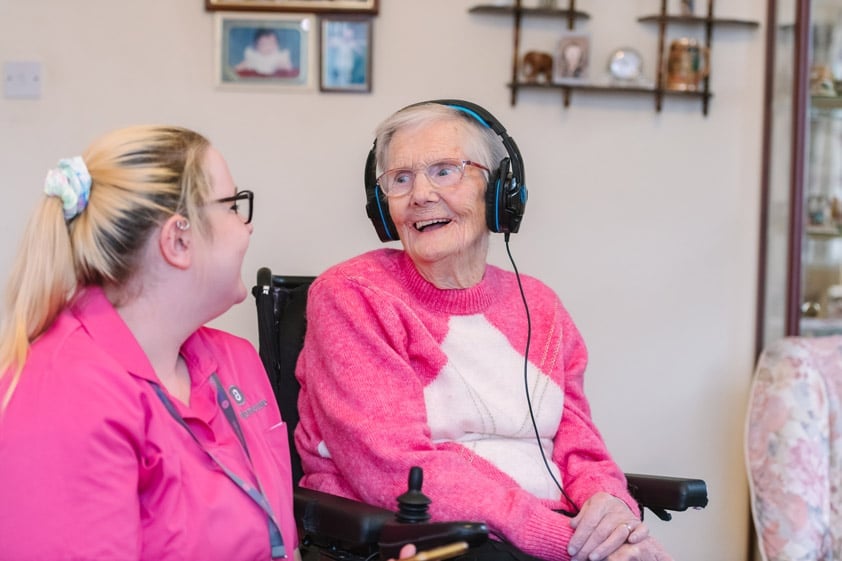 9. Keeping in touch
What: Socialising with old friends can take many forms, both in person and online. If you've lost touch with an old friend, nowadays it's much easier to find them through social media platforms.
Why: Elderly loneliness is unfortunately a very real problem with significant effects on mental and physical wellbeing. As we age, friends can fall out of touch or sadly pass away. However, keeping in touch can help mitigate loneliness and provide a lifeline for elderly people.
How: Whether it's keeping in touch via social media or meeting up for coffee and cake, finding ways to maintain friendships is important. If you or your loved one struggles with getting around, our Companion Carers could help transport you to meet a friend at a local coffee shop or community event.
10. Visiting a day centre
What: Elderly day centres are a popular way of getting out and about in the community to meet other people. They generally offer physical assistance as well as a range of elderly activities such as singing, dancing, exercise and arts and crafts.
Why: Day centres can be an effective way of avoiding elderly loneliness. In fact, it's estimated about 10% of people over 65 attend day centres to stay connected with others during the day.13
How: You can often find a day centre through your local council. If there isn't one nearby, or there's a reason you or your loved one can't attend, you could consider our Elderly Care services. Our Home Carers provide valuable companionship and can accompany you or your loved one on a day trip or excursion.
11. Attending a coffee morning
What: People of all ages enjoy a cup of tea or coffee, and it's a time tested way of making and meeting friends.
Why: Socialising with others isn't simply good for mental wellbeing, studies even suggest it helps boost immunity from common colds and flu.14
How: Coffee mornings are available in most local communities for various reasons – after church services or mass, as part of a dementia café or for fundraising purposes like a MacMillan Coffee Morning . If you can't find one locally but have the ability, you could even host your own!
12. Joining a club
What: Clubs and community groups are common in most areas. Like coffee mornings, they provide a great way of getting out and about to meet other local people.
Why: As discussed above, there are many benefits to social interaction. The risk of loneliness increases as we age, and joining a club is a good way of protecting against it. Not only can it reduce the risk of loneliness, but joining a club of any kind is also a great way of getting out of the home and staying active.
How: Depending on your or your loved one's favourite hobbies, there should be a group or club nearby that you'll be able to attend. We suggest looking online to find local events and groups near you. If you enjoy reading, you could look for a book club. If you enjoy watching films, a film or cinema club might be the right choice. There are also many church groups across the country, and the Men in Sheds movement has become popular for men to meet up and converse to improve mental wellbeing.
Sporting and active activities for older people
13. Taking up a sport
What: Getting active means different things for different people. Sporting activities for older people are often limited by practical concerns such as mobility and frailty issues. However, studies show that most elderly people's favourite things to do are active! Four of the top five most common favourite activities are: walking/jogging (14%), outdoor maintenance (13%), playing sports (8.9%), and other physical activity (8.7%).16
Why: The NHS website says that people who exercise regularly have a lower risk of developing many long term (chronic) conditions, such as heart disease, type 2 diabetes, stroke and some cancers. It's also known that physical activity can boost self esteem and mood, as well as sleep quality and energy levels. This is important as elderly people can sometimes struggle with low mood, not sleeping well and low appetite. Exercise also reduces the risk of stress, clinical depression, dementia and Alzheimer's disease.17
How: There are many different sports available for all abilities and budgets. Golfing is a popular activity for people over 65, along with cycling and running. For lower impact activities, you or your elderly loved one could try swimming or water aerobics.
Look at which exercise classes are on offer at your local sports facilities – you may find something you've never tried before but piques your interest! Some facilities don't require an ongoing membership and you'll be able to only pay for the classes you attend.
14. Practicing yoga or Pilates
What: Yoga is a meditative practice of the mind and body that builds strength and flexibility. Some people find it also helps with managing pain and reduces stress. Pilates is similar but focuses on muscle toning, body control and core strength. Pilates is considered to be more beneficial for recovery, whereas yoga may help to prevent sports injuries in the first instance.
Why: Studies on the impact of Pilates on older people have shown it can be a worthwhile activity.18 A study of people doing yoga in care homes also found it improved their quality of sleep.19 As a result, yoga and Pilates could be a beneficial activity for elderly people.
How: Pilates and yoga can be self taught using videos online. Alternatively, you or your elderly loved one could attend a class at the local leisure facility. Classes offer the added benefit of meeting new likeminded people and bonding over a shared interest.
15. Dancing
What: Dancing is a popular pastime for older people, and there are many styles available to learn depending on personal taste.
Why: Research has shown that dance, regardless of style, can significantly improve muscular strength and endurance, posture, balance and coordination and other aspects of functional fitness. With age, the risk of falls increases for elderly people so activities that improve balance and muscular strength are a great way to spend free time.20 Plus it's enjoyable and can help to alleviate stress!
How: Look out for local dance classes in your area. If you can't find any nearby, you could even try starting your own!
16. Walking or hiking
What: Walking is dependent on your or your elderly loved one's mobility. For some who have reduced mobility, even a short walk can boost mental wellbeing and physical health. For many people over 65, walking longer distances and even into the countryside is increasingly popular, especially since COVID lockdowns.
Why: Many elderly people run the risk of hip fractures and falls, but studies suggest walking reduces the chances of a hip fracture.15 Other studies even suggest walking can improve bone density, which is useful in preventing or mitigating conditions like osteoporosis and arthritis.
How: Not everyone has the ability to walk – but if you do, even short walks around your local area can boost health as well as confidence. If you have reduced mobility, our Home Carers can walk with you to lend a supporting arm and to provide reassurance. If you or your loved one is unable to walk and uses a wheelchair, our Home Carers can assist with getting outdoors so it can still be an enjoyable activity for older people.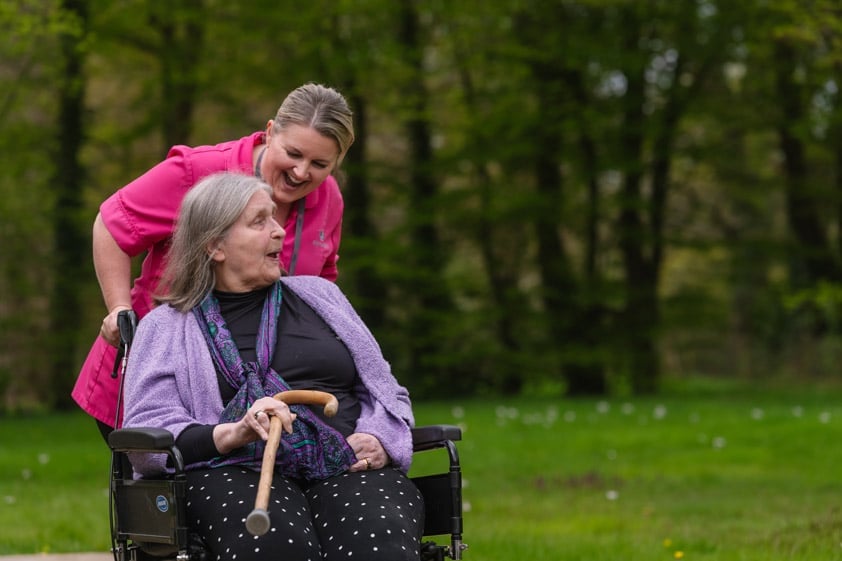 Stay at home activity ideas for elderly people
17. Meditating
What: Meditation may not be the most obvious elderly activity, but it is growing in popularity due to its effect on reducing stress levels and anxiety.
Why: There are many health benefits to practising meditation, including the suggestion that it boosts the immune system and controls pain. According to studies, chronic pain is thought to affect 20.4% of adults. Chronic pain increases with age and is highest amongst seniors aged 65 and over.24 The physical perception of pain is directly linked to our minds so it can be raised when we're under stress. As a result, mindfulness is a great way of controlling pain because it allows you to focus on relaxing the body and gently breathing through it. Age UK and Cancer Research UK recommend mindfulness meditation as a way to cope with pain, cancer and depression.25
How: The Mental Health Foundation has a website promoting meditation which you or your loved one could use to get started. Alternatively, most smartphones have an array of mindfulness applications. Many of them are free, but some do require a paid subscription; in this case, they often offer an initial free trial period so you can find out if it works for you.
18. Mapping your family tree
What: Family history can be easily lost as each generation passes. Mapping your family tree is a way of keeping track of the various branches of your relatives.
Why: Family trees are a good way of reconnecting with loved ones you may not have spoken to for a long time. As we age, it could also help younger generations of your family to keep track of their relatives and learn more from elderly loved ones.
How: You or your loved ones could use an official ancestry service to get started. Otherwise, you could simply reconnect with family members and work together to map your family tree as a group activity.
19. Playing a board game
What: From Monopoly to Cluedo, Scrabble to Trivial Pursuit, we all have a favourite board game. They can be a lovely way to spend time socialising with others and bonding over a shared interest.
Why: Board games are a great group activity for all ages – and a lot of fun! Not only is it a great way of getting social engagement, but studies suggest regularly playing board games can prevent cognitive decline in seniors.21 They present an opportunity to exercise logical thinking as players are often considering future strategic moves.
How: If you don't already own a favourite board game, look out for one at your local supermarket or charity shop. If you or your loved one need someone to play with, our Companion Carers are always happy to join in!
20. Playing Sudoku
What: Sudoku is a logic based number placement puzzle. In classic Sudoku, the objective is to fill a 9×9 square with digits so that each column and row, and each of the nine 3×3 sub-squares, contains all the digits from 1 to 9. Each number should only appear once in each horizontal line, vertical line and each sub-square.
Why: Aside from being lots of fun, Sudoku is a great activity for older people because it's been shown to keep your mind sharp.23 It requires a lot of focus and forward thinking.
How: Sudoku puzzles can often be found at the back of a newspaper, alongside the crossword. Large print Sudoku puzzle books are available for those with declining eyesight. There are usually different difficulties of the puzzle; for someone who hasn't played before, a beginner's guide to Sudoku can easily be downloaded online.
21. Solving a crossword or word search
What: Crossword puzzles and word searches are very popular – whether you do them online or in the back of a newspaper. You simply follow the clues to complete the puzzle.
Why: Studies show completing crosswords regularly can delay memory decline by up to two and a half years!22 Regularly completing crosswords or word searches can improve attention and broaden vocabulary – therefore, it's a valuable way of relaxing and relieving stress.
How: It can be as simple as turning to the back of your favourite newspaper! Most supermarkets sell books which contain a large collection of puzzles. You can find books dedicated to one type of puzzle or some even provide a selection of many different puzzles. You can also find new crosswords, word searches and other puzzles online with a quick online search.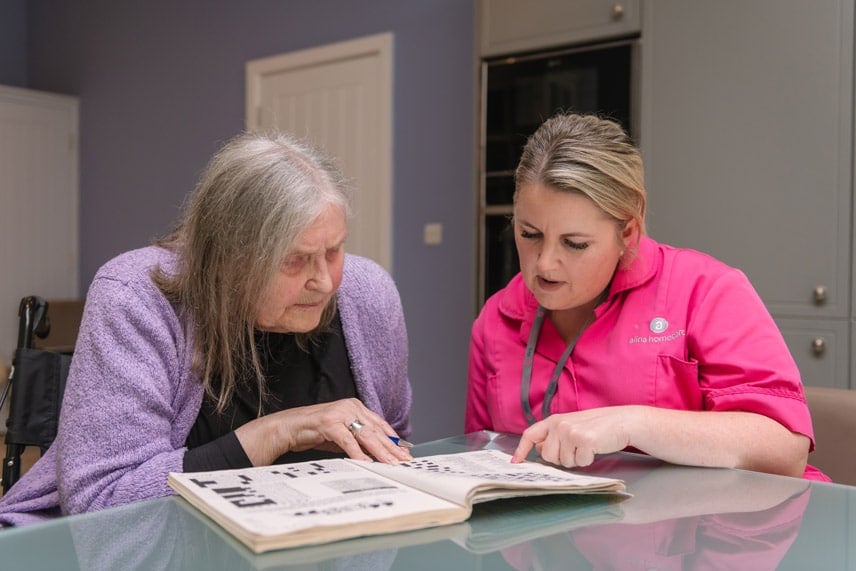 Outdoor activities for elderly people
22. Watching birds
What: Bird watching is a common activity idea for seniors and has grown in popularity since COVID lockdowns. According to the RSPB, about three million people do some form of bird watching every year.26
Why: Getting outdoors in nature can really help with mental health and mood. Bird watching can also just be a fun hobby for elderly people who love animals!
Not only is it a great outdoor activity, but for someone with mobility restrictions, it can be a great way of engaging with the outdoors too. For older adults on bedrest following an illness or recovering from surgery, our Home Carers can create a comfortable indoor environment for bird watching. This might involve rearranging the room with a reclining chair or manoeuvring the bed near a window.
How: You or your loved one can look for a local RSPB reserve here. If you struggle with mobility, one of our Mobility Carers can provide transport to local reserves. Alternatively, if you're on bedrest and unable to leave the home, adding birdfeeders with different types of feed to attract different birds that's clearly visible from the window will still allow you to embrace bird watching.
23. Tending a garden
What: If you or your elderly loved one has a garden, tending to plants and flowers is a popular pastime all through the year.
Why: Gardening can be relaxing and calming. One study found that contact with certain bacteria in soil can trigger the release of serotonin in the brain which works as a natural antidepressant.27
Gardening is also a form of physical activity and therefore helps with mobility and flexibility. It engages lesser used muscles so is a productive way of rebuilding strength following a stroke. In fact, it's been reported that regular gardening can reduce the risk of heart attack and stroke by up to 30% in people over 60.28
If you attend a community garden, it can also benefit you socially. Plus, there are dietary benefits to eating the fresh produce grown in your own garden.
How: Not everyone has a garden – but if you do, growing plants, flowers, fruits and vegetables can fill time and give elderly people a sense of purpose. Some of our Home Carers have even lent their green fingers to our clients to keep gardens looking tidy when they're unable to! If you don't have your own garden, you could also look out for a nearby community garden or an allotment.
Days out for the elderly
24. Visiting museums and stately homes
What: Day trips always provide lots of potential for enjoyable activities. From visiting a stately home, a local garden or perusing a nearby museum.
Why: Museums, stately homes and other day trips provide a good way of getting outdoors and adding some variety to daily routines. Whether you have an interest in art, nature or history, there's a museum for everyone! Visiting museums is a great source of entertainment and brain stimulation.
How: Discounted memberships for elderly people are available from organisations like the National Trust, English Heritage and the Royal Horticultural Society. If your elderly loved one is unable to reach a place of interest to them themselves, contact your local Alina Homecare Team as we may be able to lend a helping hand.
25. Calling 'bingo'
What: Unfortunately, there are very few bingo halls still open today. However, many day centres and elderly events incorporate bingo so there's still a chance to win!
Why: Bingo is ultimately a social activity so it's a good way to keep in touch with others and have fun.
How: Look out for events near you or try doing an internet search for a local bingo hall. If you live in a small town or village, you could even consider setting up your own bingo night at the local village hall or community centre!
26. Visiting garden centres
What: If you or your elderly loved one like gardening as an activity, visiting garden centres can be a great way of getting even more enjoyment from the outdoors.
Why: Garden centres are more than just shops – most have restaurants or tea rooms, gardening displays and more. They can be an enjoyable way to spend an afternoon and meet likeminded people.
How: Many of our clients attend garden centres with their Home Carer. Most of our Carers can drive, and our Teams are happy to assist throughout the day.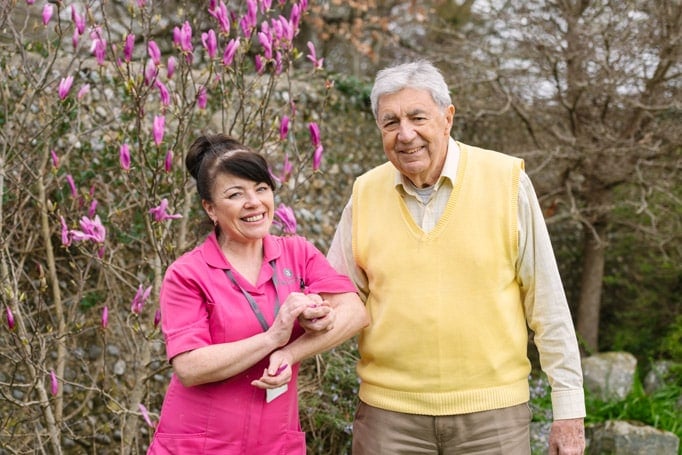 Volunteering activities for elderly people
27. Befriending
What: If you or your elderly loved one still has the ability and capacity, there's also the option to befriend other older people.
Why: After retirement, helping others can give a sense of purpose and befriending is an activity which can fit into your everyday life. It's also an opportunity to prevent feelings of loneliness for yourself and someone else as you spend quality time together.
How: Charities like Age UK and Age Concern always need volunteers to befriend elderly people who often can't leave their homes as a way of providing some companionship. Befriending can mean meeting someone in person or simply giving them a phone call.
28. Fundraising for charity
What: There are lots of good causes in need of volunteers and fundraising, whether that's in a charity shop or at your local food bank.
Why: After retirement, volunteering can bridge the gap between a busy work schedule and having lots of free time. For older people who are mobile and independent, volunteering can provide structure and a sense of purpose.
How: Look at local publications and websites for inspiration for volunteering. Many charities, including the National Trust, rely on volunteers for tasks like gardening or guided tours.
Practical things for elderly people to do
29. Learning a language
What: Learning a language is possible at any age, though it's considered to be easier when we're younger. However, it can be a fun and unique activity for older people as they may have more free time to spend learning.
Why: Learning a second or third language uses parts of your brain you might not otherwise use every day. Studies even show it can help to slow the onset of Alzheimer's disease.29 This could even include learning sign language which is a valuable skill to have as we age.
How: There are many ways of learning a new language! There are countless apps, CDs and other forms of software available to help. Learning a language is also a great excuse for a holiday abroad so you can practice and show off your newly learnt skills!
30. Using a computer
What: Technology is ever evolving and is becoming an essential part of everyday life. Knowing how to use a computer can open up an array of opportunities for seniors.
Why: Whether it's using a smartphone, laptop or tablet, technology can allow you to keep in touch with loved ones, access valuable information and stay up to date with current affairs. Technology can also help seniors stay active and engaged by allowing them to listen to a podcast, watch videos or play games online. Having the right computer skills enables you to stay connected with those you care about and prevent feelings of loneliness or isolation.
How: You can start by checking to see if your local library or community centre offers learning courses. Senior day centres may also provide information on how to navigate technology. Alternatively, you could ask a family member or friend who's willing to spend time teaching you.
Remember, staying safe online is vital! You must make sure to understand the basics of data privacy and security and be vigilant to online scams or hackers.
31. Baking some treats
What: Cookies and cakes or bread and bagels. Savoury or sweet, baking is a great idea for older people. Not only is it a chance to learn new skills, but baking is often associated with happy memories that resurface with a spoonful of sugar or a whiff of freshly baked bread. Not all older people can bake alone anymore, which can be disappointing if it was a favourite past time. But our Carers can bake with you or your loved one – and even make a cup of tea to go with that slice of cake!
Why: Baking is a well known form of therapy for all ages – not least when it involves sampling the baked goods! It can help reduce stress and also provides a great way to socialise with others. In addition to this, baking is a full sensory activity which is particularly beneficial as we age.
How: Recipes are available online, in books, and often handed down from generation to generation. It can also be fun to explore making your own recipes. For example, many older people enjoy baking with their grandchildren. You or your elderly one may also be interested in finding a baking club to swap recipes.
32. Cooking a meal
What: For some elderly people, it might not be as easy to cook as it once was. This could be due to life limiting illness or injury or conditions like dementia. Sometimes involuntary body movements, such as tremors in the hands, can make cooking alone unsafe. Our Home Carers often help our elderly clients in the kitchen to prepare healthy meals, and cooking can be a fun activity to do together.
Why: A home cooked meal isn't just a healthy way of enjoying food, it can also be comforting. For elderly people, cooking their own meals is a consideration when thinking about staying at home versus moving into a care home. Cooking at home can help build confidence and independence and is a great way to destress.
How: If you or your loved one are still able to cook for yourself, cooking from a recipe or freestyle can be exciting as well as delicious. If you're no longer able to cook independently, cooking with a Carer can be an enjoyable activity to maintain some normality and routine.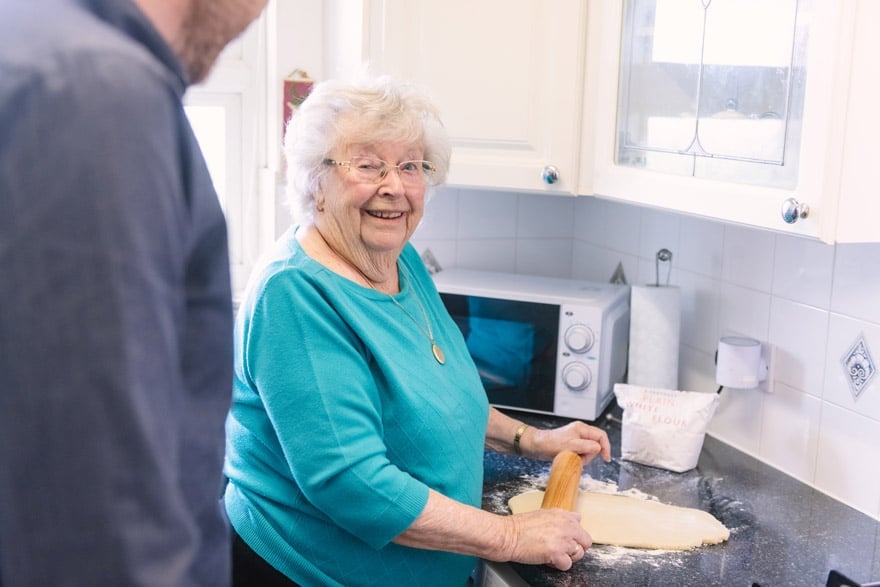 How can I help my elderly loved one to be active?
Older people have different levels of ability and capacity to be active. Our guide of activity ideas for elderly people should include something for everyone. It may take some time for you or your loved one to find the right hobby but hopefully you're feeling inspired by our suggestions!
If you have an elderly loved one who's struggling with mobility, frailty or even motivation, our Home Care service can help by providing a friendly professional who can do activities with them. Our Carers are ready to help with whatever you need. They can provide transport and assistance, as well as much needed reassurance.
How can I help my elderly loved one to stay active while recovering from an injury or illness?
If your elderly loved one has recently come home from hospital, suffered an injury or is recovering from an illness, they may be less active than usual. Many older people suffer from falls, which can also knock their confidence doing different activities. Our Convalescent Care can support with recovery, and our Companion Care can help them get out and about in their community as much as they are able.
How can I find activities for elderly people near me?
There are lots of ways to find activities for elderly people near you. Visit Age UK's directory to find local activities. Alternatively, look online for groups relevant to your local area. If you're looking for some help at home, our Home Carers can help you with finding local events and activities.
1. National Library of Medicine, "The Connection Between Art, Healing & Public Health: A Review of Current Literature", Reviewed 14 November 2023
2. Dementia UK, "Music & dementia", Reviewed 14 November 2023
3. NHS England, "Music & dementia: a powerful connector", Reviewed 14 November 2023
4. Our Dementia Choir, "About Our Choir", Reviewed 14 November 2023
5. National Library of Medicine, "The Connection Between Art, Healing & Public Health: A Review of Current Literature", Reviewed 14 November 2023
6. BMC Geriatrics, "Train the brain with music (TBM)", Reviewed 14 November 2023
7. The Senior, "Knitting may help ease arthritis pain", Reviewed 14 November 2023
8. The Guardian, "A fifth of children have never received a letter", Reviewed 14 November 2023
9. Neurology, "Life-span cognitive activity, neuropathologic burden & cognitive aging", Reviewed 14 November 2023
10. MIT Press Direct, "Learning through Hand or Typewriting Influences", Reviewed 14 November 2023
11. Discovery Village, "Flower Arranging: A Great Hobby For Your Aging Mom", Reviewed 14 November 2023
12. Better Up, "Write your way out of anxiety: 6 benefits of journaling", Reviewed 14 November 2023
13. National Library of Medicine, "Day centres for older people", Reviewed 14 November 2023
14. National Library of Medicine, "Two Distinct Immune Pathways Linking Social Relationships With Health: Inflammatory & Antiviral Processes", Reviewed 14 November 2023
15. National Library of Medicine, "Walking & leisure-time activity & risk of hip fracture in postmenopausal women", Reviewed 14 November 2023
16. Science Direct, "Older adults' favourite activities are resoundingly active", Reviewed 14 November 2023
17. NHS, "Benefits of exercise", Reviewed 14 November 2023
18. National Library of Medicine, "Benefits of Pilates in the Elderly Population", Reviewed 14 November 2023
19. National Library of Medicine, "Effects of yoga intervention on sleep & quality of life in elderly", Reviewed 14 November 2023
20. National Library of Medicine, "The Effectiveness of Dance Interventions to Improve Older Adults' Health", Reviewed 14 November 2023
21. Four Seasons Health Care, "Stimulating the brain through board games", Reviewed 14 November 2023
22. National Library of Medicine, "Association of Crossword Puzzle Participation with Memory Decline in Persons Who Develop Dementia", Reviewed 14 November 2023
23. The Daily Mail, "Older adults who regularly do Sudoku or crosswords have sharper brains that are 10 YEARS younger, finds study", Reviewed 14 November 2023
24. Senior Lifestyle, "10 Healthy Benefits of Meditation for Seniors", Reviewed 14 November 2023
25. Age UK, "Mindfulness", Reviewed 14 November 2023
26. The Guardian, "You don't need to travel long distances to spot birds, Britain's twitchers urged", Reviewed 14 November 2023
27. Leisure Care, "Benefits of Gardening for Seniors", Reviewed 14 November 2023
28. Leisure Care, "Benefits of Gardening for Seniors", Reviewed 14 November 2023
29. Alzheimer's Research UK, "Speaking a Second Language Shows Benefits in Alzheimer's", Reviewed 14 November 2023