Living with elderly parents: things to consider
Living with elderly parents is a major decision for you and the people you live with and it comes with significant risks and rewards.
Our parents are often the people who take care of everything for us as we grow up. Therefore, it can be tough seeing family roles reversed as they become vulnerable and more dependent on us for help. As our parents age, they may require some form of Elderly Care to continue living safely and securely at home. Taking care of your elderly parents at home with you can be a great solution to this.
There are many benefits of living with elderly parents in one shared household, but it can also be challenging. As a result, there are key things to consider before deciding to combine households.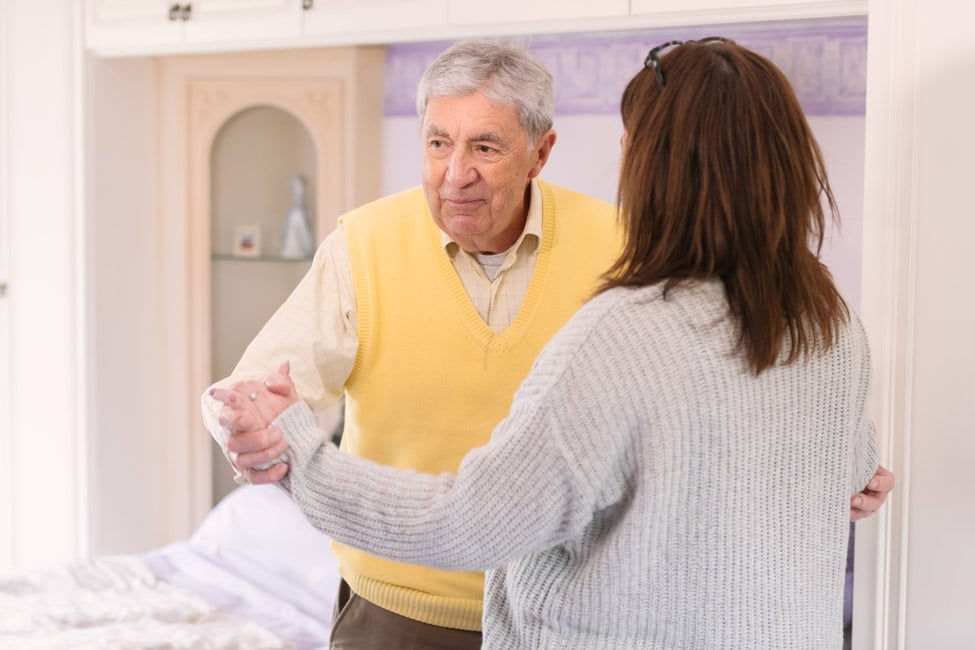 Should you live with your elderly parents?
There are some important questions to ask yourself before deciding to live with your elderly parents. You can use the questions below as prompts to discuss the possibility with your loved ones:
Does your home have enough space for your parents compared with where they currently live? Will they have their own bedroom? Will you share all your living spaces?

Ideally, if an elderly parent struggles with climbing the stairs, they'll want to live on the ground floor. However, this may not be possible in your home. If you don't have enough space, you may need to make modifications or extensions to your property.

Modifications might include:

Another solution is to extend your property so your parents have separate living areas and possibly their own private bathroom.

Alternatively, some families consider selling individual properties and buying a larger property with their parents. There are many financial implications attached to this, especially if you have siblings, so you may need to seek legal advice.
It's normal for families to have disagreements but be cautious whether your relationship may change as a result of living together. If you enjoy each other's company and can quickly and successfully resolve differences, living together could be ideal. On the contrary, if you have a history of conflict, your relationship may not improve by living together. It might feel like you're doing the right thing, but if you're going to be unhappy then you should try to explore other options.

Are your parents' lifestyle choices compatible with your own? Do they have habits that you'll be uncomfortable with in your home? An example is if one or both of your parents smoke but you don't. It can be difficult to alter fixed habits, so establish achievable rules. A realistic solution is to set up a designated smoking area for them.

Remember, your parents' views also matter. They may feel like they're losing their independence, so you also need to respect their boundaries. If everyone is willing to adapt and compromise, living together harmoniously is more achievable.

Before moving in together, discuss whether your parents will contribute financially towards any household bills, such as utilities, rent or mortgage payments, and groceries. Often, older adults want to contribute to the household if they can afford to. To avoid any conflict or resentment, it's better to agree on how to manage finances before deciding to combine households.

If your family are claiming benefits, will this be affected by combining households? Will council tax payments increase? You might also find that household bills increase due to additional usage, so judge whether your parents' contributions will cover these extra costs.
Many people don't consider living with elderly parents until they've experienced a decline in health. Sometimes, it's worth thinking about your elderly parents living with you while they're still healthy and independent so they have the chance to become accustomed to new surroundings. This also provides an opportunity for you and your children (if you have them) to create precious memories while your parents are fit and able.

On the other hand, if an ageing parent requires additional support, be realistic about what level of care you'll be able to provide or if you'll need professional care services. If your parents need help with Personal Care, such as bathing, dressing, or using the bathroom, are you comfortable doing this for them? For some, caring for elderly parents is a rewarding way to give back some of the love and care they gave to you. For others, having a professional Home Care provider means elderly parents can preserve their dignity without having their children undertake intimate tasks.

If you have a full time job and young children, you may not have the time or energy to take on caring for someone who needs a lot of assistance. Considering a professional Home Carer allows you to continue with your work and life routines. A paid Home Care Worker can provide personalised support to your elderly parents and will have received expert training to do so.
Do you have an elderly parent who lives far away? Will they be leaving behind their friends and community? Don't underestimate how difficult it can be to adjust to an unfamiliar environment and make new friends as we get older. Many seniors are reluctant to move into a care home or residential care because they're anxious to leave familiar surroundings.

If you and your partner work full time and your children attend school, your parent could be spending a lot of time alone during the day. To prevent feelings of loneliness, consider employing a Companion Carer. They'll be able to spend quality time with your parent – taking part in their favourite hobbies, taking them out in the community for physical exercise, or attending social events.
If you share your home with others, remember that living with senior parents is a big decision that will affect them too. Their usual routines may be disrupted which can be frustrating.

Does your partner have a good relationship with your parents, or do they bicker? A healthy elderly parent may not require a lot of attention – but if they do need extra help, you and your partner will spend less time alone. Make sure you're both prepared for this sacrifice before making a life changing decision.

Are your children old enough to understand the commitment you're making? An extra person or two in the household will result in additional chores that might be necessary to take care of their grandparents' needs. Are they willing to adjust, such as giving up their bedroom and sharing with a sibling if necessary?

A key benefit of living with elderly parents is the opportunity it creates for your children to form close bonds with their grandparents. When you decide to live with an elderly parent, you demonstrate the importance of taking care of family and teach younger generations the significance of responsibility and sacrifice.
It's important to include your siblings in any discussions about living with elderly parents. Ask whether they'll contribute towards care or other costs so you aren't financially burdened. If you're going to receive financial help from your parents, will they object?

If they're uncomfortable, having an open and honest conversation can be valuable. Emphasise that you're taking on a big responsibility and any financial gains are a consequence of this commitment. Be mindful – you don't want to become the source of resentment and damage relationships.
What are the benefits of living with elderly parents?
It's important to note that taking care of elderly parents at home is a life altering decision. If you live with other people, moving one or two parents into your home will disrupt your usual routines and upend the way you do things. For some, living together can be incredibly rewarding; for others, it can be challenging.
Read our list of pros and cons for living with elderly parents to help you think about the right decision for yourself and your loved ones. If you're seriously considering this option, you may want to consider seeking legal advice to ensure you and your parents are protected.
For many people, living with elderly parents is a necessity due to financial circumstances. If your parents receive a limited pension, living separately in another household may simply not be sustainable. Elderly parents living with you means they won't need to pay bills or living expenses. Instead, some of the income they receive can be used to contribute to expenses like Home Care, as well as other essential household costs.

One of the most important factors to consider is the cost of care. Care homes, or other types of residential care, often come with significant costs. Government funding is available, but if your parents' assets exceed £23,000 – especially if you have two parents and one is going to continue to live at home – costs must be privately funded. Unfortunately, findings from a 2021 Census found that, with the rising cost of care homes, 32% of people would not be able to afford a typical four year stay in a care home.1

In this situation, some people decide to sell their parents' home so the proceeds of the sale can pay for care, while their other parent moves in with them.

If your parents don't need or want to move into a care home, living together can completely bypass residential fees. Instead, your ageing parents can receive care in your home while maintaining their independence and continuing daily routines.

It's also worth considering that living with elderly parents could provide more financial flexibility for both them and you. Sharing the costs of living could potentially work out more cost effective compared to maintaining two separate households.

On the other hand, if both households have low incomes, consolidating may not necessarily fix this issue. Having your parents live with you can result in extra expenses such as home modifications, and bills may increase due to additional usage.
If your parents are vulnerable and have care requirements, living together means you could become their caregiver. This is a big responsibility. In 2021, data suggested as many as 4.7 million people were caring for a loved one as an unpaid carer.2

Of course, caring for elderly parents comes with cost savings compared with paying a Home Care provider. However, considering a professional Home Carer would allow you to continue with your regular work and life routines. Keep in mind, a paid Care Worker has received expert training to ensure they provide quality care. Companies such as Alina Homecare are also regulated by the Care Quality Commission (CQC) for added reassurance. Moreover, having a professional Home Carer means elderly parents can preserve their dignity without having loved ones aid with intimate tasks such as using the bathroom.

When Mum moved in with us last year, we had no idea how much care she would need. Managing the local council's care providers was difficult and stressful. Alina Homecare has transformed our lives. They are reliable, efficient and genuinely caring. They respect our home and give Mum the time she needs. More than that, they have befriended her, making a big difference to her quality of life."
John, Relative, Bromley

If you do decide to become a family caregiver, you could consider Respite Care. This is a cost effective option as your parents still move in with you and receive support from your family. However, a professional Carer then visits your home at agreed times to enable you to take regular breaks. They can perform intimate Personal Care tasks at certain times of the day, leaving you to provide other types of care such as companionship.

You may also want to consider the financial side of being a caregiver. If you work 35 hours a week or more, you may qualify for Carer's Allowance. You could receive a weekly allowance, which is usually paid every four weeks. Each week you receive Carer's Allowance, you'll automatically get National Insurance credits too. You may also be eligible to apply for support from your local council or other income support.3
If your parents are able and don't have care needs of their own, they could even provide valuable childcare for your family! Additional childcare support from grandparents is increasingly popular with young families and offers cost savings compared with nurseries, nannies and babysitters.

This may be even more cost effective if your parents live with you from a younger age. For some families, this normalises living in a larger household and means you can slowly increase the support you provide for your ageing parents over time.
Did you know older people living in a care home are three times more likely to have a fall than older people living at home?4 Physical inactivity, frailty, health conditions, taking medications, and unfamiliar surroundings can all contribute to this. By living with elderly parents, some of these factors can be mitigated.

As a result, elderly parents living with you can provide peace of mind – both for children and for parents. If they are able, you can encourage physical activity to reduce the likelihood of falls. Knowing they're safe and secure at home with you can reduce unnecessary stress and concern.

It's just as important to remember that, although you and your family may feel safe and comfortable at home, these feelings may not be shared by your elderly parents. Modifications may be necessary to the home to accommodate their needs. Installation of more lighting can improve visibility; handrails installed in stairways or bathrooms can allow them to get around the home more safely and prevent the risk of falls.
Sadly, our parents won't be around forever. For some people, choosing to live with their parents is a chance to capitalise on the remaining time they have together.

An elderly parent living in the family home has the potential to create stronger bonds. You can see them daily and spend more quality time together. This could strengthen the relationship you have with each other and allow you to give back to your parents by taking care of them.

Although you'd be able to see your elderly loved one regardless of whether they live with you, spending time together is often easier and more flexible at home. Unlike in a care home, there are no restrictions on visiting hours.

Regular family time can also be beneficial for the overall wellbeing of your elderly loved one so they don't experience feelings of loneliness. If you have children, they can connect with elderly loved ones daily and spend quality time together. The children can learn about their family history and benefit from life lessons and experiences their grandparents have lived through.

Of course, family relationships can also be complicated and may disrupt your immediate family dynamics. Getting to spend more time with your parents can be a wonderful experience but can also test family relationships. Some people struggle with their elderly parents so some distance may be healthy. If there are multiple children who could look after elderly parents, there is also the possibility of resentment if one child is perceived to be contributing more than another.
One of the biggest challenges of ageing is feeling isolated and lonely. Age UK reports that 1.4 million older people in the UK suffer from elderly loneliness.5 Having elderly parents at home can positively impact overall mental health and wellbeing. This is particularly important as research suggests that social isolation can increase the risk of dementia by 50%.6

Supporting elderly parents at home brings peace of mind knowing they're under the same roof and you're available to help if they need you. You'll be able to monitor and notice any health changes, as well as making sure they eat a healthy and balanced diet. Should they require professional care, you won't have to worry about the quality of care they receive as you'll be nearby to oversee things.

Those living with dementia symptoms benefit from routines and familiar surroundings. Moving to a care home can be stressful at any stage of life, but potentially more so for those suffering from a serious illness or diagnosis. Staying somewhere familiar with loved ones can reduce disorientation and promote feelings of safety.

Finally, remember that time to yourself can be difficult to achieve if you're living with senior parents. Moments to yourself may feel unobtainable and caregiver burnout can be a real possibility. Unfortunately, unpaid caregivers have a 33% increased risk of developing a chronic condition than non-carers.7

It's important to schedule time for yourself or alone with your partner to not cause friction in the household. Again, if you do choose to live with your elderly parents and become their primary caregiver, you can secure some restful time by hiring a Respite Carer. They'll come into the home at regular agreed times to provide support so you can take a break. They'll work with you to fit in with usual routines and ensure minimal disruption.
Many elderly people struggle with a lack of purpose. Sadly, this can be even more true of recent widows. Almost a quarter of people over 65 in the UK are widowed, and adjusting to living alone after years with a spouse can be daunting.8 Living with your elderly mother or father can help them through this later life adjustment.

When someone loses their ability to do the things they love, they can often feel as though they're a burden to their loved ones. Having someone care for them provides a reminder that they're valued. Being reminded that they're loved can be a powerful and motivational way to help elderly people look forward to the day, instead of dreading it.
As seniors age, they benefit from structure in their lives. Regular routines can include planned meals and mealtimes, daily and weekly elderly activities, or any other consistency in their daily schedule.

When elderly people remain in their own homes, they may not have any structure to keep focused. Particularly when living alone, the lack of a daily schedule can result in skipping meals, forgetting medications, and developing feelings of loneliness. For some children, having your parents close by makes it easier to monitor them and ensure they're safe and comfortable.
Suggesting your elderly parents live with you
Most adults want to age comfortably in a familiar place and are reluctant to move out of the home they love into unfamiliar surroundings such as a care home. However, there may come a time when they're no longer able to function independently at home.
It's important to understand your parents' point of view. Moving in with you may feel like a loss of independence. Often, the approach you take to having a difficult conversation about moving in together can make a world of difference to the outcome and the way they respond.
If you believe that living with elderly parents is the best course of action, scroll across for our tips on approaching the subject:
Patience
The conversation about your parents moving may not be easy. The idea of leaving a beloved home can bring a great deal of uncertainty and unpredictability. In the first instance, they may be reluctant to leave their home as it can trigger feelings of fear and loss of control. Try not to overwhelm them with information. It may be a conversation that needs to be approached several times, so be patient.
Sensitivity
Avoid blunt statements informing your elderly parents of your concern for their wellbeing and that they need to consider moving. Instead, broach the subject calmly and sensitively. State your concerns with love and tenderness and reassure them you want to help. Focus on the benefits of you living together, such as spending quality time together and the close bonds you will form.
Resilience
It's difficult to watch loved ones face challenges or declining health due to ageing, especially if they're unwilling to accept help. Remember, your parents might also be feeling embarrassed by the switch in family dynamics and the need to be cared for by their children. If it will help, have a support network around you so you don't have to initiate the conversation with your parents alone.
How to manage living with elderly parents
My Mother came to live with us this year and we've agreed that we need one day a week when my Husband and I can go out without worrying about leaving her alone. This allows all involved to have a break from each other. Alina Homecare provides a friendly face to come for a two hour visit weekly. Conversation, tea, and cake have all been shared. The Carer was well briefed on the first day and had obviously done her homework on Mum's varied medical issues before she arrived. Having had this service for four weeks now, it's been wonderful. The Carer has provided that consistent, comfortable, respectful but competent presence that gives me peace of mind and Mum a friend who can help her as required. Thanks to the whole Team who have been professional and caring throughout what could have been a very fraught time."
Diane, Relative, Cambridge
What to do if living with elderly parents doesn't work out?
Taking care of elderly parents can be a difficult and life changing adjustment. Perhaps you've tried it and realised it's not working out.
If you or a family member is a primary caregiver for an elderly parent, you may be feeling caregiver guilt. Adult children often feel guilty if they made promises to care for their parents into old age. It's easy to underestimate the demands of caregiving, most notably in situations where seniors develop conditions such as dementia or Parkinson's. As a result, some people find themselves unable to cope.
If you find yourself struggling with your living situation, acknowledge that you're doing your best, but it may be time to discuss other arrangements. We explore two alternatives below:
Live-in Care
If your loved one's health has started to decline and their needs are increasing, Live-in Care is a holistic service that provides continuous support in the comfort and security of the home.
A Live-in Carer will move into the family home and be there to help whenever they're needed. They can help with daily hygiene, companionship, household tasks, meal preparation, and so much more. Unlike a care home, where staff attention is shared between residents, Live-in Carers provide personalised and dedicated care that's tailored to individual needs.
Alina Homecare's Live-in Care service also includes specialist care for conditions such as dementia, Parkinson's, stroke aftercare and more. If Live-in Care is an option you want to explore, we can conduct a free no-obligation home assessment of your parents' care needs. Contact your local Alina Homecare Team to see how we can help.
Relocating to a care home
A care home can refer to either a residential home or a nursing home.
Residential homes offer accommodation and support for people struggling to live at home. They're a safe environment with professional assistance for care needs. They provide structure via planned mealtimes so that residents eat regularly and get a healthy, balanced diet. They also schedule regular activities to ensure residents don't get lonely or bored.
Nursing homes, on the other hand, give medical care to people who need more help than residential homes can offer. They're staffed by qualified nurses 24 hours a day, ensuring residents have a secure and supported environment. When assessing the suitability of Home Care or a care home, medical needs can often be the deciding factor.
If you have elderly parents living with you, encouraging them to relocate to a care home can be difficult. It's important to remember that seniors with mental capacity are entitled to make their own decisions. Even if you believe a care home is the right choice, they may disagree and refuse to move – in which case, you cannot force them.
1. Taking Care, "Unpaid & under pressure: Are Brits trapped caring for elderly parents?", Reviewed 14 August 2023
2. ONS, "Unpaid care by age, sex & deprivation, England and Wales: Census 2021", Reviewed 14 August 2023
3. GOV.UK, "Carer's Allowance", Reviewed 14 August 2023
4. Care Inspectorate, "Managing Falls & Fractures in Care Homes for Older People", Reviewed 14 August 2023
5. Age UK, "Loneliness research & resources", Reviewed 14 August 2023
6. CDC, "Loneliness & Social Isolation Linked to Serious Health Conditions", Reviewed 14 August 2023
7. University of Limerick, "Research shows that caregiving can be 'damaging for health' ", Reviewed 14 August 2023
8. ONS, "Profile of the older population living in England & Wales in 2021", Reviewed 14 August 2023