Dementia Care Jobs
Are you seeking a fulfilling new role in a supportive and caring environment where you can receive great pay and exceptional training?
You'll support and care for our clients, many of whom have dementia, in their own homes and help make life easier.
Bring your positive attitude and be amazing!

Why Apply For A Dementia Care Job?
Although it can be demanding at times, having a Dementia Care job is both fulfilling and rewarding. Our dedicated Teams are highly important to us therefore our jobs come with great benefits.
Paid holiday + free uniform
It's easy to apply as it will only take a few minutes and you could start your new role within weeks!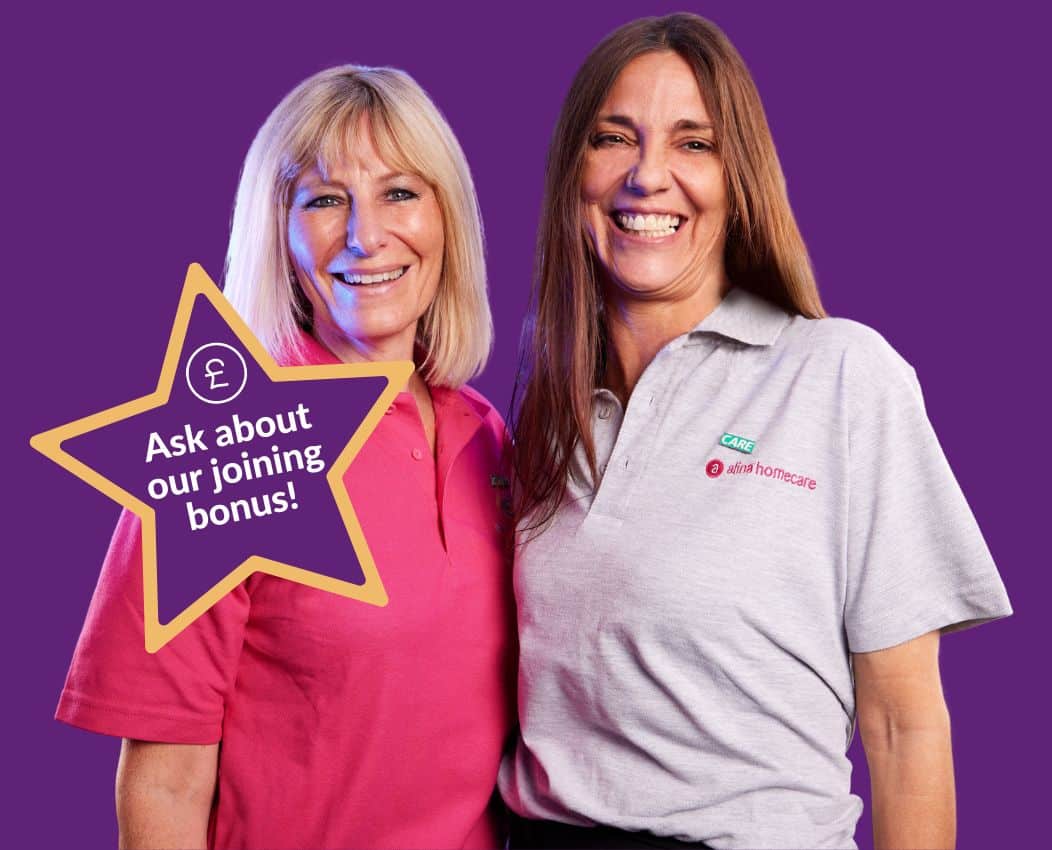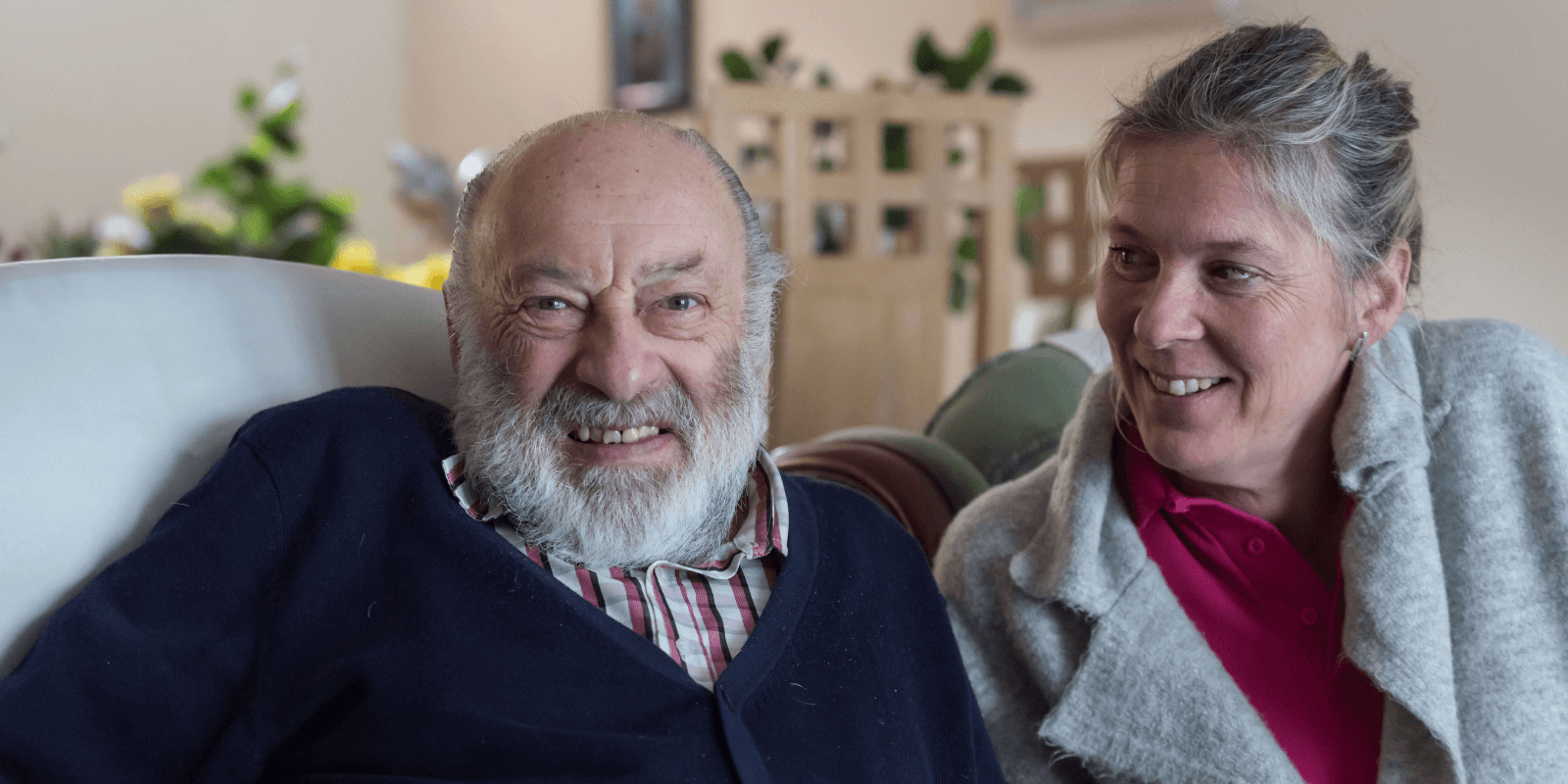 What Is The Role Of A Dementia Care Job?
Having a Dementia Care job means you'll help people living with dementia and their family access the care and support they need to remain at home for as long as possible.
From helping out with familiar day-to-day routines to being a friendly face to turn to for support when it's needed most, for many of our clients, this care and support is not possible without you!
The responsibilities vary from client to client. We listen to the individual needs of all the people and families we support, which ultimately informs everything we do.
With 900,000 people in the UK currently living with dementia 1, more and more Dementia Care Workers are needed to help them live the best life possible.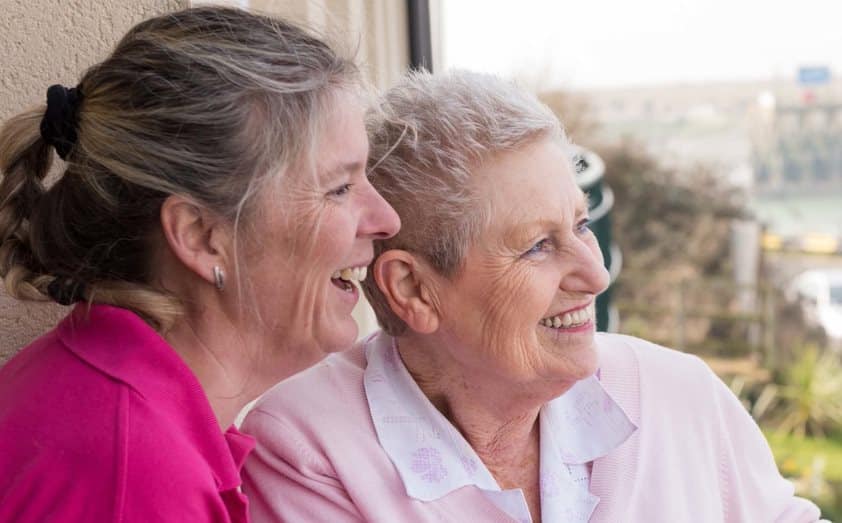 What Skills Do You Need?
You don't need any previous experience or qualifications to secure a Dementia Care job. You'll just need to pass enhanced background checks and have the right to work in the UK. At Alina Homecare, we'll provide all the training you'll need through our Training Academy.
Once you join us, you can continue to grow and develop with out specialist dementia care training. This exclusive training will improve your skills and knowledge and you'll be helped each step of the way by one of our trainers!
What Happens Next?
After you've submitted your application, you're just four steps away from starting your new role!
A member of our Team will contact you for a chat and book a video interview
We'll carry out enhanced pre-employment checks
You'll then undergo training in our Alina Homecare Academy
You'll then start your new Dementia Care Job, congratulations!
Our Dementia Care Job Vacancies
Quick Questions
At Alina Homecare, our pay rates are highly competitive and vary depending on the hours and where you work. To find out the rate of your local Dementia Care Worker job vacancy, chat with our Jobs Team.
We help vulnerable people living with dementia live as independently as they can in their own homes for as long as possible. Our Dementia Carers work with many different clients in the local community.
To have a Dementia Care job, you need a full UK driving licence as well as access to a vehicle to be able to travel between clients. In some of our locations however, we may be taking on walking carers so contact our Jobs Team to find out if any of these vacancies are available in your local area.
You'll also work with a range of people with other care requirements. Your training will cover how to provide the best care for all our clients.
Joining the Alina Homecare Team is a chance to start an exciting career as a Dementia Care Worker. We believe in growth and helping our Care Workers achieve their full potential, no matter how much experience they begin with. We'll support your growth and development from day one. Consequently, we constantly see members of our Teams advance and several of our branch and operational managers began their careers as Care Workers only a few years ago.
Applying for one of our Dementia Care Worker jobs only takes and few minutes and you could start your new role in a matter of weeks. After submitting your application, we'll call you for a chat before booking a video interview. If successful, we'll do some pre-employment checks including a Disclosure Barring Service (DBS) check. You'll then complete our exclusive Alina Homecare Academy training with a dedicated trainer to ensure you're in the best position possible to deliver quality service.
We aim to be as flexible as possible therefore you can choose from a range of full-time or part-time contracts that suit you! Our Team will work with you to find the best fit. We just ask that you can share your availability with us in advance so that we can arrange rotas. To find out more about these different options, contact our Jobs Team.