How to monitor your elderly parents remotely
If you have elderly parents, you'll understand the fine line between respecting their independence and ensuring they're safe. Monitoring elderly parents remotely presents a challenge for loved ones – but thankfully, help is available.
Help comes in many forms. There are different types of technology to keep an eye on loved ones as well as physical help such as Home Care.
Our guide to monitoring elderly parents remotely explores your monitoring options but if you're looking for immediate reassurance, learn more about our elderly care services now!
Why might you need to monitor elderly parents remotely?
Ensuring loved ones are safe is a key concern for many people. However, it can often be difficult to keep an eye on vulnerable relatives. This could be because you live far away, have a busy lifestyle or your loved one is reluctant to be monitored.
However, emerging technology and physical assistance can help with these issues and makes it easier to monitor elderly parents remotely. Here are some reasons why you may want to consider monitoring your elderly parents remotely:
Your elderly parents live alone
In the UK, many elderly people choose to live at home. There are often good reasons for their choice, such as wanting to retain control of daily life and maintain independence for longer. In fact, most people aged over 65 live with only a partner and almost one third live alone.1
As people age, they're more at risk of a fall and could be more susceptible to forget things, such as taking important daily medication.2 This could cause loved ones to worry about their safety and wellbeing. This is even more of a concern if an elderly parent lives entirely alone.
By monitoring elderly parents remotely, you can ensure they are safe while they remain in control of their daily lives. Doing this can provide valuable peace of mind even if your loved one lives alone.
Your elderly parents are vulnerable
As people age, they can become more vulnerable which makes it harder for them to live independently. Around half of people aged over 80 will have at least one fall in a year, especially if they have a long term health condition.3 Many elderly people may also experience other symptoms that come with ageing including forgetfulness and reduced mobility.
If your elderly parents are vulnerable, you may be concerned for their wellbeing if you can't visit them often or live far away. Using a monitoring system to check on your elderly parents remotely can provide important reassurance. Different systems have features that can provide information on their activity, location and health status such as heart rate.
Your elderly parents don't want to live in a care home
Many elderly people who live alone or with their partner value independence whilst it's safe for them to have it. Moving into a care home can bring additional upheaval and stress to loved ones and they may not yet require round the clock care. In fact, two thirds of older adults would resist going into a care home.4
Monitoring your elderly parents at home is a great solution if you require additional peace of mind. Importantly it enables you to check your loved ones are okay and be alerted if there is an issue or emergency. Choosing this route could be the difference between parents staying at home and moving into a care home. Often, they are a starting point before considering if additional care is needed.
What are elderly monitoring systems?
Elderly monitoring systems are devices that collect your loved one's data with their permission, allowing you to monitor them remotely. The data that's collected often includes their health, behaviour and activity within their home. Their purpose is to provide loved ones or caregivers with peace of mind that they are safe.
There are various types of systems with different uses and features, depending on what you would like to monitor. Typically, they can be described as active or passive:
An active system requires the user to press a button to call for help
A passive system can transmit data without the user having to act if they have a fall or become unresponsive
Types of home monitoring systems for the elderly
Fall detection sensors are one of the most popular types of elderly monitoring systems. They work by sensing a rapid movement that is out of the ordinary compared with someone's usual daily activities. If the sensor registers a fall, it alerts an emergency contact.

Falls are extremely common among the elderly and can result in injury or other health concerns, especially if unattended to for an extended period. This is because pressure sores and/or dehydration could occur if they're unable to get up themselves. Fall detection sensors for the elderly help by immediately sending an alert if a fall has been detected, reducing the likeliness of these serious impacts being experienced.

They are beneficial as the severity of injuries after a fall can be reduced greatly. Fall monitors for the elderly are particularly good for people with mobility issues or who are susceptible to heart attacks or strokes. Moreover, your elderly loved one will be prevented from lying helplessly for any period of time as an emergency contact will be alerted straight away.

On the other hand, elderly fall detection monitors don't perform as accurately in the absence of light, meaning they may not be able to detect a fall when it's dark. Additionally, multiple sensors will need to be purchased and installed if you require them in all rooms which could make this option potentially very costly.
Special camera systems are another solution for monitoring elderly parents remotely. With your loved one's permission, cameras are set up within the home for you to check when needed. They are often small and discreet but can provide peace of mind by knowing your elderly parents are safe and secure at home.

They help by allowing you to see your elderly parents are safe from anywhere, at any time. There are a variety of elderly camera monitors available to choose from with different features. For instance, some have two way audio, motion detection and night vision.

Elderly monitoring cameras are a great way to remotely check on elderly parents as they are highly accurate and don't require any user interaction once set up. Because of this, they often don't cause a disturbance to daily life.

However, some people may not want this type of monitoring system in their home as they may feel as though it is an invasion of privacy. Also, unless the camera has night vision it is unusable when it is dark meaning you may only be able to monitor your elderly parent throughout the day.

At Alina Homecare, we offer Overnight Care for the elderly. If you use an elderly monitoring camera but want to know your loved one is also safe during the night, our Overnight Care service can provide a friendly Care Worker to support your loved one throughout the night when needed.
Home monitoring sensors are also a great option when choosing a system to monitor your elderly parents remotely. They can be unobtrusive yet still provide important information to ensure your loved ones are safe. Not only can they detect movement, but also the absence of it.

They can help by alerting an emergency contact if something is out of the norm. There are a variety of different sensors that are designed to be used for different activities. Here are some examples and their uses:

Bed occupancy sensors – sense when someone is lying on the bed
Door sensors – detect when someone has entered or left a room
Enuresis sensors – often used in bed and sends an alert when moisture is detected
Fridge sensors – detect when someone has opened the fridge
Temperature sensors – send an alert when the temperature is too high or low

Home monitoring sensors cause little disturbance to daily life and are very discreet, meaning your loved one's privacy is preserved. They can also be used to monitor a variety of activities such as whether your Mum has had her morning cuppa or if your Dad has gone to bed at night.

However, home monitoring sensors can inaccurately detect actions. When falsely alerted, this could cause you to worry about your loved one's wellbeing unnecessarily.
A wearable monitoring device is an active type of home monitoring system as it requires the user to push a button to call for help if needed. They are often in the form of a watch, such as an Apple Watch or Fitbit, or can be worn around the neck. In case of a fall or an emergency, your loved one can press a button which can alert you or emergency services for assistance.

There are a variety of different types of wearable monitoring devices for the elderly which have different features. These features can allow you to monitor a range of different things. For instance, some have GPS, can send fall detection alerts, can monitor heart rate and have two way communication.

These devices are beneficial as they can monitor many different things. This is especially good if your elderly parent has a medical condition. The GPS feature can track your loved one with dementia if they sometimes wander and the heart rate and fall detection features are useful if your loved one is at risk of a heart attack or stroke.

Despite this, some elderly people may find having to wear a device to be an inconvenience. Furthermore, wearable monitoring devices also need charging which may cause added worry for you and your loved one.
Mobile care monitoring apps. are used to monitor people's health and wellbeing. This type of monitoring system is used by families whose loved one already receives care either within a care home or at home. Care Workers use the app. to log any observations and what tasks have been completed.

The live updates allow you to monitor your elderly parent's care as it happens. Knowing what care your loved one has received provides important peace of mind when you can't always be there in person. Mobile care monitoring also allows you to access an overview of your loved one's care to understand if there are any changes that need to be made to their care plan.

Mobile care monitoring apps. can allow you to track your loved one's care from anywhere, whenever you want. It's also useful for Care Workers as they can see what care is required and if there is any medication that needs to be administered for example.

At Alina Homecare, we're proud to have partnered with Birdie, an innovative care technology that enables us to digitally track and monitor the support we provide. Our dedicated Care Workers and the loved ones of the clients we care for find this method of monitoring care highly effective and useful. Birdie even tracks your loved one's mood and medication schedule so you'll have reassurance at any time of the day.
Benefits of monitoring elderly parents remotely
Monitoring Home Care remotely
Everyone wants the best care possible for their loved ones, especially when they can't always be there to provide it themselves. Because of this, many people choose to use elderly monitoring systems to track the in-person care that their loved one receives. It can be beneficial to gain added peace of mind knowing that quality care is being provided.
Typically, elderly camera monitors and mobile care monitoring apps. are used to track Home Care remotely. Cameras can be used to visually observe what care has been given. Care monitoring apps. can be used to digitally track the services that have been provided and to report any observations.
Although elderly camera monitors allow you to see the care being provided, many people choose to use care monitoring apps. They allow you to see your loved one's care history and can be accessed anytime, anywhere. Also, they're beneficial for your elderly parent's Care Worker as they can use them to keep a log of what tasks they have completed and can track any medication that's required for instance.
At Alina Homecare, we recognise the advantages that mobile care monitoring apps. offer and how they can support the delivery of high quality care. Because of this, we're proud to have partnered with Birdie; a person centred care technology which allows us to track and analyse the care we provide in real time.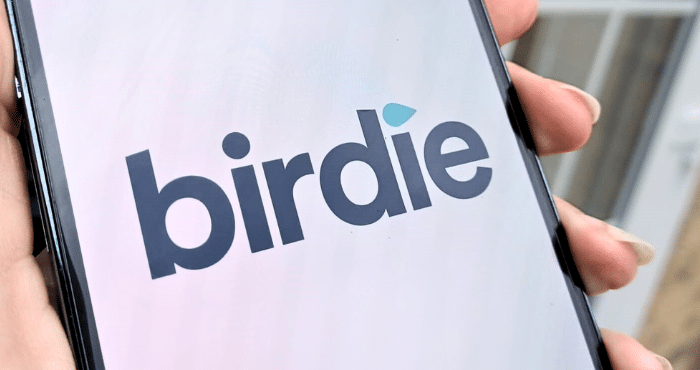 Our Care Workers are guided by the Birdie app. to make notes, record medications and flag any concerns so nothing is overlooked. With your loved one's permission, you can access their records and have full visibility of how their care is being delivered when you can't be with them.
The information captured by Birdie is also shared with our Office Teams so, if needed, they can act quickly to keep your elderly parents safe. Our Care Workers ensure they record a range of information for each care visit, including:
How to choose the best elderly monitoring system
Choosing the right elderly monitoring system for you and your loved ones can be a difficult decision. With many different options available on the market and ensuring everyone involved is comfortable with the option of being monitored, deciding what system can be a lot to take on. The right system will include suitable features to keep your loved one safe whilst also meeting their needs and fitting into their budget.
When choosing a system to monitor your elderly parents remotely, there are some factors you may want to consider:
Ease
Having a system that is straightforward and easy to use is important when choosing an elderly monitoring system. You need to consider if your loved one will be able to use it independently, especially in case of an emergency.
With almost two million people aged over 75 in the UK who don't use technology in their daily lives, having an easy to use system is key.5 It may be beneficial to choose a system that doesn't require any interaction after the initial set up if your loved one may find it difficult.
Reliability
When it comes to the safety of your loved one, having a reliable system is of utmost importance. This is because you want to ensure in case of an emergency or if a fall was detected for instance, the right people are alerted as soon as possible.
Choosing a system that is reliable could save money in the long run as a less reliable system could break sooner and require additional costs to fix or replace. To check the reliability of each system, it's always good to do some research and read reviews from other families first.
Features
Some systems come with different features including GPS tracking, sensors and alarms. It's important you consider what features an elderly monitoring system includes and how they can help your loved one.
These features can be beneficial for different conditions. If your loved one has dementia, a wearable monitoring device which includes GPS can be great if they wander. Choosing a fall alarm sensor is a suitable option if your loved one is at risk of falling.
Cost
With a broad selection of elderly monitoring systems on the market with different features and abilities, there is also a wide range of costs. These costs vary considerably depending on the system and can often fit many budgets.
The right system is one that fits within your budget but also contains the necessary features required for your situation. A cheaper alternative may not be a suitable option if it doesn't keep your loved ones safe.
Privacy
Many elderly people don't want to feel like they are constantly being watched or monitored. As a result, the right system for your situation might be one that is discreet and doesn't require any interaction.
It's important that both you and your loved ones understand what the system will monitor and that everyone is comfortable with it. On some systems such as care monitoring apps., the privacy settings can often be adjusted. Ultimately, the right system for you and your loved ones is one that doesn't feel like it invades your privacy.
Choosing Home Care for your elderly parents
Monitoring technology can be a great way to keep track of your elderly parents but we believe there's nothing better than a personal touch. Using visiting or Live-in Home Care in addition to monitoring technologies keeps elderly loved ones safe and also protects against elderly loneliness.
More than just monitoring your loved one, our trained Carers can also help around the home with a range of tasks such as washing dishes, getting ready for the day and preparing meals.
3. NHS, "Falls", Reviewed 2 August 2023